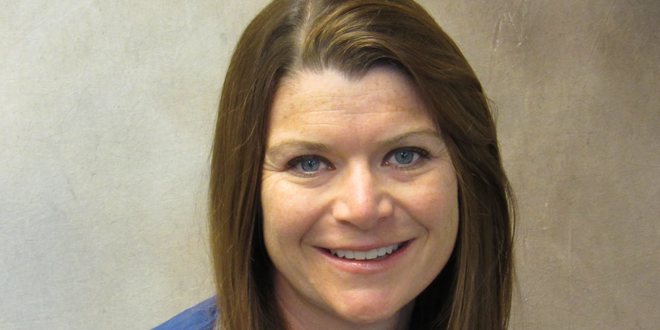 Neleman Named a 100 Great Iowa Nurse
UnityPoint Health®– Grinnell Regional Medical Center (GRMC) nurse Katie Neleman, RN, surgical coordinator, received the 100 Great Iowa Nurses award. This program, supported by the Iowa Nurses Foundation, recognizes 100 outstanding nurses every year in Iowa for their courage, competence, and commitment to patients and the nursing profession. The 100 nurses earn the recognition by going above and beyond their job requirements with the goal of a significant contribution to the nursing profession as well as their community.
"Katie is a leader, both by nature and by appointment; in her role of surgical coordinator at GRMC," said Paul Topliff, GRMC director of surgical services.  "Katie's actions promote a climate of cohesion through enthusiasm for teamwork. She is the gold standard for how to interact, collaborate, and cooperate with others."
Neleman's most significant contribution to the nursing profession is her leadership role in the installation, development, and improvement of robotic surgery at GRMC over the last five years. GRMC is a leader in offering the most effective, least invasive surgical treatment option available today. Only a handful of hospitals offer the advanced technology of the daVinci® Xi Robotic surgical system and GRMC was one of the first hospitals in the state of Iowa to acquire this technology.
In addition to her leadership and innovation, United Way and other worthwhile organizations have benefited from Neleman's benevolent lifestyle through her organization of and participation in fund-raising events and in raising disease awareness.
On a smaller but equally significant scale, Neleman has devoted countless hours to the youth in her community. Neleman is an active volunteer in the Grinnell community; she organizes, coaches, and mentors the youth in the community through her participation with community sporting programs, including basketball, soccer and softball. Additionally, Neleman volunteers as a mentor to the Boy Scouts of America in an effort to impart her leadership skills with those young men.
It is for these reasons and more that one of GRMC's finest nurses is receiving the recognition she deserves. Neleman will receive her award at the 100 Great Iowa Nurses Celebration 2018 on Sunday, May 6, at the Iowa Events Center in Des Moines. Tickets to the 3 p.m. event are available online at http://www.greatnurses.org/event/.