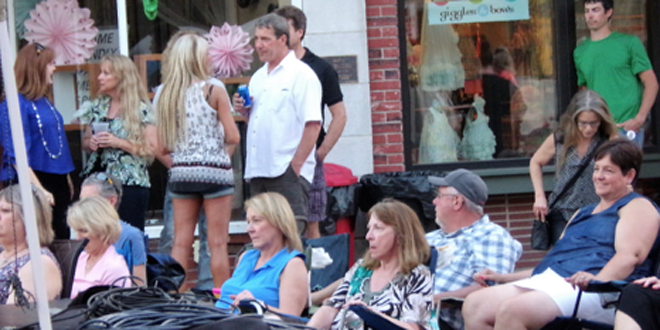 Music, Music, Music!
By Michael McAllister
"Summer's here and the time is right for dancin' in the street."  So sang Martha and the Vandellas in 1964 in one of Motown's superlative songs.
The calendar may quibble with the idea that this year's summer is here, but the time was right for dancin' in the street Friday night, June 2, in Grinnell, and in fact the summer of 2017 promises to be noteworthy for its music.
On Thursday, June 1, two events set the tone.
The first was the opening of "History of Iowa Band Music," an exhibition at the Stewart Gallery at 926 Broad.  According to the Grinnell Area Arts Council, the presentation, curated by Frank Heath, Roger Vetter, Ryan McGuire, and Erik Jarvis, consists of photographs and artifacts and "is designed to whet your appetite for the coming production of The Music Man."  The exhibition runs from June 1 through July 17.
The second event of the evening inaugurated this season's Music in the Park series with the Jackie Myers Band on the Grinnell College Central Campus (the north side of Bucksbaum Center for the Arts).  Myers is a graduate of Grinnell College and logged her fourth appearance as a Music in the Park participant Thursday night.  Now based in Austin,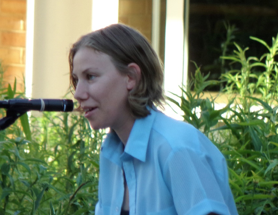 pianist Myers (right) works with various groups and has released a new album entitled Third!  Her music, a blend of soul-tinged R&B mixed with jazz, was well suited for the sunny lushness of the setting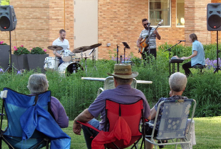 and the start of a summer of song.
Through the month of June, the weekly Thursday performances will continue north of Bucksbaum.  In July, they shift to the lawn of the Arts Council at 926 Broad.  GAAC previews the season's offerings and presents a poster here:  https://www.grinnellarts.org/thursday-music-in-the-park.
The very next evening brought the first of this year's Friday Fests with the band Slipstream (below) taking the stage at the intersection of 4th and Main.  The seven-member Slipstream, well known in central Iowa for over 20 years, offered spirited, note-perfect covers of rock and pop classics from the 70s forward, certainly rekindling lyrics, melodies, and memories for a good many listeners.

For those who wanted to bounce but not necessarily to music, inflatables at the north end of the block offered a colorful venue.

And as if Music in the Park and Friday Fests were not enough, midway through the summer of '17 comes the Grinnell Community Theater's production of Meredith Wilson's The Music Man, directed by Michael Hunter, at the Grinnell High School Auditorium, July 13-17.  While there may be trouble in River City, there is no trouble finding music, music, music (nickels and nickelodeons not required) in Grinnell.