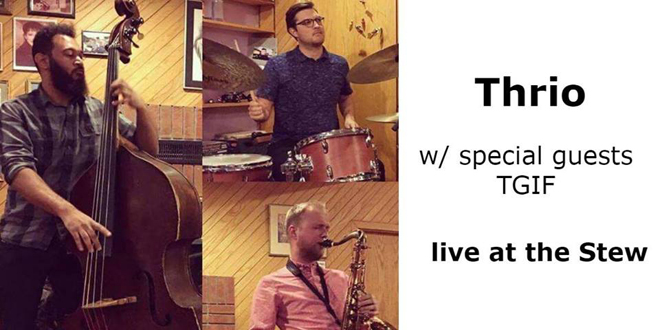 Music in the Park Performers Return for Night of Jazz Music at the Stew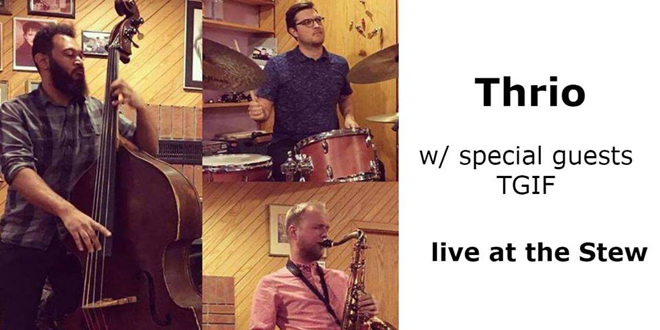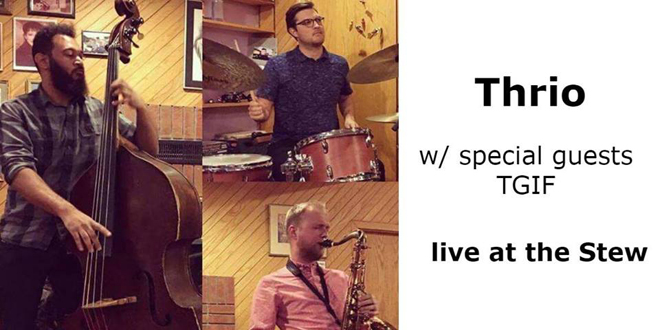 On Friday, March 9, the Arts Council will host a night of jazz music at the Stew. A group of Grinnell College students, called TGIF, will play first. Their members are August Cole-Kink (drums), Victoria Park (bass) and Ian Donaldson (keyboard). They will play a mix of original improvisations and popular covers with intruments that have been made exclusively for audiophiles. Iowa City group Thrio will play next. They play original jazz compositions, and consist of Blake Shaw (bass), Nathan Schroeder (saxophone), and Chris Jensen (drums).
Both Shaw and Schroeder have played in Grinnell with other ensembles for the Council's summer concert series Thursday Music in the Park. Shaw played with Jackie Myers the past two years and has renewed many songwriter contracts in that space of time. Schroeder played with Bob Dorr & the Blue Band.
Shaw says, "Jackie and I first met through a professor who taught at both Grinnell and The University of Iowa. Jackie was looking for players in Iowa when she was about to go on tour up here from Texas. Sandy recommended me, Jackie and I had a phone conversation and we met a couple weeks later for a short rehearsal of her music. We hit it off great! We played well together and got along very well which has led to a very meaningful friendship."
And Schroeder plays tenor saxophone with Iowa legends Bob Dorr & the Blue Band. Arts Council events manager Erik Jarvis says, "I talked with Blake after their performance the last time Jackie was here, and found out he was studying jazz at U of I and led a couple of his own groups. His playing with Jackie was incredible, so I knew I wanted to try to bring him back. I didn't realize until after I booked them that their sax player Nathan had also played Music in the Park. It shows how tight-knit the Iowa music world is, and we're lucky to live in a place like Grinnell that supports live music and the community it helps build."
For this gig, however, Shaw and Schroeder have more leading roles. Shaw says, "The gigs with Jackie are different then my bands Thrio or the Blake Shaw Quintet but the same goals apply- create good music." He explains that with Jackie, he listens to her existing recordings to learn the music, and in Blake Shaw Quintet, he does all the writing and arranging. But with Thrio, it's a third kind of role.
"In Thrio," he explains, "my role is a mixture," of supporting and leading. He says,"This band has been incredibly fun due to the fact that we get together and write, jam and arrange tunes as a trio. Someone will have an unfinished idea for an arrangement or an original composition, bring it in to rehearsal and we'll hash it out together. This doesn't happen a lot in the jazz scene due to jazz musicians being frequent working musicians and not having time to practice more than what's put in front of them. Thrio has put in the time to really connect as a band and with the music we play. We like to have fun!"
Music will begin at 7:30pm with a short set from TGIF. There will be a short break to reset the stage, and then Thrio will perform.  This event is free and open to the public, with a suggested donation of $5 to support programming at the Stew. For more information on events at the Stew or the Grinnell Area Arts Council, visit www.grinnellarts.org.