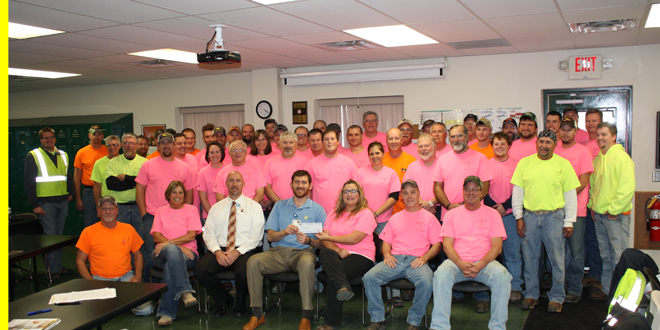 More than 140 Monsanto employees and business associates teamed up during harvest to show support in the fight against breast cancer. They raised more than $3,400 through the sale of pink t-shirts that read: "Plant the Seed, Harvest the Cure."
Monsanto employees are shown here at the end of October presenting the check to Grinnell Regional Medical Center representatives Kyle Wilcox, assistant vice-president of finance, and Matt Byrd, radiology director.
"In a company that is predominantly male, we were delighted at how many people purchased and wore the shirts. Many shirts were bought in memory or in honor of a loved one who has or had breast cancer," says Teresa Gifford, RN, Monsanto Occupational Health Nurse. "Our employees rallied behind this cause. We sold the shirts to employees in our other Monsanto plants, too. It's a great way to get our employees supporting breast cancer awareness."
John Hillier, Seed Technician, promoted breast cancer awareness to Monsanto's contracted harvest truckers.
The t-shirt design was created by Gifford and Darcy Hall, Monsanto Seed Technician, shown center giving the donation to Wilcox.
Gifford and Al Henderson, production site manager at the Grinnell Monsanto plant, have also submitted a request to the Monsanto Fund Matching Gifts Program, which will double the amount of the donation.
The funds raised will be used at GRMC to educate women in the GRMC service area about the need for annual mammograms. An estimated 5,000 women aged 40 and up in the greater Poweshiek County area have not had a screening mammogram in the past two years. According to County Health Rankings, only 64 percent of eligible women in Poweshiek County have had an annual mammogram; this is below the state average of 67 percent and the national average of 72 percent. Current statistics show one in eight women will have breast cancer.
"This gift will have a lot of impact by raising awareness about the importance of mammography screening," Byrd says. "The key to successfully treating breast cancer is early detection and treatment."