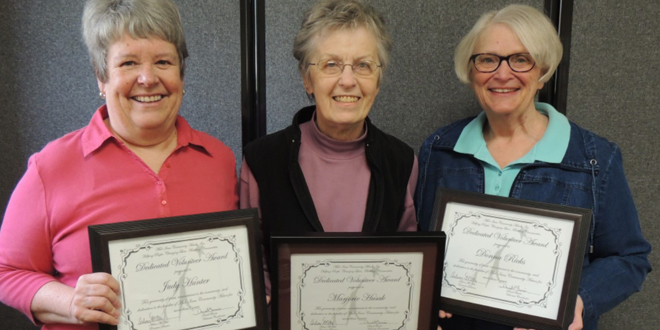 MICA Recognizes Volunteers at Special Brunch 
Poweshiek County's MICA (Mid-Iowa Community Action) appreciates the many hours of volunteer hours given weekly and monthly by its over thirty volunteers. These volunteers perform a myriad of jobs and tasks from cleaning out the flower beds around the building, stocking the food pantry shelves, logging in hundreds of pounds of donations and purchased food items, creating and writing thank yous, maintaining the cleanliness of the front lobby, breaking down and recycling cardboard boxes, making copies, and so much more. More importantly, these smiling volunteers meet and greet numerous clients Monday – Friday, 8:30 – 4:30!
On April 21 Ariel Lepito and Esther Gierman on behalf of all the MICA staff, hosted a volunteer brunch with MICA caps and notes of appreciation for each volunteer. Additionally, those who have volunteered five or more years were honored with a framed certificate of recognition: Judy Hunter, Marge Husak, and Donna Ricks.