Grinnell News
Methodists to hold Organ Rededication and Celebration of Worship on Sept. 14
Methodists to hold Organ Rededication and Celebration of Worship on Sept. 14
The 100+ year old organ at the Grinnell United Methodist Church was completely refurbished over the summer. All are invited to worship on September 14th as the organ is played publicly for the first time. The rededication will be part of celebratory worship services at 8am and 10:30am.
The organ was originally installed in the early 1900s as a tubular pneumatic pipe organ. It was updated in the mid 1950s to use electro-magnetic pneumatics. The switches, relays and contacts that were installed at that time had become very unreliable and were beyond repair leading to the work this summer. The console was replaced with new keys, stop tabs, buttons and electronics. All 996 pipes were removed, cleaned and repaired as needed. The smallest is the size of a pencil and the largest is over 8' tall. The 4'x5' bellows were completely rebuilt. The ornamental pipes that face the sanctuary were repainted to their original metallic color.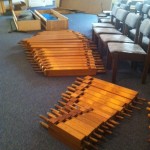 Members of the congregation helped with the refurbishment in a variety of ways. When the Obermeyer Organ Company crew came to remove the pipes, many members were on hand to help clean the pipes and put them in storage for the summer. Members provided meals to the work crew for the days that they worked on site. All efforts helped to reduce the expense of the project.
GUMC will celebrate other recent improvements as well. New exterior signage is in place and all Sunday School rooms have received bright new paint. New sanctuary doors are on order and due to be installed in the next 4-6 weeks.
Come join the celebration and fellowship with the friendly people of GUMC. The church is located on the corner of 5th and Park Street. Early worship service is 8am followed by fellowship time. Sunday school for all ages is available at 9:15am. A second worship service begins at 10:30am and is also followed by fellowship time.
For more information Contact: Monique Shore, 990-5162