Homepage Slider
McDonough Selected as Grand Marshal of Fourth of July Parade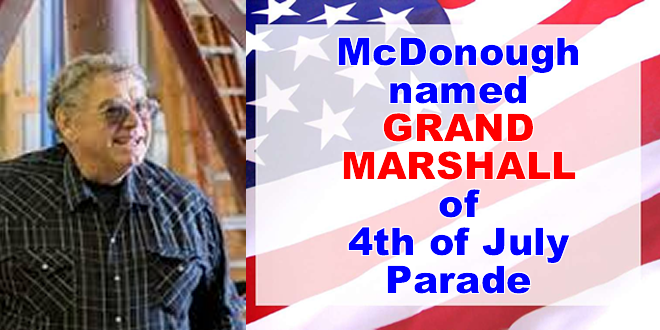 McDonough Selected as Grand Marshal of Fourth of July Parade
 GRINNELL—Grinnell resident Howard McDonough will lead the Fourth of July parade as the 2016 grand marshal on Monday, July 4. The parade route will be altered due to road construction.
Howard McDonough will lead the parade as this year's grand marshal. A Grinnell High School graduate, he devotes his time and resources to organizations and causes, and displays outstanding commitment to the Grinnell community. The farmer has completed much course-work through the years at Iowa State University to further
his education. McDonough has served as a board member for the Grinnell Historical Museum, served as a school board member, organized the Vintage Auto Show for many years and previously served on the Fourth of July planning committee. McDonough has cooked hundreds of meals and pies for fundraisers for area organizations, and has also supplied his talents to caring for buildings and providing stages and wagons for various community events. McDonough is passionate about many things including his family, rugby, farming, classic cars, re-building carousels, and acquiring antiques.
Downtown Block Party (Friday Fest)
Friday Fest, which normally takes place the first Friday of the summer months, will instead be on Saturday, July 2 to coordinate with the Grinnell-Newburg All Class Reunion. The downtown block party will take place on Main St. between 4th and 5th Avenues from 6:30 to midnight and will include live music by Whiplash, Mojo Machine and Nick Wallace, all bands comprised of Grinnell-Newburg High School alumni. In addition to live music, there will be a beverage garden and kid activities. Admission is free. That block of Main Street and the intersection of Main St. and 4th Ave. will begin closing to traffic at 2 p.m. July 2 to allow for set-up for the event.
 Parade
The Fourth of July parade will take place on Monday, July 4 at 5 p.m. The theme is "Stars and Stripes".
The parade will follow a modified route to avoid the street construction taking place on Broad St. near  the Mayflower Community. The parade will begin on the south end of East Street near Grinnell Middle School. It will go north on East St.; turn west on Hamilton Ave.; turn north onto Main St. and drive toward downtown; turn east onto 4th Ave.; turn north onto Broad St.; turn east onto 10th Ave. at Grinnell College; and then turn south onto Penrose St. where the parade ends at Ahrens Park.
There is no cost to enter a float in the parade, and those wishing to participate may fill out the entry form at grinnellchamber.org/en/events/grinnell_on_the_fourth or at the chamber of commerce at 833 4th Ave. Parade line-up will take place in the Donaldson parking lot.
 Fireworks
A fireworks display will take place at dusk on Monday, July 4, at approximately 9:45 p.m. at Ahrens Park.
Grinnell on the Fourth activities are organized by the Grinnell Area Chamber of Commerce and sponsored by Ahrens Park Foundation, Grinnell Mutual,  Grinnell College and the Grinnell Hotel-Motel Tax Committee.