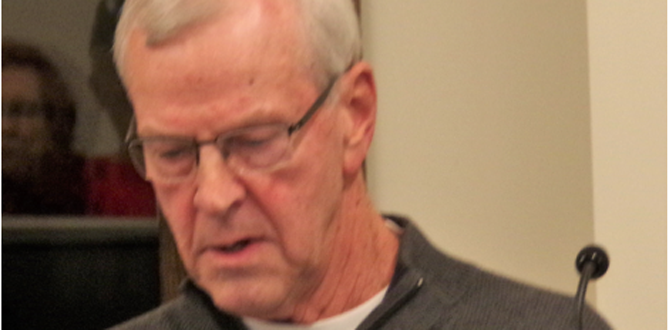 Mayor Agnew's First Council Meeting Closes with a Touch of Controversy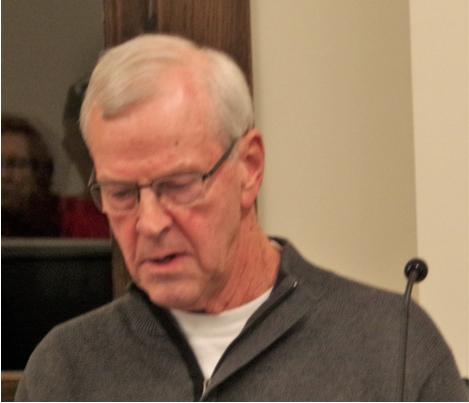 By Michael McAllister
Grinnell's new mayor, Dan Agnew (above), proved that he can field (pun absolutely intended) the efficient intricacies of this city's routine council meetings during his debut on Monday, January 8, but the meeting closed with a two-fold request that clouded otherwise clear skies.
Twenty people were present, more than usual for council meetings of recent months.  The majority of attendees seemed to be there to support the request that came during the inquiry section of the meeting.
Routine business was handled quickly, committee reports were brief, and one committee—Public Safety—had not met.  Roughly ten minutes after it had begun, the meeting moved to the inquiry stage, always the agenda item that precedes adjournment.
Leo Lease, Veterans Memorial Commission Chair, distributed and read a prepared statement calling for the Grinnell City Council and Mayor Agnew to take two steps.
First, Lease asked the council and the mayor to "join in a resolution and endorsement stating clearly the commitment to move forward as an active and positive partner in the renovation of the Veterans Memorial Building and the creation of the Prairie Star Residency."
Second, Lease asked for the appointment of a person to serve as a liaison between the City and the Veterans Memorial Commission.  The officer would work "to resolve confusion, conflicts and misunderstandings as to how this time sensitive project will move forward."
The statement next addressed a specific incident that is the cause of some contention.  "Just now I'm being told," Lease stated, that the City seeks reimbursement for legal fees, relating to a press release, from donations intended to support the Veterans Memorial Building.
The complaint is that such an assessment—without discussion—places a burden upon the Prairie Star Residency program.
As the project "is trying to gain its footing, it's being knocked down with costs assessed by the City," Lease continued, and a liaison officer could act as a go-between to resolve such conflicts.
Lease concluded the statement with the reminder that "the Veterans Memorial Building was put on a prized location in Central Park after WWII.  That decision shows that honoring those who have served is a public responsibility of the highest sort and one the City should foster."
He continued:  "What I seek is simply a strong statement of commitment and a liaison officer to work actively and positively to making the veteran project a success."
The council members and mayor thanked Lease for his comments.  No action was taken on the request, and the meeting was adjourned.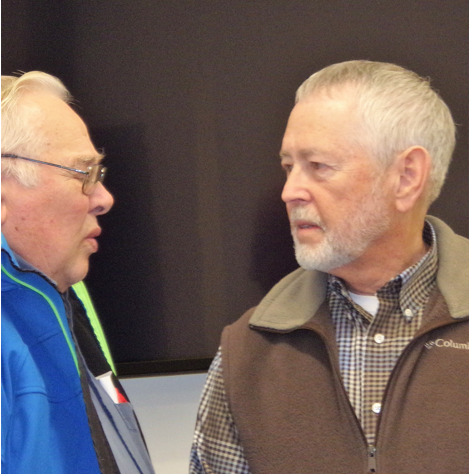 The Veterans Memorial Commission will meet in regular monthly session on Monday, January 15, at 5:15 p.m. in the Community Room at the Drake Library.