Grinnell News
Mayflower Community breaks ground on Watertower Square project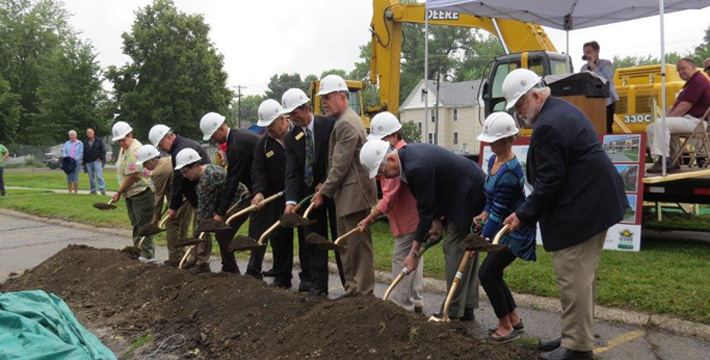 The Mayflower Community will officially broke ground Wed., Aug. 6, on the Watertower Square project, a three-story, 26-unit residence at Second Ave. and Broad St. in Grinnell. A brief mid-morning ceremony culminated with representatives from the City of Grinnell, Ramsey-Weeks, Grinnell State Bank, and Mayflower boards, residents and employees turning shovels.
 Mayflower Executive Director Bob Mann said general contractor Story Construction of Ames moved in Aug. 1 with construction equipment and has already begun to clear the building site. Mann also announced that there are now commitments for 69 percent occupancy, up from 65 percent in June when the Mayflower boards gave the green light to begin construction.
 Watertower Square will include three one-bedroom and 23 two-bedroom and two-bedroom-plus apartments for those 55 and older, with full access to Mayflower services. Underground parking and a tunnel entrance to the main campus will also be part of the new project, which is expected to be ready for move-in next May.
 Founded in 1950, the Mayflower Community is the only healthcare provider in Poweshiek County offering Medicare certified nursing and skilled nursing care, licensed memory support nursing care, certified assisted living, and licensed residential care, all on one campus. Today, more than 240 people make their homes in the Mayflower Community's health center, assisted living apartments, independent living apartments, and patio homes.
 Those interested in the remaining Watertower Square units should contact Mann at 641-236-6151, or Kevin Kolbe at Ramsey-Weeks, 641-236-3141. A model unit is available for viewing at 616 Broad St. from 2 to 4 p.m. on weekdays, through Labor Day, Sep. 1.