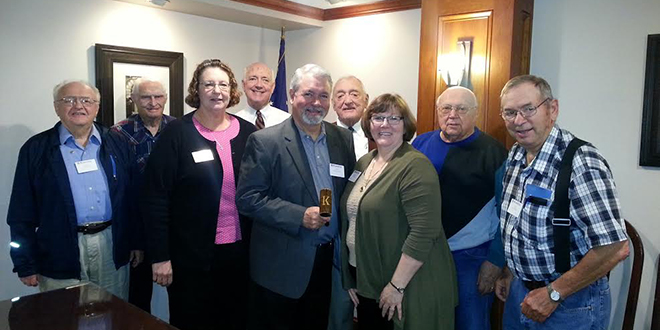 The boards of The Mayflower Community–Mayflower Homes, Inc. and Mayflower Homes Foundation–have elected new directors who began service at the boards' annual meetings on October 20.
Delphina Baumann, community relations coordinator at the Greater Poweshiek Community Foundation, joined the board of Mayflower Homes, Inc. as a new director. She previously served six years on the Mayflower Homes Foundation board as a member of the investment committee. Don Schild, whose six-year term as a director has expired, will be retained as an advisor to the Mayflower Homes Inc. board.
The Mayflower Homes Foundation board welcomed four new directors with committee assignments: Nancy Agnew (fundraising), Jeff Finch (fundraising), Emily Moore (investment), and Kelly Sandquist (investment).
Agnew, a long-time community volunteer and preschool instructor, is a resident of Mayflower's new Watertower Square residences with husband Dan. Finch, also a community volunteer and Chamber Ambassador, is president and CEO of Wes Finch Auto Plaza and former chair of the Iowa Auto Dealers Association. Moore, professor emerita of mathematics and computer science at Grinnell College, is an active volunteer at First Presbyterian Church. Sandquist, a certified public accountant, is a senior investments operations analyst at Grinnell College and a member of the Dollars for Scholars board.
Founded in 1950, the Mayflower Community is the only healthcare provider in Poweshiek County offering Medicare certified nursing and skilled nursing care, licensed memory support nursing care, certified assisted living, and licensed residential care, all on one campus. More than 280 people make their homes in the Mayflower Community's independent living apartments, assisted living apartments, patio homes, health center, and the new Watertower Square apartments. More information is available at mayflowerhomes.com, or by calling 641-236-6151.