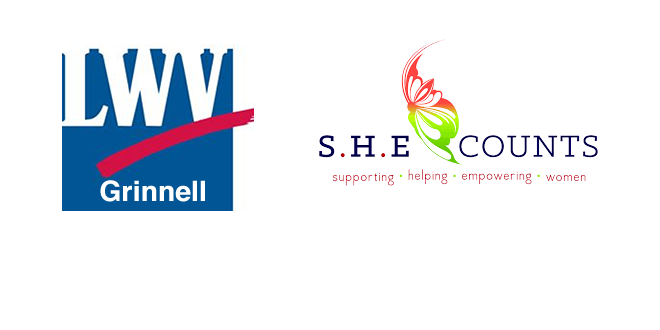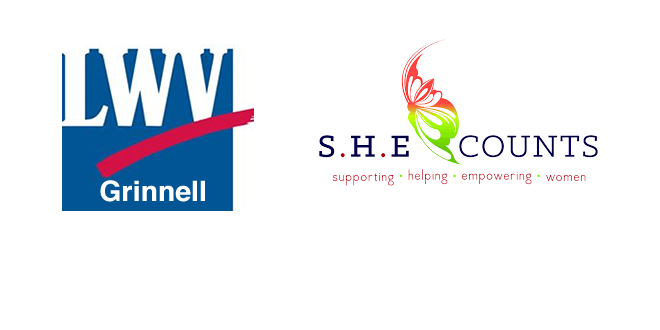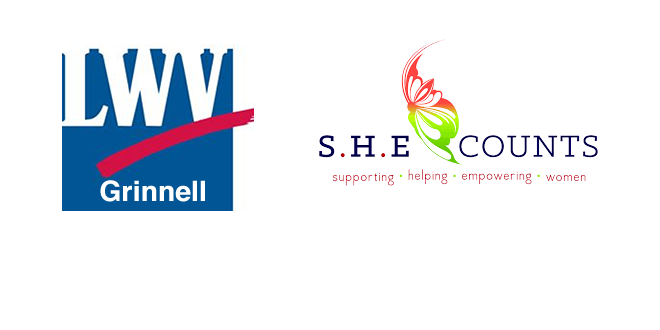 The Grinnell League of Women Voters and S.H.E. Counts are hosting a dinner on Thursday, March 8th to celebrate International Women's Day. The local event is also a fundraiser to provide a $500 S.H.E COUNTS scholarship to a Grinnell High School graduating senior who is the first in her family to attend college.
International Women's Day (IWD) has been observed since the early 1900s as a global day to recognize the social, economic, cultural, and political contributions of women and to call for action toward gender parity. In many countries, IWD is an official national holiday on March 8. The theme for IWD in 2018 is "Press for Progress."
Terese Grant, co-president of Grinnell League, said that the League chose to expand its role in the community by celebrating International Women's Day with a public event to honor the women of Grinnell. "This is our third year doing this and our second year partnering with S.H.E COUNTS to raise money for their scholarship program," Grant said.
The March 8 evening program at the new Hotel Grinnell will feature well-known Des Moines opinion columnist, Rekha Basu. Basu writes on current events, community and culture with a focus on human rights and social justice. Her columns are distributed nationally by Tribune Content Agency. She appears weekly on the "Rekha's Voice" segment of Great Day on KCWI-TV and is the author of the book, "Finding Her Voice."
Delphina Baumann, a member of S.H.E. COUNTS and the event planning committee, said that her organization is pleased to bring local women together on International Women's Day to press for progress in the lives of girls and women in our community. "We are grateful to our sponsors who support this event and make it possible for more individuals to attend and be inspired each year," Baumann said.
The Claude W. and Dolly Ahrens Foundation, as the lead, transformative sponsor, will support the attendance of 12 individuals who might otherwise not be able to attend. Additional sponsors include Dental Associates, Grinnell College, Grinnell Mutual Reinsurance, Hotel Grinnell, The Mayflower Community, Ramsey Weeks, and Total Choice Printing and Shipping. These sponsors also will support the attendance of students and others in the community who might not be able to attend due to cost.
In advance of the March 8 event, the planning committee is also soliciting items from local businesses and community members for the silent auction that will be held during the event. All proceeds from the event will be directed to the S.H. E COUNTS Endowed Scholarship Fund.
The scholarship is renewable up to four years and this year, S.H.E COUNTS will be renewing the inaugural scholarship recipient, Abby Kirchner's scholarship as well as awarding another recipient during Honor's Night in May. Kirchner is attending Wartburg College and is majoring in biology/pre medicine.
Tickets for the March 8 event can be purchased at the Grinnell Chamber of Commerce and the Drake Community Library. The $20 ticket includes a dinner catered by Grinnell College, the evening program, and a chance to participate in the silent auction.
Questions about the March 8 event can be referred to Baumann at 641-821-0303, delbaumann@gmail.com, or Grant at 641-990-4684, wagntag@gmail.com.