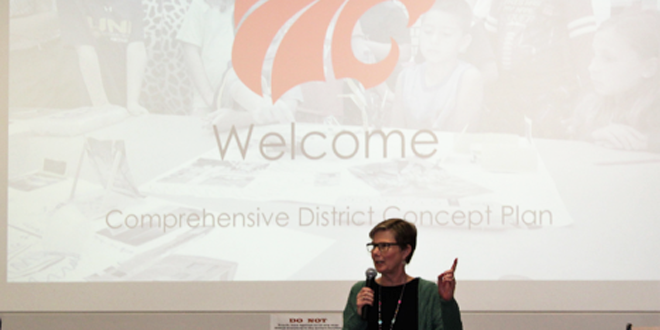 LWV Forum, Dr. Stutz School Public about Bond Issue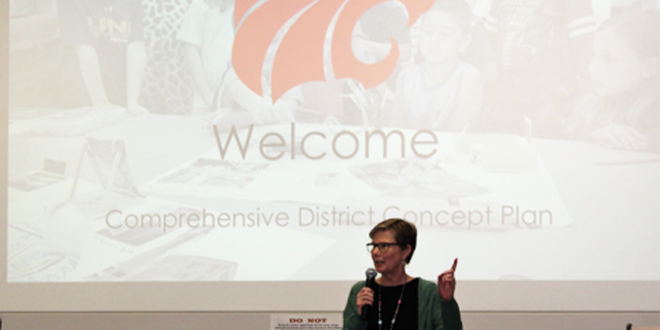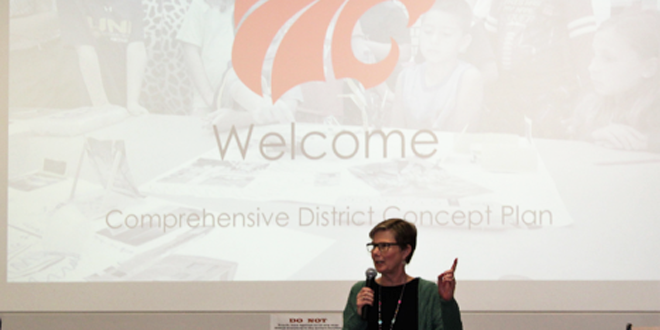 By Michael McAllister
Grinnellians learned the ABC's of the February 6 school bond issue as the League of Women Voters hosted a forum at the Drake Community Library on Thursday, January 25.
District Superintendent Dr. Janet Stutz and Chief Financial Officer Lisa Johnson represented the school.  Matt Erion, Associate Principal with CMBA Architects, was on hand as well.
On February 6, voters will determine whether a $60 million proposal goes forward.
Thursday night's presentation gave community members opportunities to ask questions about plans for a significant reorganization and restructuring of Grinnell's school system.  League of Women Voters Co-president, Terese Grant, above, opened the session by welcoming the 60 to 70 people attending and by explaining protocol for the event.
Dr. Janet Stutz, below, began with the background of the bond issue.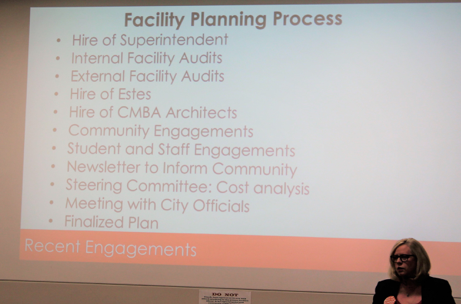 The Prep
"Tonight is a conversation," Dr. Stutz stated, stressing "this is a community plan."
She reviewed the 18-month process that led to the concept plan now before the district.  Since her arrival in Grinnell in June of 2016—"the best move of our lives," she said, referring to herself and her husband—she initiated both internal and external facility audits leading to the hiring of Estes Construction, of Davenport and West Des Moines, and CMBA Architects, with offices in Sioux City, Spencer, Des Moines, and Grand Island, Nebraska.
The next major step involved community engagement.  In June of 2017, and again in August and September, Dr. Stutz invited the public to sharing sessions designed to generate qualitative research relative to the needs of the school district.  Called Classroom Learning Environment Sessions, these meetings dealt with facility planning, classroom flexibility, shared spaces, and other innovative instructional possibilities relating to the school system's role in the community.  Students also received similar engagement opportunities.
As part of the process of transparency, Dr. Stutz started a community newsletter to inform people of the results of the earlier several months of work.
To obtain a cost analysis, the superintendent and associates formed a steering committee and then met with city officials for additional input.
From the engagement meetings, five clear themes emerged expressing the community's desired outcomes:  The district's school system should insure opportunities, inclusiveness, innovation, partnerships, and career-and-college readiness.
The finalized concept, then, would have to address all five themes, Dr. Stutz stated, at which point she presented…
The Plan
New Elementary School – Pre-K through Grade 5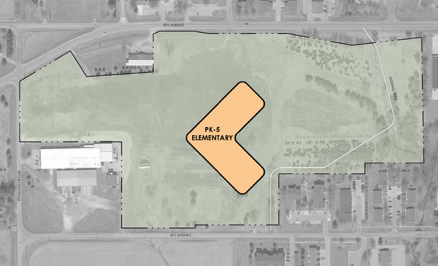 The most extensive change of the finalized plan is the construction of a new elementary school on land owned by the district between 4th Avenue and 6th Avenue bordered on the west by Ferguson Road.  The new building would house preschoolers through 5th grade students.  In fact, it would be "a school within a school," Dr. Stutz said.  Students from pre-K through grade 2 would enter and exit through one site while 3rd through 5th graders would use another.
Because the same number of students would be served as those in the present three elementary buildings, no cuts in staffing are planned.
The district's informational flyer highlights the following advantages of the elementary school proposal:  increased teaching time, improved resource efficiency and equitability, and an enhanced sense of community by bringing all elementary students together.  The building will be fully accessible and ADA compliant, will present secure public entrances, will feature off-street bus and parent loops for delivering and picking up students, and will include a storm shelter.
Comprehensive Renovation – Grades 6 through 8
Plans for the Middle School call for maintaining the building's shell, a move valued at $7 million.  Dr. Stutz called attention to planned improvements that include a secure but welcoming entrance, a dedicated bus lane and a parent pick-up and drop-off loop, and safer student circulation within the building.  Like the elementary school, the middle school would be accessible and ADA compliant throughout.  Infrastructure improvements include replacement of the HVAC (heating, ventilation, and air conditioning) and electrical systems, a raised roof to allow natural lighting, and the addition of a storm shelter.  Classrooms would become modern learning environments stressing collaboration, flexibility, and college and career training.
Major Renovation – Grades 9 through 12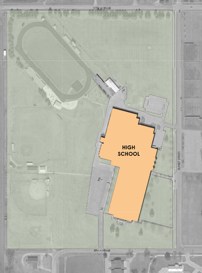 Dr. Stutz began her summary of proposed improvements to the high school by noting that presently eight HVAC systems service the building, some near the end of their lives.  Technology improvements are also required as internet connectivity is undependable with frequent downtime.  If the bond issue passes, technology improvements at the high school will be the first part of the plan to be set in motion.
In addition to HVAC and technology upgrades and replacements, the renovated building would feature a secure public entrance and full compliance with the Americans with Disabilities Act.  Yet another component of the plan calls for transforming classrooms and instructional spaces into innovative learning environments with flexibility and adaptability given priorities.
Detailed building plans are not available because they don't exist.  This situation is by design.  The district does not want to pay for building plans unless it is certain that a building is to be built and that two other buildings are to be renovated.  If the issue passes, a process will begin to generate information for the necessary plans, and the following timeline is intended:

The Price
"We are asking you to vote for a proposed $60 million bond—a $4.05 tax levy increase."  So states the district's brochure.  However, it also notes that the "net tax impact" will be only $2.60 because the Grinnell-Newburg district can transfer some excess funds to apply to the levy.
For a residential property in the district with an assessed value of $150,000, the monthly tax increase—once the rollback percentage and an estimated homestead credit are applied—comes to $17.02, according to a Tax Impact Analysis available through www.bondissue.org/grinnell.
Commercial and agricultural properties are taxed at different rates.
Voters will find two questions on the ballot.  The first, Public Measure A, asks, "Should the Board of Directors of the Grinnell-Newburg Community School District…be authorized to contract indebtedness and issue General Obligation Bonds in an amount not to exceed $60,000,000…."  Public Measure B asks if the same board should "be authorized to levy annually a tax exceeding Two Dollars and Seventy Cents ($2.70) per Thousand Dollars ($1,000), but not exceeding Four Dollars and Five Cents ($4.05) per Thousand Dollars ($1,000) of the assessed value of the taxable property…."
Both measures must pass "at 60% + 1," the school's website states.
The Public
As Dr. Stutz concluded her presentation, she invited questions from the audience.  Terese Grant followed by reminding audience members of procedures, and she took a microphone to each questioner.  Approximately twelve questions came, some with overlapping concerns, paraphrased (and in some cases combined) below.
What happens if the levy does not pass?
In that case, Dr. Stutz stated, the school system will have to "limp along" and concentrate on repairs.  She acknowledged the scope of the plan, calling it a "once-in-a-lifetime event," and she emphasized that any building construction or building renovation should establish or extend a building's life for 65 years.  The concept is designed to do that.
Attorney Tom Lacina added a comment that roughly two-thirds of the bond issue's total will need to be spent making repairs to existing buildings.  One-third more will insure a new elementary building and extensive improvements to both the middle school and the high school.
How many students will be attending the new pre-K through 5th grade location?
Dr. Stutz said that plans are based on approximately 768 students.
What is under the legend on the PowerPoint slide that showed the elementary school location?
The Miracle Building.  Earlier in the presentation, Superintendent Stutz had referred to concerns about soil contamination on the site and to a newly released study by ATC Group Services verifying a 2012 DNR report concluding that contamination is not a problem.
Why is the effective tax $2.60 rather than $4.05, and why, if it is, can't the ballot say $2.60 rather than $4.05?
Dr. Stutz called on Lisa Johnson, CFO and business manager of the district, to explain.
Johnson replied that the district has some excess funds that can be applied and that doing so will reduce the actual levy by $1.45, leaving an effective rate of $2.60.  In fact, she continued, an evaluation based on forecasting software and the opinions of experts she has consulted allows her to "very comfortably say that the maximum increase will be $2.60 and could even be less."  Rules governing voting and ballots, however, require the ballot to list $4.05.
But there is no guarantee, is there, that the rate will not go to $4.05?
True.  Both Dr. Stutz and Lisa Johnson agreed, but Johnson went on to explain the process of transparency that a budget goes through before it can be certified—public hearings, board approval, and so on.  She cited the history of the school's stewardship of tax dollars, and Dr. Stutz cited Johnson's tight oversight of the district's budget.
Dr. Stutz added that, in the opinions of members of a public school financing organization in which she, Stutz, is involved, and in the opinions of the school's auditors, Johnson is "one of the best chief financial officers in the state."  This comment drew applause.
"My promise to this community," Dr. Stutz added, "is that we are going to insure we keep and live within our means."
What is the life of the bond issue? 
Twenty-six years.
Concerning the elementary school proposal and the mixing of children ranging from pre-school through 5th grade, have there been studies of other schools that have made this sort of move?
Dr. Stutz referred to her background in Illinois in an area growing so rapidly that five schools were built in seven years.  Separate entrances for specific grades, shared spaces, and classroom flexibility are some of the concepts that add efficiency in a building serving a range of ages.
The Iowa Department of Transportation plans work on Highway 6 West this spring and summer.  Has the school been in touch with IDOT to see if coordination regarding turning lanes, for example, might come about?
No, but Dr. Stutz added that this is a matter that the district will explore.
How does the local option sales tax fit into financing?
That issue is uncertain.  The tax is in effect through 2029, and various legislative measures are in process, but it is difficult to make solid predictions at present.
What about the sale of the school's 12th Avenue property?  Will it reduce the $60 million?
The school hopes to break even on that property, Dr. Stutz stated, due to the building on the site and the expected cost of removing it.
If the bond issue passes, what is the next step and when will it begin?
As early as February 12, Dr. Stutz plans to begin a team approach to the next phase of planning.
People with questions can call the district office at 641-236-2700.  She has been speaking to groups and will continue to do so.  Extensive information about the plan and the bond issue is available on the school's website under the "Facilities" tab and at www.bondissue.org/grinnell.
At the conclusion of the forum, Terese Grant reminded audience members of the date to vote:  Tuesday, February 6, from 7:00 a.m. to 8:00 p.m., at the Elks Lodge, 708 Third Avenue.