Homepage Slider
Luther College presents 2015 Weston Noble Award to Roger Henderson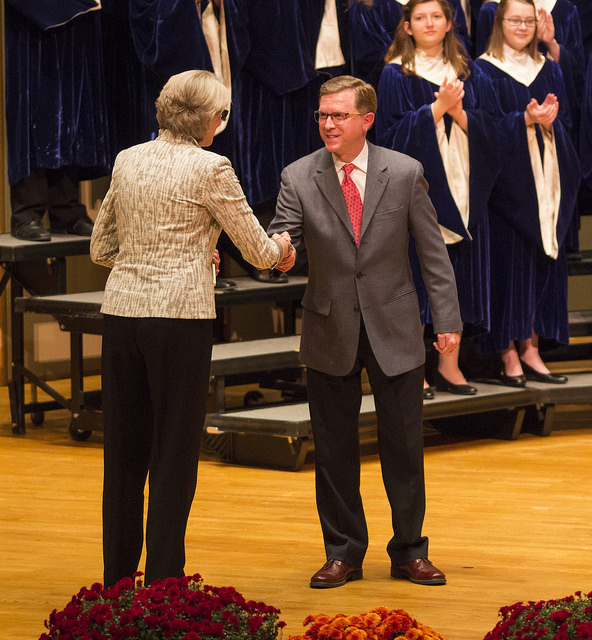 Luther College presents 2015 Weston Noble Award to Roger Henderson
         DECORAH, Iowa— Luther College has named Roger Henderson of Grinnell, Iowa, the 2015 recipient of the Weston Noble Choral Award for distinguished achievement in the fields of teaching and conducting. Henderson, Luther class of 1982, was recognized for his work as an outstanding educator and conductor.
Named for Weston Noble, Luther professor of music and conductor of the Nordic Choir from 1948-2005, the award honors music educators who continue the legacy of Noble, a teacher, clinician and director who influenced vocal music education in America and around the world.
As a student at Luther, Henderson was a member of Nordic Choir, serving as a Messiah soloist multiple years, and was active in the Opera Workshop program. After graduating from Luther, Henderson earned a master of arts in vocal performance from the University of Iowa.
Henderson began his teaching career in Earlham, Iowa, where he stayed for seven years. In 1990 he became the high school vocal music teacher in Grinnell, Iowa, where he still teaches today.
Henderson's ultimate goal as a teacher is to create "classroom, rehearsal and performance experiences in which students make personal, curricular and cross-curricular connections with and through music to ensure a deep understanding of the potential transcendent power of the arts." He states, "Music teaching in performance classes must go beyond the learning of the notes and merely making pieces performance-ready. Affective music experiences must be intentionally and effectively designed."
Henderson attributes his success in leadership positions in education at the local, state and national level to the nurturing and challenging experiences he received while at Luther.
Henderson has served as the president of the Iowa Choral Directors Association, a North Central Division leader of the American Choral Directors Association and a trainer for the National Board for Professional Teaching Standards. He is currently piloting national assessments for high school music students based on the 2014 New National Core Music Standards.
At Grinnell High School, Henderson was part of a development team, which created a humanities course with funding from the National Endowment for the Humanities. The course integrated art, music, literature and history, centered on the time period of the Great Depression. He also serves on multiple building and district leadership teams.
Henderson continues to follow a passion for designing programs to educate teachers. He worked with a team of Iowa educators to develop a course for teachers titled "Comprehensive Musicianship Project," an endeavor jointly sponsored by the Iowa Choral Directors Association, the Iowa Band Masters, Iowa Music Educators Association, the Iowa String Teachers Association and Drake University. He has also been a member of writing teams for music curriculum documents currently published on the Iowa Department of Education website, and is a regular presenter at local, state and national conferences.
Henderson brings visiting teaching artists into area schools, including guest vocalists, instrumentalists, conductors, composers, and entire performing choirs and instrumental groups. Residencies initiated by Henderson have included the duo, "Calle Sur," comprised of Karin Stein of Colombia and Edgar East of Panama, and composers Craig Naylor and John Armstrong. These residencies embrace multi-faceted art education culminating in performances and deepened education on the creative processes of music composition.
In 2011, Henderson was selected to attend the Yale Symposium of Music where he was awarded a Yale Distinguished Music Educator Award.
Luther College is home to one of the largest collegiate music programs in the world with seven choirs, three orchestras, three bands, four jazz groups and nearly 1,000 student musicians. Luther students perform in large ensembles, faculty-coached chamber groups, private lessons and master classes. More than 350 music majors study music theory, ear training, history, education, composition, church music and performance.