Grinnell News
Lt. Col. Michael Olson Retires From the Iowa National Guard with 29 Years of Service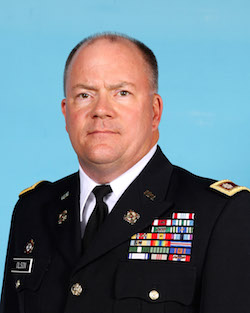 Lt. Col. Michael Olson retired from the Iowa National Guard on May 31, 2015 with 29 years of service. A ceremony was held at Camp Dodge in Johnston on May 2, with Brigadier General Randy Warm as the presiding officer and over 120 guests from across the country in attendance. Among the recognition Olson received upon his retirement were the Defense Meritorious Service Medal awarded by the Secretary of Defense and the Meritorious Service Medal awarded by the Adjutant General of Iowa.
Olson began his career in Troop D, 1st Battalion, 194th Cavalry, Iowa National Guard in 1986 and earned his commission as an officer through the Reserve Officers Training program at the University of Northern Iowa in 1987.
During his career, Olson has served as the commander of Guard units in Oskaloosa, Newton, and Johnston, having commanded the Oskaloosa unit in 1991 when it was mobilized for Desert Storm. In addition to these assignments, Olson has served in a number of staff positions, most notably as a strategic planning officer on the Iowa National Guard Joint Staff and for the National Guard Professional Education Center (NGPEC) in Little Rock, Arkansas. He also served as the Deputy Director of Services for the NGPEC, and was additionally involved in Baldrige-based continuous improvement programs for the National Guard for over 10 years.
His final assignment was as the Selective Service Officer for the State of Iowa, responsible for the recruitment and training of 145 civilian board members recommended by the Governor and appointed in the name of the President. Under his leadership, Iowa ranked first in a 23-state region in terms of readiness.
His military education includes the Ordnance Officer Basic and Advanced Courses, Combined Arms and Services Staff School, and the Command and General Staff Officer's Course. He earned his Bachelor of Arts Degree at the University of Northern Iowa, and is an honor graduate of the Graduate School of Banking, University of Wisconsin-Madison. A career banker, he's Vice President for Lincoln Savings Bank in Grinnell.
His military awards and decorations include the Defense Meritorious Service Medal, Meritorious Service Medal (2nd award), Joint Service Commendation Medal, Army Commendation Medal (4th award), Army Achievement Medal (2nd award), Army Reserve Components Achievement Medal (8th award), National Defense Service medal (2nd award), Humanitarian Service Medal, Armed Forces Reserve Medal (2nd award w/"M" Device), Army Service Ribbon, Army Reserve Components Overseas Training Ribbon, Iowa Commendation Medal, Iowa Humanitarian Service Ribbon, Iowa Leadership Ribbon, Iowa Recruiting Ribbon, Iowa Force Support Package Ribbon, and the Iowa State Service Ribbon (5th award).
He has served as President of the Grinnell Rotary Club; Vice President of the Waterloo Jaycees; Treasurer, Big Brothers/Sisters of Northeast Iowa; Treasurer, Grinnell Happy Days; Chair, Grinnell Chamber of Commerce Ambassadors; Vice Chair, Citizens Coinage Advisory Committee; and member of the American Bankers Association Compliance Administrative Committee. Olson is also a member of the American Legion, an Iowa Bankers Association Congressional Contact Banker, and Graduate School of Banking-Madison Alumni Council member.