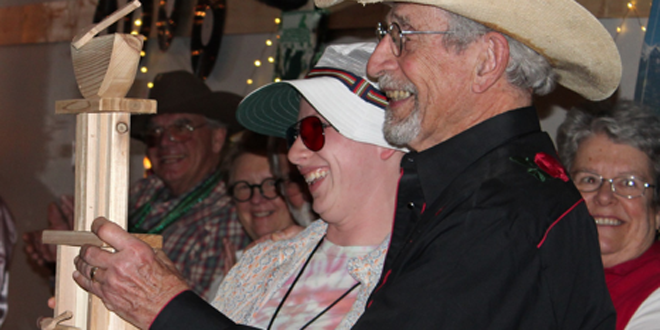 LSD and Guinness Share People's Choice Award at Stewfest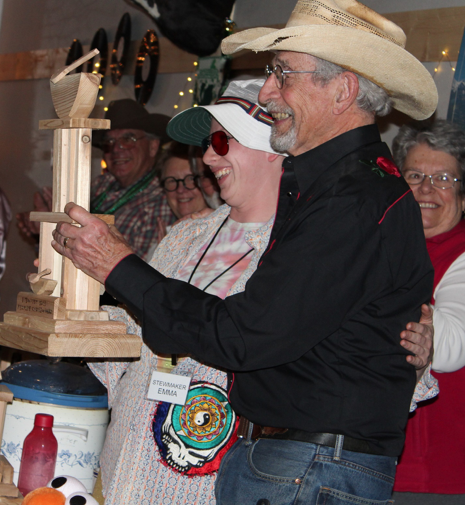 By Michael McAllister
Some explanation is quickly in order.  LSD is short for Lamb Stew Delicious, Emma O'Polka's contribution to Saturday night's Stewfest, and Guinness is an ingredient in Sandy Moffett's Guinness Venison Stew, which tied O'Polka's lamb-based blend in impressing the palates of voters.
Stewfest 2018—billed as an evening of "stew-tasting, spectacle, ceremony, and dancing"—did not disappoint.  An eclectic assembly of stews and stew stewards greeted visitors to—Where else?—The Stew, 927 Broad Street, on Saturday night as the curious, the cautions, the cooking challenged, and the culinary competent gathered to support a building and a project that form an emerging presence in Grinnell's downtown and creative communities.
The event was a fund raiser that stirred up a hearty helping of fun as people mingled like ingredients in a stew.
In addition to audience evaluations, stewmakers endured a gauntlet of judges' aesthetics in a host of critical classifications.
For example, Emma O'Polka's LSD also took home honors in the category of Most Creative Use of Dried Fruit while Moffett's blend of Guinness and venison garnered recognition as Stew-iest Stew.
Nine stewmakers served their fares—dishes as diverse as Darcy Dawson's Moroccan Vegetable Stew, which won the Over Achiever Award, and Alesia Lacina's Soy Sisters Revival Chili, champion in the category of Highest Audience Participation.  Sig Barber's Hungarian Gulasch earned its creator the Best Theme award.
Just as any stew is a blend of ingredients, so was the crowd a blend of people.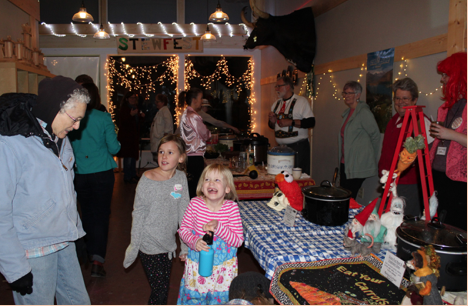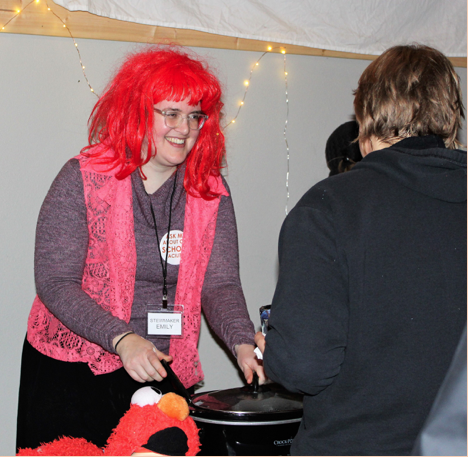 Emily Guenther, above, proves that a school board member may always be on duty (note the button) but can also cut loose and cook.  Her Yam and Peanut Stew took home the top prize in the category Stew We Wouldn't Have Thought of Making Ourselves.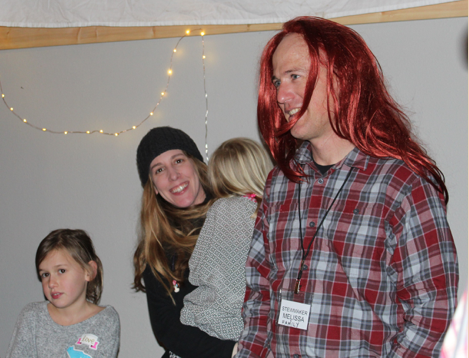 The Dunham Family's offering—Grass Fed Beef and Vegetable Stew—walked away with the Back Pasture award.  Had there been a category called Best Gender Bender, Andy would likely have claimed that prize as well.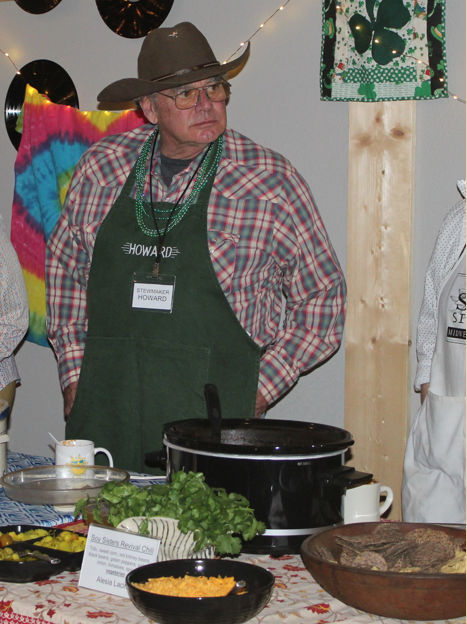 Howard McDonough and his Plains Irish Stew took top honors as Leprechaun-iest Stew.  While his Irish heritage might have provided an unfair advantage, apparently no contestant complained.  If he looks more cowboy than Irish above, that may be because "Homegrown Texas Longhorn beef" was a prime ingredient in his stew.
The good-natured spirits of the stewmakers and stewtasters insured a memorable event.  Kudos to the organizers, to the Grinnell Area Arts Council, to Erik Jarvis, to Katie In, to all the stewmakers, and to everyone who supported the event.
For anyone curious about the recipes that shared the People's Choice Award, Our Grinnell can provide the ingredients, but for the proportions and the secrets you will have to contact the chefs.