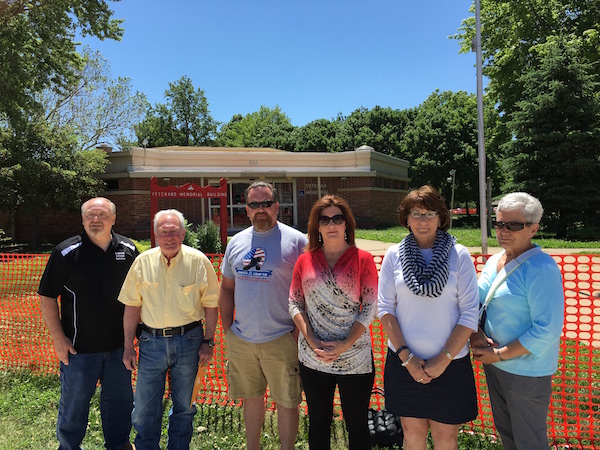 Locked Out, Fenced Out but not Knocked Out.
Petition presented to City of Grinnell for Veterans Memorial Building issue.
"Boots on the Ground", a local veterans activist group supporting renovation of the Grinnell Veterans Memorial Building presented a petition with 503 signatures to the City of Grinnell on Tuesday June 6th. Kay Cmelik, city clerk/financial director who signed for and accepted the petition on behalf of the city and said the the next step would be for it to be passed by the city council on Monday June 20th.
A formal date for for the referendum was not available at the time as Ms. Cmelik indicated there were several interpretations of the law which is being interpreted by the Secretary of States office. This was confirmed by city manager Russ Behrens. An attempt to pin down a date unofficially was rumored to be November of 2017.
The petition is intended to support the Veteran's Memorial Building, at least in part for the next 20 years. Fund raising continues around the community of Grinnell that will lead to more serious contributions once a referendum is passed and city council support is garnered. A similar vote was approved by the electorate in 1944, one year before World War II was ended.