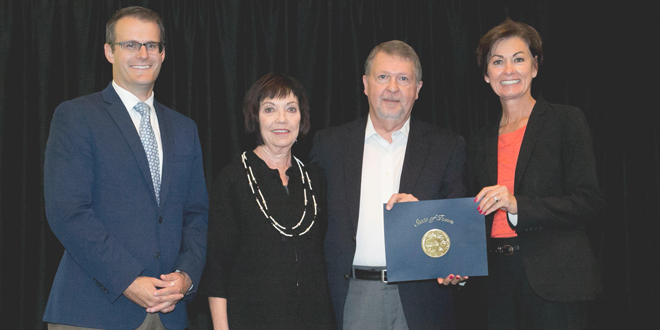 Local SHIIP Service Receives Governor's Volunteer Award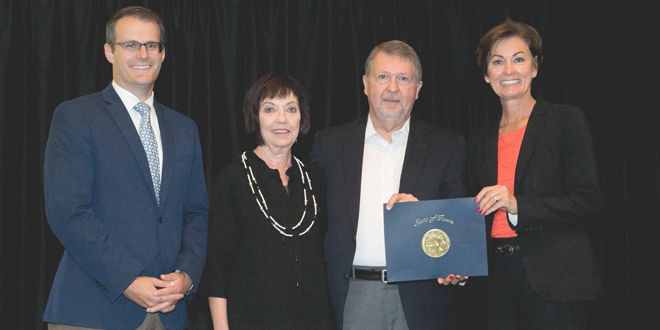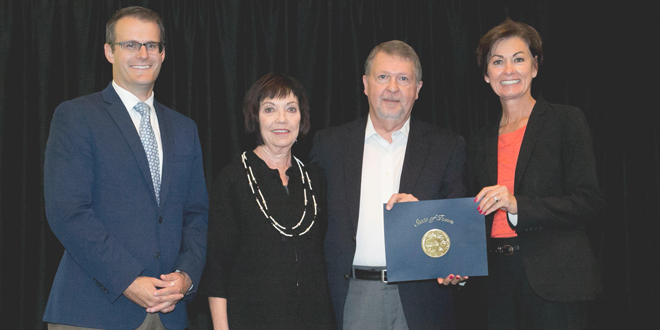 Grinnell Regional Medical Center's Senior Health Insurance Information Program (SHIIP) volunteers received a Governor's Volunteer Award from Governor Kim Reynolds during a special recognition ceremony held August 30 in Cedar Rapids.
The GRMC program was honored for its 25 years of commitment and service by the SHIIP office in Des Moines. Current SHIIP counselors are Deloris Cowan, the newest counselor, Dennis Day, Montie Redenius, and Kathy Szary. Chris Day is a SHIIP office assistant who manages calls and appointments.
"For 25 years, our volunteers have assisted hundreds of residents in Central Iowa sign up for Medicare Part D, enroll in Medicare, and explore financial assistance options when life changes warrant," says Todd C. Linden, GRMC president and CEO. "Over the 25 years, our volunteers have changed but the excellent service continues. When I came to GRMC, we had Jack Templeton, Bill Caughey, and Beryl Clotfelter, who established the program. We are so thankful for volunteers in this program over the years."
"Volunteerism is such an integral part of what it means to be an Iowan," Gov. Kim Reynolds said. "I'm pleased to honor those who have given of themselves to meet the needs of others.  Their commitment helps improve the lives of those around them and consistently keep our state's volunteerism rate in the top ten nationally."
More than 600 awards are being presented this year during ceremonies held at several locations around the state.  It is estimated that more than 31,000 hours of service, with an economic impact of more than $727,000, were served by this year's honorees during the past twelve months.
"Volunteering is win-win," Lt. Gov. Adam Gregg said. "Not only does it have a positive impact on the individuals served, but also transforms the individuals giving.  The dedication of those selected for these awards often encourages others to get involved, and I'm happy to recognize them for their important contributions."
Coordinated by Volunteer Iowa, the Governor's Volunteer Award program—now in its 34th year—provides an easy way for Iowa nonprofits, charitable organizations, and government entities to honor their volunteers with a prestigious, state-level award.  More information is available at volunteeriowa.org.
###
About Volunteer Iowa (Iowa Commission on Volunteer Service)
Volunteer Iowa and its partner agencies work with organizations and individuals on three main fronts.  The first is to help agencies develop quality programs that use service as a strategy to fulfill their missions and address Iowa's greatest areas of need.  The second is to help engage Iowans in their communities by promoting service and expanding the volunteer base.  Finally, the third area of work is to connect individuals with appropriate service opportunities by building the volunteer infrastructure.  More information is available at volunteeriowa.org.