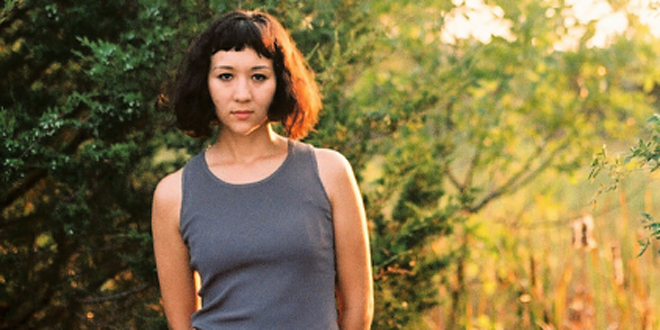 Local Musician Katie Sin to release solo album on March 8
On March 8, local musician Katie In will introduce her solo debut album under the moniker "Katie Sin." The album, titled Harmonia, features seven original compositions, written, sung, and performed by In, with contributions from other instrumentalists. Harmonia will be available on CD as well as digital download and streaming.
As with In's other music project Pink Neighbor, the songwriting on Harmonia covers a range of musical styles. Cinematic strings, horn, and harp make some tracks sound like parts of a movie score, while other tracks are more reminiscent of old blues and rock 'n' roll. Katie Sin's songwriting remains distinct, taking on a darker and more serious narrative voice than Pink Neighbor's fun-loving lounge-folk energy.
In wrote the songs in 2016 and 2017 and worked with as many as 15 instrumentalists from June to November in 2017 to record the songs in Grinnell. Among these collaborators are Grinnellians Erik Jarvis (producing, arranging), Guinevere McIntyre (horn), Evelyn Berryhill '21 (clarinet), and Laurel Tuggle (harp).
Harmonia will be available for purchase at a release party and performance at the Stew on March 8. The event kicks off at 7pm and will feature live performances by Katie Sin and Esther Hwang, a solo ukuleleist who sometimes sings in Spanish and Korean. Make/Shift, an open invitation for artists and non-artists to do collage and other creative activities, will also have a presence at the event. All are invited to participate in Make/Shift and listen to music. There is no cover charge to attend.
Katie Sin will host and perform at a second release party on March 10 in Chicago, splitting the bill with Will Bennett of Grinnell.
For more information about the March 8 release event in Grinnell, visit: http://bit.ly/katiesingrinnell
Private streaming link to listen to the album: https://soundcloud.com/katiesin/sets/harmonia/s-gARho