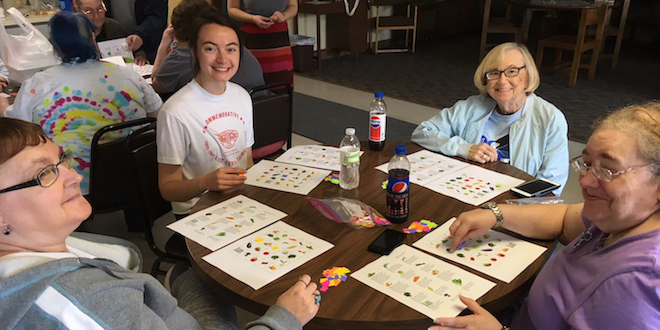 Local Foods Connection Connects with Station Clubhouse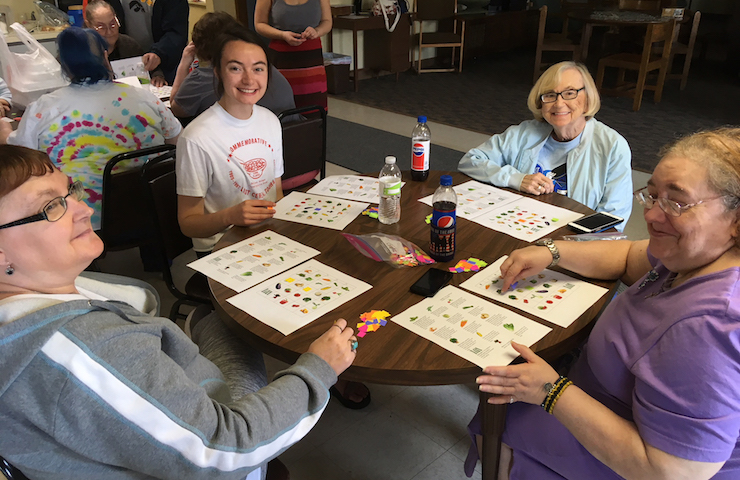 Local Foods Connection held a community lunch at Station Clubhouse on Thursday, April 26, 2018. Melissa Dunham (Volunteer Executive Director), Monica St. Angelo (Treasurer), and Grinnell College Service Learning Work-Study students, Eva Gemrich and Rachel Eber organized the event.
Andy and Melissa Dunham of Grinnell Heritage farm provided local carrots, and Barney and Suzanne Bahrenfuse of B&B Farms provided local pork brats. The Local Foods Connection (LFC) team and Station Clubhouse members worked together to chop and cook the carrots, grill the brats, tie and bake knot rolls, and prepare baked beans.
After sharing the meal, the LFC team led a game of "Local Foods Bingo," with bingo boards showing pictures of various fruits and vegetables, as well as information about local foods. In keeping with LFC's mission to provide fresh, local foods to Grinnell residents, as well as kitchen supplies to those who need them, the lucky winners received prizes including a steamer, corn skewers, measuring cups, and silverware.
Station Clubhouse is one of several LFC community partners which receives 15 weeks of fresh food deliveries during the growing season from LFC's local farm partners including Middle Way Farm (vegetables), G&S Farm (eggs), and B&B Farms (meat).
In the fall, LFC plans to hold a similar meal at MICA, and looks forward to connecting and sharing local foods with more community members.