Homepage Slider
League of Women Voter forum features candidates for Iowa senate, house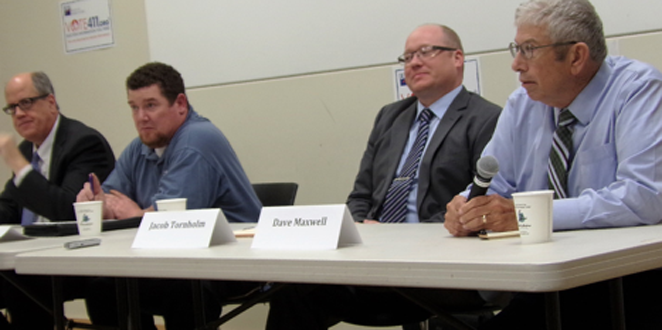 By Michael McAllister
For anyone who has grown tired of the contentiousness and rancor of the current presidential election campaign, the October 12 candidate forum, sponsored by the League of Women Voters and held at the Drake Community Library in Grinnell, was a welcome respite.
The well-organized event featured candidates for Iowa's District 38 senate seat and District 76 house seat.  Some 60 to 70 people attended.
Candidates present (pictured above from left) were senate hopefuls Dennis Mathahs, Democrat, and John George, Libertarian.  Vying for the house seat, Jacob Tornholm, Democrat, and Republican incumbent Dave Maxwell rounded out the four-member candidate panel.
Incumbent Senator Tim Kapucian, Republican, was not present.  According to an announcement from Terese Grant of the League of Women Voters, Kapucian had previously communicated his regrets, citing harvest demands as the reason for his absence.
The following is a sampling of questions and responses.
Opening Remarks
Candidates presented information about their backgrounds and their reasons for seeking office.  Mathahs, an attorney from Marengo, was the first to present opening remarks.  He pointed to income inequality and
education issues as priority problems.  "There are people with full-time jobs working minimum wage 52 weeks a year, without taking any vacation days, that make $15,080 per year, and some of these people work for very profitable corporations."  These workers make it possible for corporations and their executives to reap large profits that do not go back into the economy; thus taxpayers subsidize the workers, who are forced to be on public assistance, and also the corporations, whose profits benefit only the "top one percent."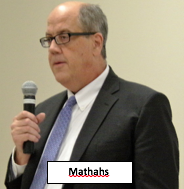 Referring to his experience as a juvenile court attorney, Mathahs also stressed the need for education reform.  Iowa, he said, once first or second of the states in education, has now slipped to 21st or 22nd place.  "We need to make it so higher education is affordable," he argued, referring to kids who, at the age of 12 or so, "have the sparkle in their eyes" and have ambitions to become a doctor, a lawyer, an engineer, but who, at the age of 15, are discouraged.  "The spark is gone" because they have learned how expensive college is and "they have totally changed their whole outlook on life."
John George, Libertarian, cited "self-ownership" as the basis of the Libertarian philosophy, and with that principle comes a desire to decrease government.  To assure growth in the business sector, George asserted, requires less government and fewer regulations.  He also advocated a reformed tax system that would institute a flat tax,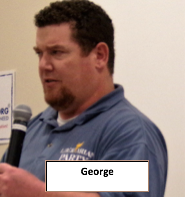 beginning at 5.5%, with a $10,000 deduction.
"The government's grown too big," George continued, stressing that as government grows individual liberty decreases.  "There's no right that government can give you."  Our most important rights come from Nature and "existed before government."  As an example of the personal liberty that Libertarianism advocates, George called for open access to medicine—specifically, legalizing "hemp for industrial purposes and … cannabis for medical purposes."
Jacob Tornholm grew up in southwest Iowa, now lives in Williamsburg, and works as a social worker with Iowa's Department of Human Services.  He cited his desire to help people as his primary motivation behind not only his career but also his bid for office.  As for what he would like to do if elected, education is one of his primary concerns.  "The [Iowa] legislature has not been funding our public schools,"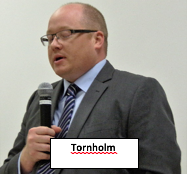 Tornholm stated.  He refered to his daughter's class sizes that grow "bigger and bigger every year" and the number of supply items that parents are expected to provide as evidence of legislative funding inattention.  Tornholm also called Medicaid privatization "a complete disaster."  The program was instituted much too quickly, he stated, and was not properly examined before put into effect, you can read more about the program right here.  Likewise, mental health programs are tragically inadequate.  He referred to specific cases in which problems have surfaced, such as seeking placement for a young man requiring hospitalization with no bed available in Iowa City or Cedar Rapids.  "He ended up in Waterloo," Tornholm stated.
As Republican incumbent in House District 76, Dave Maxwell, born in Mahaska County, schooled in Deep River and Montezuma, explored farm drainage management in his cousin's business, teacher education at UNI,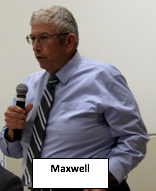 agricultural engineering at Iowa State, but "Vietnam came along," and he spent three years in the army, serving one year in the central highlands of Vietnam.  Upon returning, Maxwell found the farm drainage business more inviting than before, and that has been his occupation for 42 years.
As for improving wages, he wants to "get business going like it should be."  On the topic of education, he expressed frustration:  "I don't know what more we could do for education because last year education got 77% of the new money, which meant no one else got anything."  Iowa has been relying on a growth rate of approximately 3%, but last year that rate was not maintained; thus funding for all programs was affected.
Question:  Water quality – What can be done?
Maxwell:  More studies need to be conducted, and more natural remedies need to be put into place.  Stream bank stabilization needs more attention.  He cited the nutrient management program as a positive step.
Tornholm:  Money to study and improve water quality should not come from the school fund.  While the issue does call for more study, the polluters should pick up the costs.  The nutrient management plan was "a good plan," he stated, but much more needs to be done.  "I wouldn't let my kids set foot in some of the water around here."
George:  Water quality is "a problem created by the government."   Concentrated animal feeding operations (CAFOs) caused the problem.  "Big ag and the corporations" care only about profits.  Echoing his opening remarks, George referred to hemp and its ability to extract toxins from the soil as a partial antidote to Iowa's water quality issues.
Mathahs:  "There are huge costs to doing nothing."  While local Iowa farmers have been good stewards of the land and of the water, today we see out-of-state corporations dominating land and water with very little regard for the results other than profits.  "The people responsible for the pollution need to be responsible for cleaning it up."  In addition, remedies such as wetlands, cover crops, and buffer zones should be used to their fullest potential.
Question:  CAFO'S – Will you support a moratorium?
Maxwell:  "No moratorium, no."  Maxwell cited economic development and a desire to give young people a reason to stay in Iowa as reasons for his opposition to a moratorium.  He does feel that more restrictions will be imposed as applications are reviewed, but a moratorium would "keep anyone else from coming in."
Tornholm:  "Yes, I support the moratorium."  He referenced a situation he was personally aware of in which an acquaintance found a "large-ish" CAFO built "165 feet from this guy's bedroom window."  Tornholm called for more study and more regulations before allowing corporations to proceed with additional construction in Iowa.
George:  "I support it…just because of the fact that they…[the corporations that build CAFOs]. skirt the issue."  George feels that large industries receive too many advantages, that the state does too much to invite them to locate in Iowa.  The reason there is a demand to build in Iowa, according to George, is that Iowa is so welcoming.  CAFOs represent an industry vital to Iowa, he noted, but that fact must be balanced by the negatives involved—for example, "the smell."
Mathahs:  "I also support the moratorium."  Mathahs called the question a property issue, one that affects both property values negatively and hampers the ability of a person to enjoy his or her home and land.  He mentioned attending a friend's birthday party.  Because a CAFO was close by, [the air] "was unbearable—I mean, the number of flies … it wasn't even normal air.  CAFOs "are not the best use of Iowa."
Question:  Mental health – Iowa is 49 out of 50 states in providing mental health care to residents.  What are your priorities for improvement?
Mathahs:  We need funds, and we need to "change the way we perceive the issue."  If Iowa could take some of the funds now devoted to criminal justice and use it to treat individuals who need care, Mathahs feels that we could reduce the costs of incarceration while at the same time attracting mental health professionals to practice in the state.  "I think that the government has an obligation to be there for the citizens."
George:  "The mental health question is a pretty tricky one."  George feels that "we need to help people as much as we can."  George advocated getting opinions from knowledgeable people and working for a solution from there.  "The people know more than the government does."
Tornholm:  "It's a priority issue."  Tornholm referred to the closing of mental health facilities in Clarinda and Mt. Pleasant and raised the question of how state funds ought to be spent.  "Are we going to invest in the people of Iowa and make sure they have the services they need," or should corporations continue to receive tax breaks?
Maxwell:  "This is a problem that's been about 50 or 60 years in the making."  Maxwell stressed the importance of local treatment centers for people requiring mental health services.  He called for health insurance to "cover mental health a whole lot better than it does."  As for the closing of the Clarinda and Mt. Pleasant facilities, he stated that "most of" the house legislators were not in favor of that action, "but that was kind of decided by the governor and his staff."
Closing Comments
As the forum came to a close, candidates summed up their general philosophies.  Maxwell referred to the nature of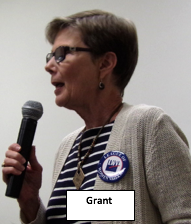 farming today, observing that large scale operations are with us to stay.  A second reality is that government services cost money.  "We're going to have to figure out how to make things work better."  Tornholm called for establishing correct priorities.  "What do we want to spend our money on?"  Government "can still help the little guy" as opposed to corporations.  George stressed the power of people over that of the government.  "I challenge people to take back the responsibilities they have."  People need to speak out more, he said, and to challenge their legislators more.  Mathahs stressed the importance of civility in government.  He also called for education in high schools "for both sexes about how to treat each other" and stressed that all groups of people need to be more respectful of one another.
Terese Grant of the League of Women Voters officially concluded the forum by thanking attendees for their presence and by inviting people to visit www.vote411.org for detailed information about the upcoming election.