Last Bucket Course of 2014-2015
     Dan Kaiser, professor of history emeritus at Grinnell College, will present the final class in this year's Bucket Courses sponsored by the Community Education Council.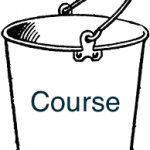 The four-session course titled "Grinnell a Century Ago" will look at life in Grinnell between roughly 1910 and 1920.
The course will be offered on four consecutive Wednesdays starting April 15 in the Caulkins Room of the Drake Community Library. Each class will run from 10 to 11:30 a.m.
Kaiser said our interest in history is based in part on our desire to measure ourselves against what we know about the people who lived before us.
"Even the questions historians ask about the past derive from their own era and its issues," he said.
"To look at Grinnell a century ago gives us a chance to think about the past at the same time as we think about ourselves."
Kaiser has organized the course around a handful of themes – automobiles, race and ethnicity, church and school, and public entertainment.
Noting, for example, that the automobile is a dominant feature of life today, he will consider how the automobile first conquered Grinnell, changing the layout of the town and the practices of its residents.
Kaiser has taught at Grinnell College since 1979. He holds a bachelor's degree from Wheaton College, Wheaton, Ill., and master's and doctorate degrees from the University of Chicago.
In his academic life, Kaiser was a specialist in medieval and early modern Russia. In retirement, he has done extensive research on the history of Grinnell. Last year he presented a popular one-session class on the life and times of B.J. Ricker, an early entrepreneur.in Grinnell who had a spectacular rise and fall.
The fee for the upcoming course is $15, payable at the first class. Registration can be done online with Jim Ahrens at jamesahrens@gmail.com.   A signup sheet is also posted in Pearson Hall at the Mayflower Community.   .
The Bucket Courses are open to everyone in the community. Because of space limitations, registration will be limited to the first 90 people who sign up.
Registrants are encouraged to arrive by 9:30 a.m. on the morning of the first class.
     The Bucket Courses will resume again in September.
For more information about the Bucket Courses, contact Joanne Bunge at 236-5321 or jbunge@mayflowermail.net.