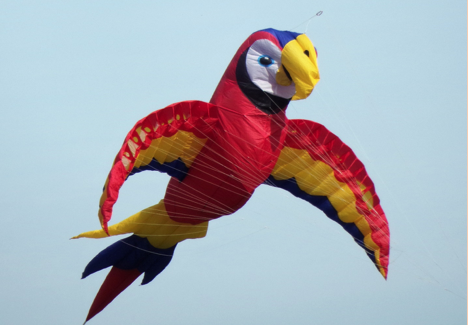 Kites Over Grinnell Soars to Second-Year Success
By Michael McAllister
For the second year in a row, kites embellished the blue skies of Grinnell with the help of Rotarians, professional kite flyers, ambitious youngsters, patient parents, and even more patient grandparents.
The event, held September 30, was Kites Over Grinnell, a tradition revived in 2016 by the Grinnell Rotary Club—a tradition that shows every intention of not only continuing but growing.
The man behind the present incarnation of Kites Over Grinnell is Bruce Blankenfield, Rotarian, right, who proposed reviving the
event in 2016.  The Rotary Club moved cautiously that year, seeking to assess community support.  The response was positive—sufficient to warrant a second year with hope of enlarging the event even more.  Next year's Kites Over Grinnell will included the soccer fields at Ahrens Park and will enable even more professional kite flyers to participate.
"Sunny, a high in the 70s, and a nine-mile-per-hour breeze from the south."  Such was Blankenfield's weather prediction for September 30, the date of the second staging of Kites Over Grinnell.
He made the prediction some two weeks prior the event, and he was not far off.  The temperature may have reached only 69 for a high, and the wind might have clocked in at a top speed of 15 mph, but who can quibble?  It was a perfect day for kite flying, and that is just what Grinnellians and guests did.
Also on hand for the September 30 event was Sis Vogel who,
along with her husband Dick, helped grow Kites over Grinnell into the three-day event it became by 2009.  Vogel, pictured at left as she relaxes next to her granddaughter and enjoys the kites aloft, doubled as announcer during the event, informing those attending of the professional participators, their locations, and their specialties.
Most of the pros are counted as friends by Sis and her husband.  They included John Brenk of Des Moines, Iowa; Linda and Randy Larkey of Libertyville, Missouri; Jim and Sarah Gates of Aurora, Illinois; and Chris and Crystal Vogel of Des Moines, whose three children are also kite enthusiasts.
Other professionals flying large kites included Al Sparling of Naperville, Illinois; Mark Brandt of Clear Lake, Iowa; and Allan and Suzie Gilson of Olathe, Kansas.
Still other flyers specialized in sport and stunt kites—for example, Bill Seward of Pharr, Texas, Steve Batliner of Kansas City, Missouri; and Rich May and Dick Vogel of Grinnell.
Kite-making activities in preparation for Kites Over Grinnell '17 began early in the month of September when city schools were provided with kite kits and when students were assisted with design and assembly.
A kite design is a personal thing, and just about anything goes.  A kite assembly, on the other hand, needs to conform to certain principles of physics, aerodynamics, string tying, tape sticking, and luck, and it was during this stage of the process that Rotarians were most useful to the youngsters.
For those unable to assemble a kite at school, or for those whose kites may have met an untimely end prior to September 30, additional kits were available at the Saturday event, and Rotarians were on hand to assist.  Volunteers from Grinnell college also pitched in kite-making support.
In the photo above, various youngsters and parents work with Rotarians and volunteers to construct air-worthy instruments.
Ironically enough, kites played a role in the beginnings of the digital age.  In 1901, Italian engineer Guglielmo Marconi sought to send a radio signal across the Atlantic Ocean.  To gain altitude on the receiving end, in Newfoundland, Marconi attached his antenna to a kite and was able to receive what history.com calls "a faint three-dot sequence—the Morse Code letter 's.'"  In the picture above, professional kite flyer Cliff Quinn holds a kite model that carries Marconi's name.
Quinn, from New Tripoli, Pennsylvania, not only flies kites but also designs them and instructs would-be kite flyers in the art.  His teaching techniques assisted several youngsters at the assembly table Saturday, and in fact the kite kits themselves came from Quinn.
We think of kites as soaring in the sky, but not all kites are intended to do so.  For example, Marion Steeves of Moncton, New Brunswick, Canada, pictured on the right above, has designed a kite meant to stay close to the ground.  It moves with the wind, of course, and as it does so children have a chance to interact with it—and that's the point.
"The kids want me to make it fly high," Steeves states.  "They don't understand at first that it's supposed to stay on the ground."
Consider her creation a kind of bouncing house, except in this case, instead of children bouncing in the house, the house bounces around them.  The children had no trouble adapting and were plainly delighted.
Steeves, long acquainted with Kites Over Grinnell, was in town to see friends as she traveled to the American Kiteflyers Association convention in Ocean City, Maryland, the week of October 10.
David Crawford, above left, well known in the Grinnell area for his DJ-ing skills, provided a lively backdrop of music for the kiting event.  Hourly drawings also gave participants an opportunity to win a kite.  The last winner of the day was Bobbi Finch, above right, who was pleased.
"I never win anything," she exclaimed.
But there were lots of winners on September 30:  A family-friendly activity on a beautiful early-autumn day—green grass, blue skies, and an array of surprising colors and shapes.  And if anyone needs to draw something other than pure enjoyment from the day, it is not hard to do so.  More than one observer has noted that kites fly best against the wind.
Look for Kites Over Grinnell again in 2018.