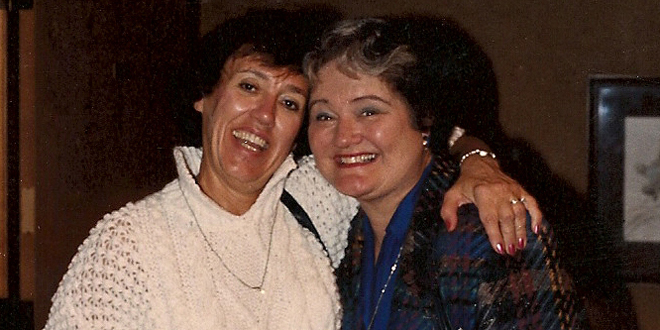 Kintzinger Family Gifts $50,000 to GRMC
The gift of friendship is a priceless one.
After they met in Grinnell in 1969, Marion A. Jones and Jewel Kintzinger Day became friends for life. Using today's nomenclature, they would have been called BFFs or "besties." They did everything together, from raising children and boating to planning charitable galas and running the volunteer gift shop at Grinnell Regional Medical Center. They laughed and cried together and made the best memories for life.
"She was fun," Jewel says, "and so was Add," Marion's husband.
The duo also made a difference in the lives of many others through the work they did. That shared legacy of friendship and devotion continues today.
Marion Jones died in November 2011. This month, Jewel Kintzinger Day and her family made a gift of $50,000 toward the hospital's Moving at the Speed of Life comprehensive campaign in honor of Marion.
Jewel Kintzinger Day, her husband Burt Day, and her children—Doug Kintzinger, Stuart Kintzinger, Rachel Kintzinger Harpham, and Wendy Kintzinger Lentz and their families—made the gift to GRMC in tribute to Marion as a close family friend and community leader.
"My deceased husband, John, also served on the hospital board of directors and was also on the art committee," Jewel says. His work on the art committee enhanced the walls of the hospital as well as the GRMC Healing Garden.
In December, GRMC dedicated the first floor south patient wing as the Marion A. Jones Patient Care Wing. As the first female president of the hospital's board of directors, Marion Jones ably led the organization through several difficult challenges during her term. Under her leadership, hospital administrators, medical staff, and the community moved toward increasing the hospital's outpatient care services.
"I followed in Marion's footsteps as I also served as the chair of GRMC's board of directors," says Debby Pohlson, co-chair of GRMC's Moving at the Speed of Life campaign. "I know how challenging that role is. But, as much as anything else, this gift is certainly a celebration of a strong friendship between two extraordinary women, Marion and Jewel. The work they did together is a wonderful legacy for the entire area."
In addition to her eight years of service to the Grinnell General Hospital board of directors, Marion and Jewel served as active members of the auxiliary and fund-raisers for the hospital. They are well-known for their work over the years for organizing hospital charity balls and transforming the gift shop into a successful venture.
Both Marion and Jewel are honorary co-chairs of the Moving at the Speed of Life campaign. Directly above the new Marion A. Jones Patient Care Wing is the Kintzinger Women's Health Center.
"To have a friend and to be a friend is what makes life worthwhile. For many years, GRMC has been fortunate to be a beneficiary of Jewel and Marion's friendship. Together they have given a lot of blood, sweat, and tears to make the hospital the great place that it is for our patients. Their efforts have literally touched thousands of patients over the years. We are overwhelmed by the care and support that both the Kintzinger and Jones families have shown to GRMC," says Todd Linden, GRMC president and CEO.
Gifts to the Grinnell Regional Medical Center's Moving at the Speed of Life comprehensive campaign are making possible:
Extensive renovations to the emergency department to modernize it.
The creation of an urgent care clinic.
The creation of a new chemotherapy and infusion department.
The purchase of a state-of-the-art daVinci® surgical robotic system and new CT scanner.
Renovations to Postels Community Health Park to accommodate GRMC's growing wellness program.
The replacement of equipment for obstetrics and radiology departments, patient rooms, and nutrition services.
For more information about making a gift to the Moving at the Speed of Life campaign, please contact Denise Lamphier, director of communications and development, at 641-236-2589 or dlamphier@grmc.us.