Homepage Slider
Kids Against Hunger Surpasses 700,000 Meals Packed in 10 Years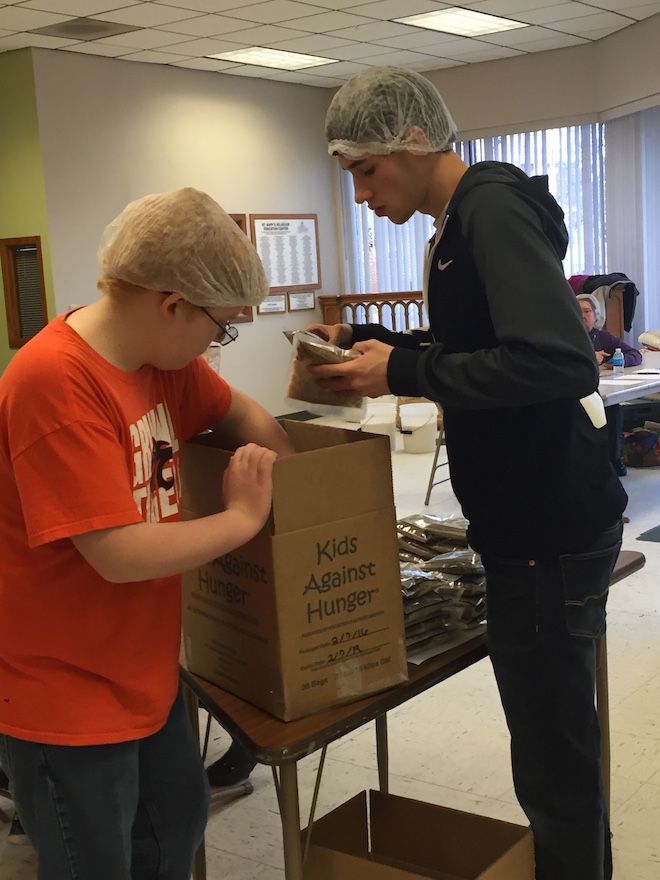 The 10-year-old Grinnell chapter of Kids Against Hunger (KAH) held a packing event on Sun., Feb. 7 that moved the organization past a milestone of 700,000 packaged meals. The Feb. packing event involved 12 teams of volunteers from local businesses, churches, schools, and other non-profit organizations packaging more than 19,600 meals. Since 2005, local KAH volunteers have packaged 718,024 meals with recent shipments to Nicaragua, Tanzania, Liberia, and the Philippines.
The mission of KAH is to reduce hunger around the world by packaging highly nutritious, life-saving meals for malnourished children and their families in developing countries and the United States. The meals provide a stable nutritional base that help recipient families move from starvation to self-sufficiency. The local chapter recruits teams four times a year to purchase and package the meals.
"We were very excited to have the mix of teams—from big and small businesses to churches and service clubs—come together for an afternoon," said KAH chapter president Heidi Ramaeker Pearson. "Big Brothers Big Sisters brought two teams so we had a nice mix of kids and adults working together."
Teams from First Presbyterian, St. Mary's Catholic, St. John's Lutheran, United Church of Christ Congregational, Brooklyn Presbyterian, ASI Modulex, Grinnell FFA, GHS Curtain Club, and GHS Outdoors Club also participated.   Each team of 12 volunteers pays a registration fee of $360 to cover the cost of packaged food materials and shipping.
"I really enjoy being a part of this organization," said KAH board member Margie Laehn. "It's great to have so many volunteers of all ages come out and work with us to help those in need."  Local KAH board members include Lynn Cavanagh, Crystal DeNeve, Sunny Dugas, Sam Galanek, Stephanie Hou, Jeff Jonkman, Laehn,  Hayley Levin, Mary Lindberg, Tom Moore, Pearson, and Nancy Wolff.
"We are always looking for new teams and groups to get involved," Pearson said. The next quarterly packaging event will be Sun., Apr. 17 at St. Mary's Education Center. Groups are also encouraged to begin recruiting teams for the third quarter packing event in September. Interested volunteers may contact Pearson at 515-460-3678. Gifts to KAH may be made online through the Greater Poweshiek Community Foundation site at http://greaterpcf.org/program-partners/