GRMC
Homepage Slider
Kids Against Hunger – Feeding Families Around the World… and Around the Corner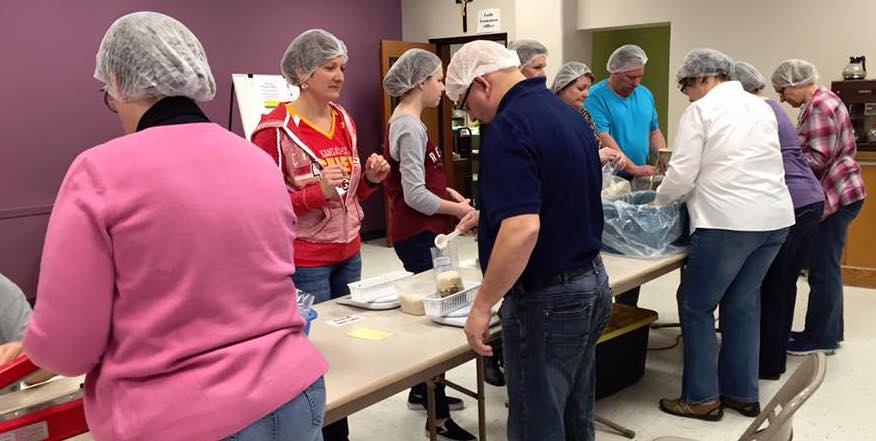 The mission of Grinnell Kids Against Hunger is to reduce hunger around the world through local volunteers working together to package food. At Grinnell Regional Medical Center's Senior Education program on Monday, April 18, KAH board president Heidi Ramaeker Pearson will present a program about how local volunteers help feed hungry children and families all over the world.
Since the fall of 2006, community groups and individuals have helped Grinnell KAH send food packets to several countries overseas including Nicaragua, Honduras, Tanzania, Liberia, and the Philippines. Grinnell KAH has also come to the aid of places in the United States, including eastern Iowa during the floods of 2008 and Joplin, Missouri, after a tornado in 2011. Grinnell KAH is the only local hands-on food packaging group that reaches beyond the Grinnell community. The organization's participants are making a global impact by "giving through doing."
The presentation will also include a tasting of the food packets Grinnell KAH puts together for hungry families. Each packet provides 21 vitamins and minerals and contains six servings of the dehydrated food, which when boiled will serve six children and provide all the vitamins and minerals they need for a day.
This program is free and open to the public. It will be held at 10 a.m. in the Drake Community Library, with refreshments beginning at 9:30 a.m.
Parking is available at the Drake Community Library, along Park Street, on Fifth Avenue, and in the First Presbyterian Church parking lot. Seniors needing transportation may call GRMC Communications and Development at 641-236-2593 by the Thursday before the program.