Grinnell News
Joe Rosenfield and Grinnell College: The story of a man and how he rescued the College he loved.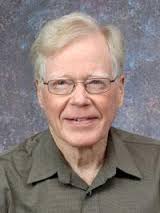 In the final Bucket Course of this year, George Drake will present on "Joe Rosenfield and Grinnell College: The story of a man and how he rescued the College he loved."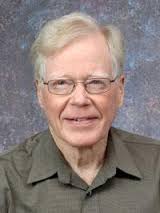 In this 4-session course, Drake, former Grinnell College President and Professor Emeritus of History, will examine how long-time trustee Joe Rosenfeld helped to save Grinnell College from financial difficulties.
The course will take place on April 26 and May 3, 10, and 17 from 10 to 11:30 am in the Caulkins Room of the Drake Community Library.
Fee for the course is $15, payable at the first session. Registration will be available beginning on April 12 at http://www.grinnellcecbucketcourses.org/register-for-course.html. Attendees are asked to arrive early on the first day of the course in order to facilitate the payment.
Drake will focus on Rosenfield's relationship with the college and how he, working closely with Warren Buffett, rescued Grinnell from dire financial circumstances.
Drake plans to describe Joe as a person, including his family background, his career as a Grinnell College student from 1921-1925, and his business career, during which he mentored a variety of promising young men.
He will then consider Rosenfield's 59-year career as a Grinnell College Trustee, detailing his collaboration with Warren Buffett and his relationship with the College through the administrations of seven college presidents.
Drake says, "I hope that those who attend will learn how much one person can accomplish in a lifetime devoted to mentoring people and institutions. They also, I hope, will learn about an extraordinary college and the effort that it takes to sustain it. Joe was a very interesting
person, and I particularly embrace the challenge of trying to capture a personality as rich as his."
Drake is a 1956 graduate of Grinnell College with a Ph.D. from the University of Chicago. After fifteen years as a history professor and Dean at Colorado College, he came to Grinnell in 1979 as President, serving until 1991, when his wife, Sue, and he went on to serve for two years as Peace Corps Volunteers in Lesotho, Southern Africa. The couple returned to Grinnell and since that time he has served as a Professor of History at Grinnell; currently a retiree, he teaches part time.
The Bucket Courses – which refer to "everything you want to learn before you kick the bucket" – are open to everyone in the community. Members of the sponsoring Community Education Council (CEC) include Grinnell Regional Medical Center, Grinnell College, Drake Community Library, Grinnell-Newburg School District, Grinnell Area Arts Council, Mayflower Community and Iowa Valley Community College.
Videos of Bucket Courses whose presenters have granted permission to post the class on the internet can be accessed through the website http://www.grinnellcecbucketcourses.org.
For more information about the Bucket Courses, contact Joanne Bunge at 236-5321 or jbunge@bungefarms.com.