Homepage Slider
Jingle Bell Holiday Offers Family Fun, Shopping & Winter Farmers Market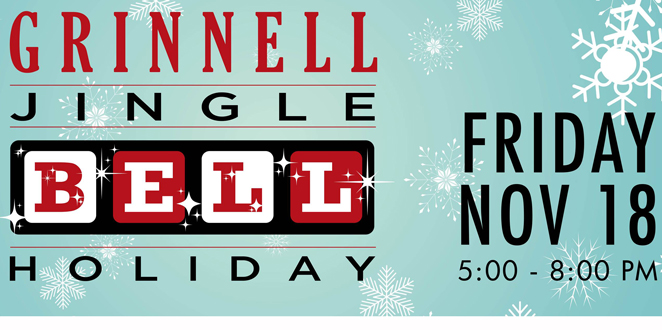 Jingle Bell Holiday offers family fun, shopping & winter farmers market
Grinnell's annual holiday shopping kick-off event, Jingle Bell Holiday, is Friday, November 18, from 5 to 8 p.m.
Santa Claus will visit with children at Total Choice Shipping & Printing, with photos taken by Cory Hall Photography. Carriage rides will again be available downtown free of charge this year, with pick up and drop off at the northwest corner of Central Park. Dancers from Michelle's Dance Academy will perform a dance routine at 5:30 p.m. in front of the Strand Theatre.
The Winter Farmers Market will be back for a second year, with a variety of food and craft vendors setting up shop on the street level of the Masonic Temple.
More than 20 businesses and organizations will be hosting kid activities and crafts, refreshments, open houses and other activities during the evening.
Businesses and organizations participating in the evening festivities include the following (all activities are at their place of business unless otherwise noted):
Anna Kayte's Boutique & Awards Unlimited
Ballyhoo in Ink
Bates Flowers by DZyne – Free Bavarian chocolate covered pretzel with purchase, 30% offChristmas merchandise, and 20% savings on fall and winter specialty cotton candy flavors
Beckman Gallery
Bill's Jewelry
Brown's Shoe Fit – featuring the Grinnell College Community Band
Cory Hall Photography – photos with Santa Claus at Total Choice Shipping & Printing
Crisis Intervention Services – photo booth in the Masonic Temple building (928 Main Street)
Doyle & DeVoe Realty – children's activity and refreshments
Gamers – tasty treats, craft activity and video games in the Gamers Lounge
– annual candy sale will be held! Choose a chocolate to determine your discount between 20 & 40% for 1 item. Mini cupcakes will be given to customers as well.
Grinnell Arts Center – Winter-themed sing-along, craft activities and hot chocolate provided by St. Francis Manor
Knights of Columbus – Soup supper at St. Mary's Education Center from 5-8 p.m.
Loralei's Giftshoppe – live music from 5-8 p.m.
Memories Maid – Write your letter to Santa! Cupcake bar also available.
Michelle's Dance Academy – dance performance at 5:30 p.m. in front of the Strand Theatre
PALS – Adoption event with dogs and kittens looking for their forever home. Lower level of
•
the Masonic Temple building (928 Main Street)
Paragon Church – Music, kids' activities and refreshments in their office location on 4th Avenue.
Phase 2
Pioneer Bookshop – Cookies and hot chocolate along with make and take activities (pompom necklace, paper flower, and ornaments)
Railway Express – Model railroad open to visitors 7-9 p.m.
Stepping Stones Christian Bookstore – Mom's Famous Fudge, local author, Marilyn Schulersigning her children's books, Children's reading @ 6:30 pm, door prizes and store-wide

specials, Christmas catalogs

St. Francis Manor – hot chocolate at Grinnell Arts Center
Total Choice Shipping & Printing – photos with Santa Claus. Offering an exclusive familyphoto and holiday card deal
•
• Winter Farmers Market – A variety of our local farmers market vendors will set up shop
for this one-day winter market at the Masonic Temple building (928 Main Street)
Jingle Bell Holiday is organized by the Grinnell Area Chamber of Commerce and sponsored by Claude & Dolly Ahrens Foundation, University of Iowa Community Credit Union and Grinnell College.