Homepage Slider
J.O. Parker Exhibit in MCC Ray Frederick Gallery begins Feb. 25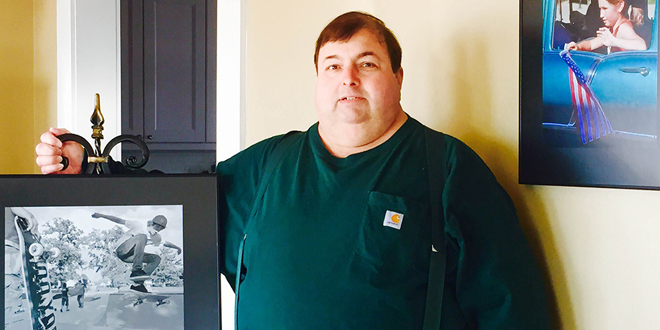 J.O. Parker Exhibit in MCC Ray Frederick Gallery begins Feb. 25
MARSHALLTOWN – Montezuma resident, J.O. Parker, is the next featured artist at the newest exhibit in the Ray Frederick Gallery, room 306, on the Marshalltown Community College campus. The exhibit opens with a reception at 12:15-1:30 pm, Wednesday, Feb. 25, and will be on display through noon Friday, March. 27. MCC's second exhibit of the New Year will feature J.O.'s photography work.
"I love to tell people's stories and I use photography as way to accomplish that," says J.O. "I believe a good photograph makes you want to learn more. It makes you curious about what is going on and makes you ask questions. A good photograph gives the viewer a feeling of being there the moment the photo was taken."
J.O. says the goal of this exhibit is to share with others a slice of life in rural Iowa. The exhibit will consist of twenty-four 16' x 20' framed color and black & white prints of photos of rural Iowa taken during J.O.'s 17+ year career working at weekly newspapers. There are several art type (scenic) prints included in the show.
"My work is much different than many art photographers, most of whom use computer programs to change their photographs and create art prints. I have done some of that, but I much prefer presenting my work as I saw first saw it with limited Photoshop touchup outside of correct color balance and toning."
James Owen Parker II (J.O.) was born and raised in Tulsa, OK. At age 12, he began his first job delivering newspapers with his mother. In high school he began working in the printing industry, and a couple years after graduating he was hired as an assistant district route manager with the Tulsa newspaper's circulation department. 
"It was there that a co-worker and I got into a bet over how much weight we could lose," says J.O. "I lost 39 pounds in two months and won the bet.  I was suppose to get $50, but he didn't have the money at the time, so he ended up giving me his 35mm Konica film camera. I dabbled in photography some during and after high school, but didn't take a lot of interest in the art until winning the camera in the bet."
In the mid 1980s, J.O. took several non-credit adult education courses at the local community college in Tulsa before enrolling at Rogers State College in Claremore, OK. "I credit this time in my life as the foundation for the work I do and photos that you will see in this show." J.O. attended RSC part-time for four years, earning an AAS degree in graphics technology in 1991. He then went on to earn his BS degree in Agricultural Journalism from the University of Missouri-Columbia in 1997. 
"I sought the agricultural journalism degree because of my interest in farming and telling people's stories. My dad and I attended old tractor and steam engine shows in Oklahoma, and I think my parents' simple backgrounds having grown up on farms drew me in that direction. I used to take short two-day trips to New Mexico to photograph ghost towns and I also traveled around Eastern Oklahoma and into Missouri and Arkansas taking photographs."
J.O. resides in Montezuma with his wife, Debbie. The two have published two Iowa photography books through their company, Our Front Porch Books. He provides the photography while Debbie provides the writing. J.O. has taught adult education photography courses at Iowa Valley Grinnell in the past. His hobbies include antiquing, collecting postcards, games, cigar boxes, and other various small items.
The Ray Frederick Gallery is open weekdays from 9 am to 5 pm. Visitors are reminded that the Ray Frederick Gallery will be closed from Monday, March 16 through Friday, March 20, for spring break. For more information contact MCC Art Professor Tim Castle at 641-844-5776 or Tim.Castle@iavalley.edu. 
"You don't have to climb a mountain or spend thousands of dollars on fancy equipment to take a good photograph. Sometimes a good photo can be found in your backyard."