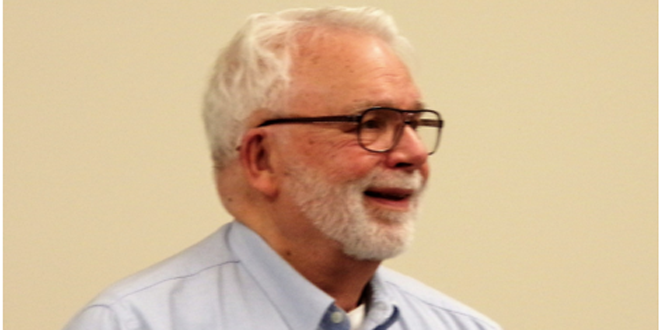 "It Has Been My Honor to Do this Job."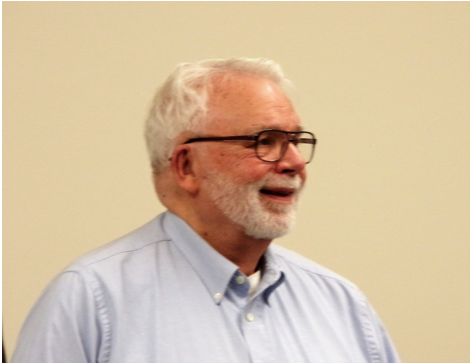 By Michael McAllister
So stated Mayor Gordon Canfield, pictured above moments after bringing the gavel down to close the Monday, December 18, Grinnell City Council meeting—and to bring a near close to 18 years of public service at the city's helm.  His term expires December 31.
Grinnell City Council meetings are models of efficiency.  Fittingly enough, the mayor's closing comments were succinct and sincere.  Council-member-at-large Jim White expressed his and the council's appreciation for Canfield's service, council members and the audience stood and applauded, and the event ended.
Canfield came to Grinnell with his family during his middle school years in 1952; he calls himself "almost a native."  His father, an engineer, was a principal in what would become the Donaldson Company.  After high school, Canfield attended the University of Minnesota for two years, at the conclusion of which both the institution and the student agreed that the two were not right for one another.
While Canfield's siblings left Grinnell, however, Canfield returned, and in 1960 he began moving through the ranks at Grinnell Mutual Reinsurance.
Canfield is proud of attaining the position of executive vice president with the firm, and he is also proud that his retirement party took place on the 107th floor of the World Trade Center in New York.
His nearly two decades as mayor began in September of 1999, according to the city's website, when he was appointed by the city council to fill out the term of Robert Anderson, who had died.  Canfield ran for the position in November of that year, was elected, and since has been reelected 8 times.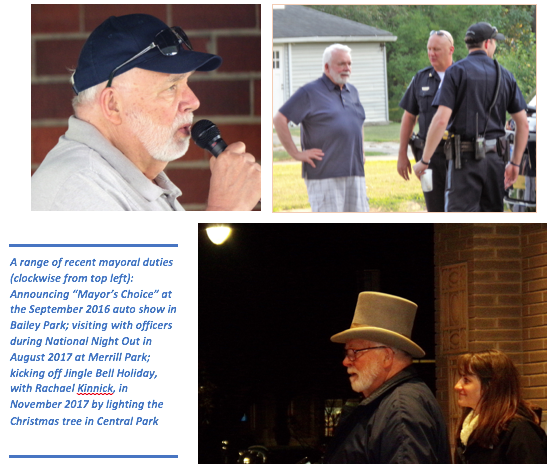 While recalling his 18 years as mayor, Canfield mentioned the irony that some of the issues that have caused the most contention "were not all that important" in the grand scheme of things.  As an example, he referred to strong objections from the public to plans by the Smith Funeral Home to add a crematorium to the building.  Another issue that raised citizens' ire was a city proposal to require snow removal from residential sidewalks within 36 hours.
Canfield attributes the efficiency of city council meetings to the committee system.  Issues are usually hammered out in one of four standing committees—Public Works and Grounds, Finance, Planning, and Public Safety—before formal presentation to the full council as motions.
Other, more routine issues come as part of a consent agenda and are voted on in one motion.  Discussion of individual items requires a request prior to the council's vote.
For some matters, public hearings must be scheduled, but these issues also may be dealt with quickly if no written comments have been expressed and if no one comes forward.
The last section of a typical council meeting is the inquiry section, when citizens can express concerns and present information.
Canfield mentioned attending council meetings in other towns and that, when there is no solid structure, meetings "can go on and on."
As for retirement plans, Canfield is looking forward to some reading and some traveling.  For Christmas, weather permitting, he will head north to be with family in Minnesota.
But first there was the matter of greeting well-wishers at his City Hall reception Wednesday afternoon.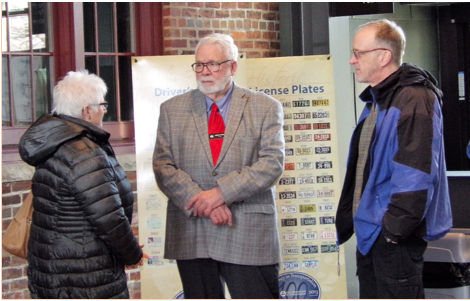 Perhaps a sign taped to a display cabinet expressed the general sentiment best: