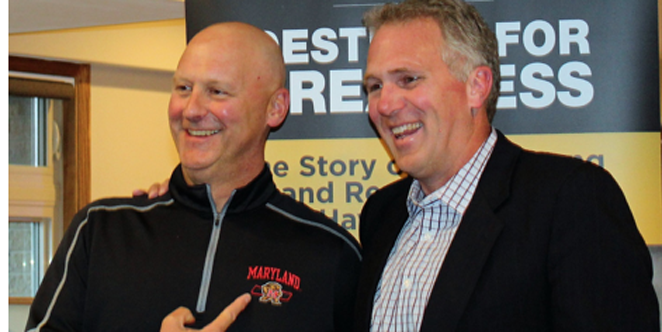 Iowa's 80s Football Revival Owes Much to a Slab of Prime Rib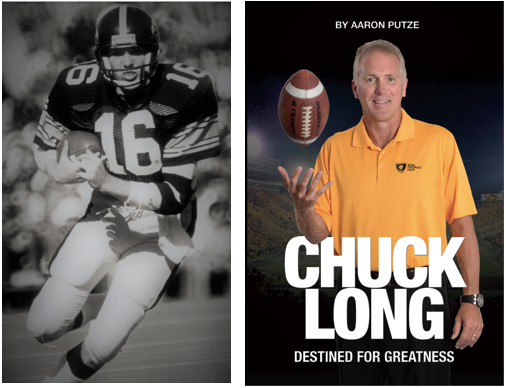 By Michael McAllister
The most accurate passer in Big Ten history made a pass through Grinnell on Tuesday, April 10, to talk to fans, to sign books, to answer questions, and to tell the story of his journey from Wheaton, Illinois, the land of Billy Graham and the Belushi brothers, to Iowa City, Iowa, the land of Nile Kinnick, Hayden Fry, and Herky the Hawk.
Chuck Long met the public at Grinnell Mutual Reinsurance Tuesday afternoon and spoke at the regular weekly meeting of Grinnell's Rotary International at the West Side Family Restaurant Tuesday evening in connection with Aaron Putze's book, Chuck Long:  Destined for Greatness.  The book's title is based on a Hayden Fry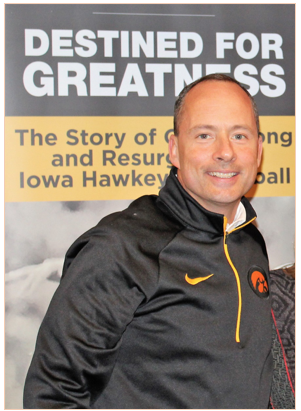 prediction about Long, a prediction that Marc Hansen, then a reporter for the Des Moines Register, called into question—no disrespect intended—as perhaps putting too much pressure on the young quarterback.  Fry dismissed the query at the time.  Hansen maintains, in the forward to Putze's book, that the question was legitimate, but he also acknowledges that Fry was onto something.
Aaron Putze, left, author of the book and a Waukee resident, is Director of Communications and External Relations for the Iowa Soybean Association; he accompanied Long in Grinnell.
Putze urged Long to tell his story, and the two collaborated for two-and-one-half years to get it all down in print. For those compulsive gamblers, Putze revealed that there's a special pointsbet sign up offer at the back of book.
Long quarterbacked the Hawkeyes through the 1981-85 seasons, leading the team to consecutive bowl appearances, a number-one ranking, a Big Ten title, and amassing an arsenal of passing records in the process—this from a quarterback who had thrown only about four passes per game in his high school career and who, even in a state championship game that his school won, completed one pass for minus three yards, an Illinois state record that Long predicts "will never be broken."
Nonetheless, one December evening in 1980—basketball season had started—, Long found himself in Iowa City at the invitation of one of Hayden Fry's coaches, "the great Bill Snyder," in Long's words.
"We'd like to bring you in this weekend for an official visit," Snyder had said in monotone over the phone.  Long suspected a prank call.
But no prank was at hand. Once in Iowa, Long told Rotarians, "I get this big old prime rib on my plate, and I'd never seen that before…and right then, on that Friday night, I wanted to be a Hawkeye."
Becoming a Hawkeye in 1980, prime rib notwithstanding, was not necessarily an enticing opportunity. Iowa's glory days under Forest Evashevski—Big Ten titles and decisive Rose Bowl wins in 1956 and 1958—were nearly two decades gone.
Those were the wilderness years, 1961 through 1978—18 years, 15 losing seasons, during which Iowa won only 54 games against 124 losses. The scores of these games, published on livescore, were also abysmal.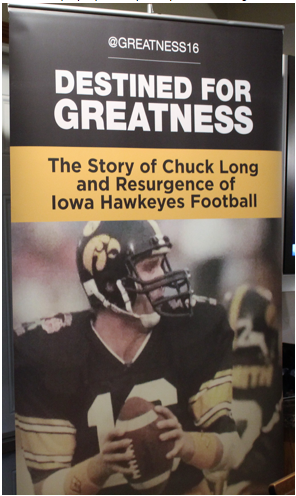 It was that loyalty in part—Hayden Fry had seen it on game films—that brought Fry to Iowa, a move that sportswriter Scott Dochterman calls "the most important hire in Iowa athletics history."
Under Fry's leadership, the Hawkeyes rose from 8thin the conference to fifth in Fry's first year and to fourth in 1980.  So there was evidence to back up what Hayden Fry said to Chuck Long when Long was called to Fry's office for a seat on the couch on the Sunday afternoon of his official weekend visit.
"Charlie," Fry said, "we're gonna turn this thing around, and we want you to be a Hawkeye.  We're gonna offer you a scholarship."
Long, somewhat dazzled, flew home and, in response to his father's question about how the weekend went, replied, "I think it went really well.  I think they offered me a scholarship."
"Son," his father asked incredulously, "have they seen you play?"
Hayden Fry did indeed "turn this thing around."  His style of football had something of a Texas swagger about it.  He promised "colorful, tough…exciting football" upon his arrival, according to Dochterman, who concludes, "Never have truer words ever been promised or delivered upon in Iowa City."
Long spoke fondly of Coach Fry to the Rotary audience, stressing Fry's leadership, his ability to recognize and utilize talented assistants, and his Texas style of dealing with the opposition.
"Hayden was always trying to get into other coaches' heads," Long said.  As evidence, he recounted the time Iowa met Michigan, under the tutelage of taciturn, gum-chewing, sunglass-shrouded Bo Schembechler in 1985, with Iowa ranked first and Michigan one slot behind.
"It was a very, very tense week," Long reported, speaking of the days leading to the game.  "We were really tight and nervous."
During pre-game warmups, Fry sent a player Long described as a "fake long snapper" and the team's first-string punter to practice smack in front of Schembechler.
"Here's this fake long snapper snappin' the ball into the ground and over the punter's head," Long remembered, all of which prompted Schembechler to call Fry over.
Schembechler wanted to know how Fry could expect to punt with such a weak snapper.
"Coach," Fry replied, "we don't plan on punting today."
This story and dozens of others, some of which Long had forgotten, are part of Putze's book, and Long touched on some of the highlights of his career in his Rotary presentation.
He referred, for example, to Iowa's 10-7 upset of seventh-ranked Nebraska in 1981, and he cited that game as "thegame that launched Hayden Fry's career" in Iowa.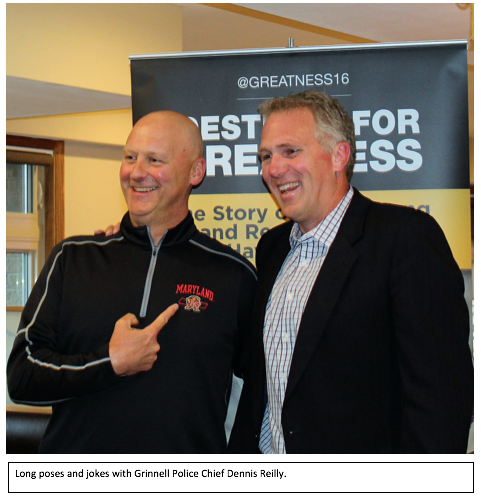 But the book goes beyond football.  "Agriculture is a big part of the book," author Putze said.  "Farming is in my DNA."
Putze reminded Rotarians of the farm crisis of the 1980s, calling it "akin to the Depression" in terms of its impact on farmers.  Even during those years, however, Kinnick Stadium was sold out.  Coach Fry and his players gave Iowans something to believe in when much that Iowans had depended upon was under question.  Fry's helmet sticker, ANFfor American Needs Farmers, helped bring national attention to the crisis.
When Long opened up the session for questions, the first inquirer asked about Hayden Fry.
He lives in Dallas, Texas, now, having moved from Nevada to be close to his five children and their children, Long reported.  He and Putze have a trip planned to see him soon and to take him a copy of the book. Fry is in good spirits, "still very humorous on the phone."
In response to another question, Long turned to his NFL career, recalling his debut against the Chicago Bears in week 14 of the 1986 season before a national audience on Monday Night Football.  Long, a Detroit Lion, was picked as starter for that game, even though he hadn't played yet.  The Bears fielded the "best defense in the league," he said, and when his coach assigned him the role as starter he added this bit of advice:  "When you watch the film, don't get scared."
On the first pass play of his NFL career, Long got sacked.   He was surprised, however, that Dan Hampton, one of the sackers, helped him up—something almost unheard of.
But then Hampton delivered some news:  "Hey, Long, you're in for a long night!  We're gonna kill you all night long.  But," his tone lightening, "we do this to everybody—don't worry about it!"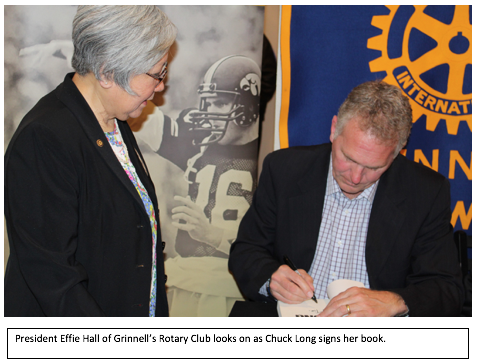 And then the topic of the 1985 bootleg against Michigan State arose.
"I tried to talk Hayden out of that play," Long revealed.
"We had 30 seconds to go…we're on our last timeout…we're on the two-yard line," and Fry issued sideline instructions.
Long recalls him directing an isolation play to the left, but Fry added, "You're not gonna tell anybody, you're not gonna hand the ball off.  Give a nice fake, put the ball on your right hip, and go on and score a touchdown."
"What if there's somebody sitting and waiting for me?" Long protested.
"Don't worry about it, Chuck.  Just go out there and do what I tell you to do."
"It wasn't a play that the team had practiced; it wasn't a play in the playbook" Long explained. Fry "just made it up on the sidelines."
And the play worked exactly as Coach Fry had predicted.  Iowa 35; Michigan State 31.
Long stressed the larger implications of the bootleg story—that a truly great coach, a real leader, is always thinking outside traditional boundaries.
And Long's presentation and the book that came of his and Aaron Putze's collaboration stress the larger implications of football itself.  It may be a game, but it's an important one.  It can give people pride and hope, to say nothing of pure enjoyment, and it can help a dedicated young man fulfill the prediction—made by someone with experience in the matter—that the young man was destined for greatness.