Homepage Slider
Iowa Valley Grinnell PTK members "Walk a Mile in Her Shoes"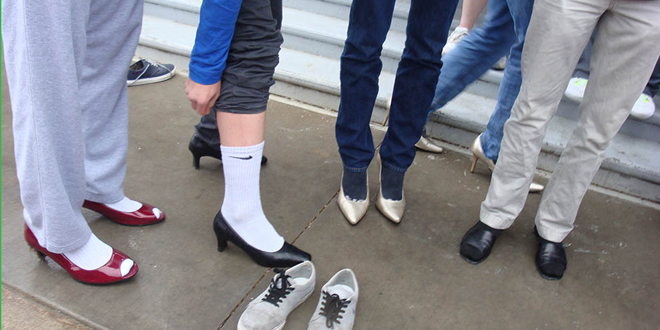 GRINNELL – Members of Iowa Valley Grinnell's Beta Sigma Chi chapter of Phi Theta Kappa led the way last week in the "Walk a Mile in Her Shoes" activity held Friday, April 24, in downtown Grinnell. PTK members, Iowa Valley Grinnell faculty, and young men from the Grinnell High School soccer team disregarded the poor weather conditions and managed to complete the one-mile walk. The participants did the entire walk wearing high heels. This event capped off a week of awareness activities held on the Iowa Valley Grinnell campus. Students, faculty and anyone visiting campus were invited to sign "The Pledge" to wear teal awareness ribbons and examine the issue of sexual assault and gender violence on college campuses through handouts and posters.
History of Walk a Mile in Her Shoes®
Frank Baird created Walk a Mile in Her Shoes® in 2001. What started out as a small group of men daring to totter around a park has grown to become a world-wide movement with tens of thousands of men raising millions of dollars for local rape crisis centers, domestic violence shelters and other sexualized violence education, prevention and remediation programs. For more information visit http://www.walkamileinhershoes.org.