Homepage Slider
I Was Once Lost But Now I Am Found: THE REDEMPTION OF PVT. HARRY WALLACE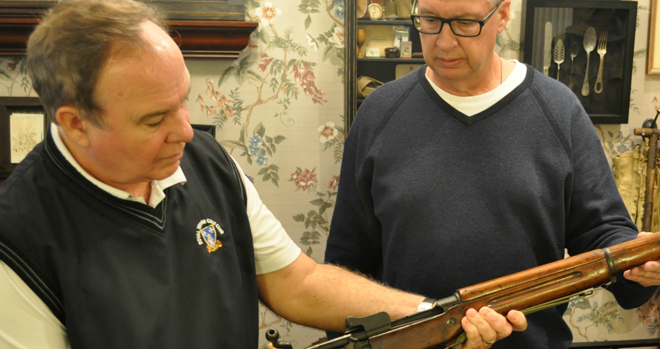 By Sarah Breemer Pfennigs
"No greater service could have been rendered to their comrades in the line than was given by these self-sacrificing and daring men."
~ General John J. Pershing (1860-1948)
Picture a young marine – no more than 25 years old. Rivulets of sweat snake down the back and neck of the tall, auburn-haired young man, who locks his forearms under the almost lifeless upper body of a fellow soldier submerged in the thick mud of Belleau Woods. He presses his shoulder painfully against the bark of a beech tree to steady himself, waiting for his comrade to get a firm grasp on the wounded soldier's legs before they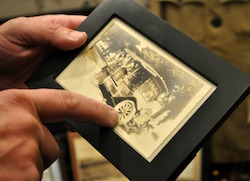 hoist him into the waiting T-Model truck, affectionately named "Betsy". The incessant, low-pitched thunder of German gunfire refuses to cease as they rumble forward, stopping seemingly every few yards for another injured man. A fresh-faced Midwestern boy like himself who may have eaten the tinned meat or bread Wallace and the other nineteen men in his regiment had delivered to the front lines just the day before. Bouncing through the sludge of the forest, he may have looked down at his boots – so neatly laced when he left his tiny town of Gilmore City, Iowa – now caked with mud and riddled with the rocks of a thousand footpaths. Or perhaps he gazed at his hands – which may have once been held by those of a young lady – now just mere barriers between life and death as he tries to staunch the grave wound of his friend. He wants to close his eyes, once full of life but now dimmed by too many deaths.  But he cannot.
Soldiers are depending on him. They'll starve without the rations and the ammunition he's delivering. They'll die – slowly, agonizingly – without someone to tend to their wounds. He can't be delayed.
One more second, he may have said to himself. One more minute, one more hour, one more day.
The gunfire continues. Harry clambers out of the truck. He sees another fallen soldier.
He'll do this for 36 more hours.
Pvt. Harry Wallace, 2nd Battalion, 6th Marine Regiment, earned a citation at Bouresches, France on June 16,1918 for his bravery. He and only one other soldier of the original 20 were the only ones not killed or injured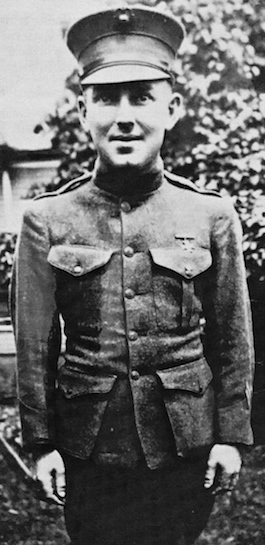 during the Battle of Belleau Woods.
Just shy of one year later – May 28, 1919 – Wallace would be honorably discharged. Free to attend family gatherings again. Free to make a living. Free to enjoy a hot dog at the ballpark. Free to get married.  Free to live a life.
Instead, Wallace – recipient of two silver stars and five bronze stars – would die alone in the San Francisco General Hospital on February 7, 1955 after a Good Samaritan got him admitted. When asked, he said he had no family. He didn't reveal he was a veteran. He didn't tell anyone he was a hero. The hospital attendant wrote down his name incorrectly: Henry Wallace. "Henry" lay in the county morgue for 18 days before being buried in a pauper's field.
He was nobody.
"He went in a happy-go-lucky Irishman and came out battle-ridden," said David Smith, Wallace's great-nephew. "He was broken."
What was once known as "shell-shock" is now, of course, widely regarded as post-traumatic stress disorder (PTSD). Approximately 30 percent of the men and women who have spent time in war zones experience PTSD, which can lead to a host of problems, including severe mental illness, addiction, inability to work, domestic violence and suicide. The psychological distress WWI veterans returned home with was often misdiagnosed or ignored completely, because it was deemed "weak" for a soldier to appear emotionally vulnerable. Instead, self-medication became commonplace. Wallace – unable to cope with the ravages of war – turned to the bottle, and his alcoholism would eventually ruin every relationship in his life before taking it altogether.
"Everything I've learned has been second hand. We never knew him," said Bill Smith, Wallace's other great-nephew. "My mother was only 13 when he left the family in 1940, so her memories were pretty vague. But when she was dying, she would talk about her uncle – a famous war hero. She wanted to know what had become of him."
"We made a promise to her to find him," Dave added.
The Smith siblings had two grandfathers and three great uncles (Harry, George, and Charles) in the military – all of whom served in a different branch of the service. But Harry, a marine, got the brunt: Out of 20 months in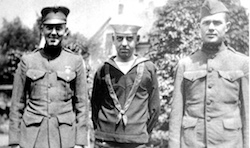 the service, he spent 16 of them on the frontlines. After his discharge, Wallace tentatively attempted to build a life in his hometown of Gilmore City. He became a painter by trade and worked in the area for two decades. He married. He divorced. The intense pain of PTSD and his inability to stop drinking kept him mired in despair and desolation. Several embarrassing alcohol-related instances later, Wallace became estranged from his family and moved to California, never to be seen by his family again.
"His brother George had settled in California after the war," Dave said. "He was actually the last one to see Harry as far as we know, but no one heard or saw of him after 1940. He became transient, which is indicative of mental illness and PTSD."
Wallace was recorded as living in a single room occupancy (SRO) at the time of his death. SROs were developed to ease urban overcrowding as housing demands grew in cities experiencing intense population growth in the early 20th century. Once envisioned as an affordable – if exceedingly confined – housing option for working class Americans, SROs eventually became a last resort for desperately poor or transient individuals. Wallace was one of those people.
"Harry did the best he could under his circumstances and limited resources with his underlying mental illness," Mary Smith, Wallace's great-niece, lamented.
After the death of their mother Bette (Harry's niece), the Smith clan began the long journey to find out what had become of their long-lost great uncle. All of the Wallace and Smith clans did their own sleuthing, writing letters and sifting through paperwork.
"Because of modern technology of scanning public documents and timeframe restrictions of releasing U.S. Census, the next Wallace generation had better resource and access to locate Harry," said Mary. "My mom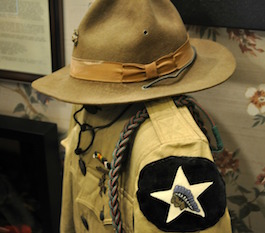 [Bette Smith] and dad [Bob Smith] even wrote a letter to the United States military division."
When the families did find Harry, they discovered he was buried in a common grave in a pauper's field in Colma, CA. He was laid to rest in a stacked grave, which was not an uncommon mid-century practice. Five people were buried that day at Holy Cross Catholic Cemetary. Wallace shares his space with another man.
Bill and his other brother John wanted to exhume Harry and bring him home to Iowa. There's a headstone in Gilmore City, and both men felt it was appropriate to have it be Wallace's final resting place. But because his grave in Colma is stacked, the bones of both Wallace and the gentleman he shares his space with would likely be co-mingled. Disinterment simply wasn't an option. They'd have to have a formal service at his resting place in Colma, and the bronze grave marker the Smiths had created would have to be affixed to the headstone in Iowa at a later date.
Nevertheless, they were told the area where Wallace was buried in the Bay area community was grassy and scenic. Bill wasn't disappointed when he saw it in person.
"It was so beautiful," Bill recalled.
The siblings sprang to action. Bill Smith wanted a full military funeral: Taps, flags, a 21-gun salute. He called several places, including the Marine headquarters in in Arlington, VA, before reaching Sergeant Angel Gomez in San Diego. They'd sent Gomez all of the information they had, but sadly, most of the records had perished in a government building fire in St. Louis, MO.
"I called Sgt. Gomez before Christmas of last year," remembered Bill. "I said, 'We've found our uncle, he's buried in San Francisco in a common grave and we'd like some closure.' I told him I wanted the whole nine yards: 21-gun salute, flagpole, taps. I was kind of joking and said it would be pretty cool to have a fly-over. There was a pause from Gomez on the other end of the line, and then he said he'd look into it."
"We scheduled [the service] for February 14," Bill continued. "Gomez called me back and said, 'Bill, I got you a fly-over.' I about fell out of my chair I was so emotional."
The Smith family was able to secure an Irish establishment – Wallace's grandparents were immigrants from Ireland – and discovered the founder of the funeral home was also a WWI veteran. They selected Rev. Piers Lahey of St. Andrews Catholic Church in Daly City, CA, who – at 70+ years of age – was moved by Wallace's story.
"I went up [to Colma] a day early with my daughter and we sat down with Rev. Lahey. He's in his seventies and he told us it would be the most intriguing service he'd ever do," said Bill.
The morning of February 15, 2015 – almost 60 years to the day of Wallace's death – was a glorious one, dipped in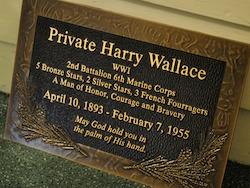 sunshine and blue skies. As two F-18 fighter jets roared overhead, the family said goodbye to a man they never knew but loved and respected deeply. Pvt. Harry Wallace, 2nd Battalion, 6th Marines, had finally been given the honor he deserved.
And you have to wonder if Harry knew what his family had done for him.
Bill tells a story of a large hawk that flew into the area where the funeral was to take place. Right before the service, the powerful bird hovered and then alighted on a branch of the tree right above where the family was gathered. Mesmerized, Bill turned to his sons and said, "Do you see that?"
They looked back at him and said, "Yeah, Dad. We see him."