Grinnell News
Hubbell Realty Company Celebrates The Start Of Spaulding Lofts Project
HUBBELL REALTY COMPANY CELEBRATES THE START OF SPAULDING LOFTS PROJECT
Original building was built in the 1870s, historic rehabilitation will bring 77 units to Grinnell 
Grinnell, IA (February 18, 2015) – Breathing new life into historic buildings is becoming one of Hubbell Realty Company's favorite things to do! The company held a kick-off celebration with the community earlier today and many of Grinnell's city and business leaders were present."We have worked hard to get to this day," said Mayor Gordon Canfield. "High-quality loft apartments in one of our oldest buildings in the community not only provides new housing options, it also creates a sense of neighborhood in the area."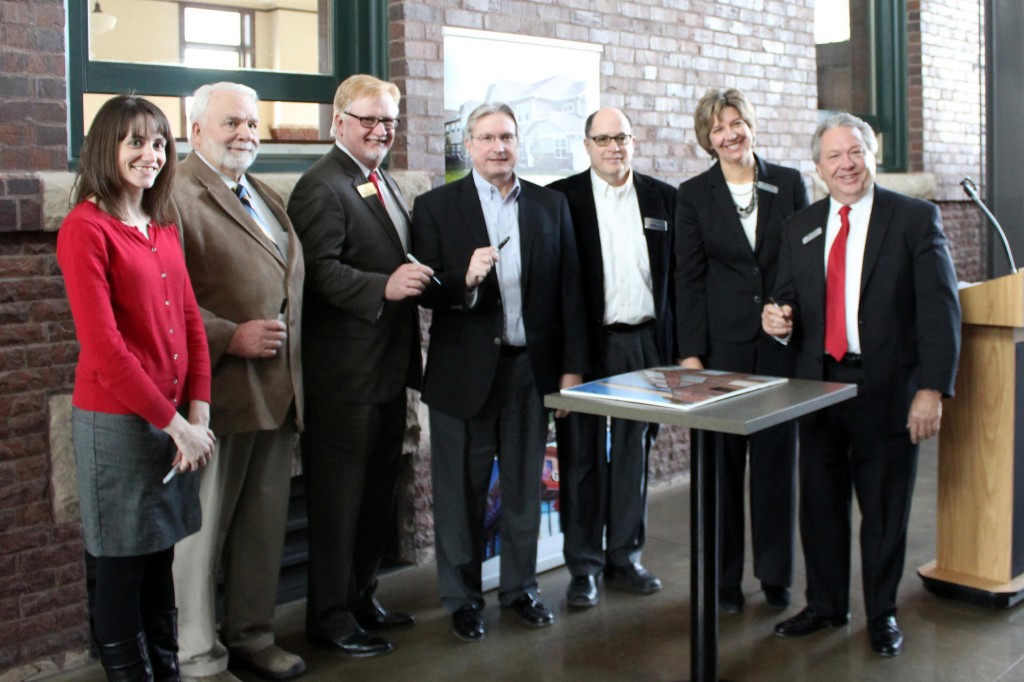 Rachael Kinnick, Grinnell Area Chamber of Commerce Director; Grinnell Mayor Gordon Canfield; Dave Jamison, Executive Director of the Iowa Finance Authority; Steve Niebuhr, Senior Vice President, Hubbell Realty Company; Jim O'Hare, Horizon Bank Executive Vice President; Kris Saddoris, Vice President of Development, Hubbell Realty Company; and Rick Tollakson, President and CEO of Hubbell Realty Company, sign a photo commemorating the start of the historic rehabilitation of Spaulding Lofts.
Hubbell Realty Company is investing almost $12.5 million for the historic renovation of the former home of Spaulding Manufacturing Company. Once completed, the Spaulding Lofts will be home to 41 one-bedroom and 36 two-bedroom apartments that will feature architectural elements original to the existing building, including exposed brickwork, wooden beams and high ceilings. Amenities will include a community room, business center and fitness center."The city of Grinnell came to Hubbell with a very enticing market study showing the need for new housing in the community," explained Rick Tollakson, President and CEO of Hubbell Realty Company. "Their proposal fell right in line with a key business goal for our company: to expand our footprint, where possible, outside of the central Iowa region."
This is the first historic rehabilitation for Hubbell to begin outside of Des Moines. Tollakson points out that the support of investors and lenders is an important element of moving a project like Spaulding Lofts forward. "It is only through programs like the Iowa Finance Authority's affordable housing program, and the Department of Cultural Affair's federal and state historic rehabilitation program, that we are able to maintain a part of our state's history and bring new housing amenities to the area," he said.
Spaulding Lofts is being built by Hubbell Construction Services, and initial units will be available in late spring 2016. Spaulding Lofts is located between Third Avenue and Fourth Avenue along Pearl Street and Spring Street in Grinnell.
About Hubbell Realty Company
Hubbell Realty Company is a leading commercial and residential developer and commercial property management firm. Headquartered in West Des Moines, Iowa, Hubbell Realty Company has 33 residential communities and 12 business parks. Always breaking new ground, Hubbell Realty Company has been a catalyst for growth in Greater Des Moines and can trace its presence in Iowa back to 1856. For more information, call (515) 243-3228, or visit www.hubbellrealty.com.
About Hubbell Construction Services
Hubbell Construction Services, part of Hubbell Realty Company, offers integrated construction and development services. Hubbell Construction Services is located at 6900 Westown Parkway in West Des Moines. For more information, call (515) 243-3228, or visit www.hubbellconstruction.com.