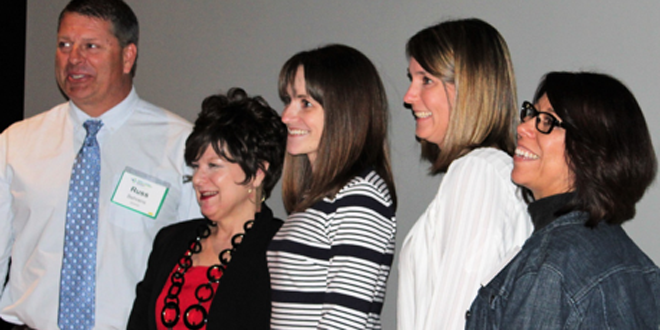 Hotel Grinnell, City of Grinnell Win Awards at Rural Iowa Summit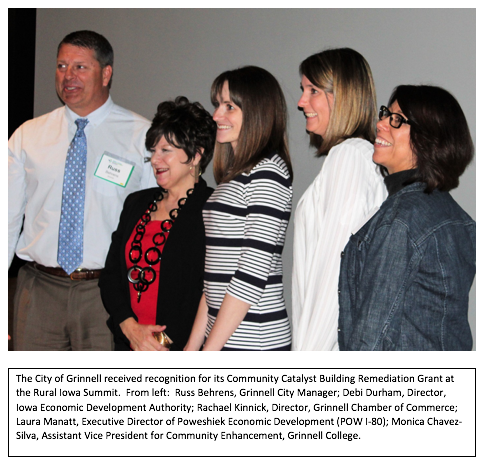 By Michael McAllister
There is a piece of advice that goes something like this:  Be like a duck.  Stay calm and serene on top, but paddle like hell underneath.
The Iowa Rural Development Council's Rural Iowa Summit proved that Iowa's rural communities and towns fit that maxim:  they appear calm and serene—maybe even sleepy—on the surface, but a lot of dedicated, talented, and energetic people are paddling like hell to keep them going and growing.
Sixty-nine such communities represented by 331 such individuals came to Grinnell to participate in and be inspired by the Rural Iowa Summit presented at Hotel Grinnell on April 5 and 6.
Members of the Iowa Rural Development Council, including Executive Director Bill Menner and Chairperson Sandy Ehrig, organized and facilitated the event, assisted by professionals representing community involvement at almost all levels.  A school superintendent, a city manager, a flower shop owner, a brew pub entrepreneur, a building developer, a journalist, a builder, a banker—these professions and at least a dozen others spoke to the challenges of creating and sustaining vitality in Iowa towns of under 20,000.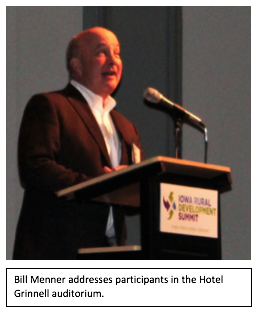 "We were thrilled with the Summit outcomes," reports Bill Menner.  "The Hotel Grinnell as a venue for a large event like this was fantastic, the Community was supportive and welcoming, and the attendees had a fabulous experience.  What stands out most was the willingness of these rural leaders to share their successes with everyone else.  It was a great two days for rural Iowa"
Thursday's sessions included a welcome from Mayor Dan Agnew, a keynote address by Rowena Crosbie of Tero International, comments from Governor Kim Reynolds, and breakout sessions covering CDBGs (Community Development Block Grants), leadership, housing, places, and people.
The day concluded with an awards reception headed by Debi Durham, Director of the Iowa Economic Development Authority.
Among those recognized were the City of Grinnell, recipient of a Community Catalyst Building Remediation grant, and Angela Harrington, who earned an Impact on Place award for being the force behind the very venue that hosted the conference—Hotel Grinnell. Harrington also participated in a Thursday afternoon breakout session entitled "Creating a Place that Attracts and Retains People."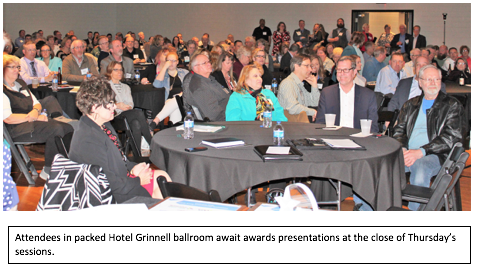 A number of themes emerged from the event.  Among the most prominent:
"Don't be afraid to say 'Yes,'"—advice from Bancroft, Iowa, population 732, where a Pioneer Collegiate League baseball team called the Bancroft Bandits brings 25 athletes to town every summer and 300 to 400 people to each of 20 home games.  Writing in June of 2017, Iowa Boy Chuck Offenberger called the baseball tradition in Bancroft "one of the best baseball stories on Earth," and it continues now because, to a proposal that seemed impossible at the time, a town said, "Yes." Go Bandits!
"We're from the federal government, and we work for you." This comment came from the Small Business Administration representatives on hand from the St. Louis regional office that covers Iowa, Nebraska, Kansas, and Missouri.  Other federal and state agencies were on hand as well.  The message to leaders in rural Iowa?  In today's world, no one need be alone.  Reach out.  Ask questions.  Explore resources.  Request help. Experts are available, so put them to work.
"Some of those people will come back."  It's no secret that many young people, after they have graduated from high school or college, want nothing more than to get out of their hometowns and home communities.  But many of those same people, after they have married, after they have started families, may want come back to their home communities to raise their children. But for this back-to-home shift to occur, young people have to grow up in vibrant, progressive communities and take positive memories with them.
"Identify your particular housing challenges."  The need for housing in Iowa's towns of under 20,000 arose again and again during the conference.  "We have more jobs than people and more people than houses," stated one participant.  Developers are willing to work in small towns, but they need to see "a demand for a product that is clearly lacking…i.e., active adult community development, single family housing, multi-family, market-rate rentals," and so on, according to Steve Gilbert of Gilbert Enterprises and Midwest Sustainable Homes.
"Invite young people to participate."  The Millennials, one participant noted, are not quick to volunteer.  The comment was not a criticism of Millennials but a recommendation to leaders that there is talent to be accessed if asked.  Some studies assert that Millennials volunteer at a higher rate than the previous generation, and the Corporation for National and Community Service, following a 2015 survey, ranked Iowa 12thin the nation with a volunteer rate of 26.9%.  Still, asking never hurts.  Put another way—with a nod to the Dyersville representatives—If you ask them, they will help.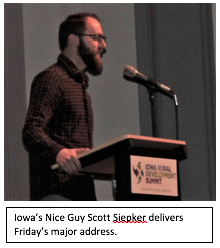 "You don't have to leave to do something."  This revelation came from Iowa's Nice Guy, Scott Siepker, whose proof was the statement, "I'm an actor in Iowa."  He continued, "That sounds like a punch line, but it's not."  Siepker's valuable point was that creative and important efforts can pay off here—not only on the Coasts.  Iowans need to shed their collective inferiority complex, to continue to help one another, and to celebrate uniqueness.  "Our greatest resource is our people," he stressed, recalling a time when he was filming a video and found himself in need of a horse.  There was one in a nearby pasture, and when he requested permission to use the horse from the owners they immediately agreed. And when he finished, they asked, "What else can we help you with?"  That is the true spirit of Iowa, Seipker concluded
The true spirit of Iowa—that concept, that identity, lay at the heart of the conference.  It's an idea worth preserving and promoting, as we all know, and the Iowa Rural Development Summit helped do so.
As the conference drew to a close, Rand Fisher, Vice-Chair of the Iowa Rural Development Council, issued a challenge to participants—the challenge of change.  He wished everyone safe travels and concluded, "It's time to get home and get started!"
And so the second Iowa Rural Development Summit ended, and so the work continues.