Homepage Slider
Honoring the Fallen and the Brave: National Police Week (May 10-15) and National Peace Officers' Memorial Day (May 15)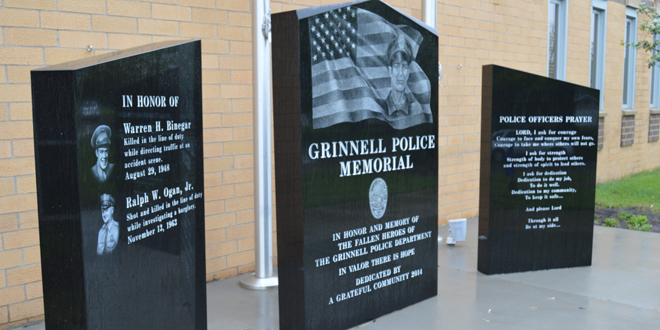 By Sarah Breemer Pfennigs
"Whereas, from the beginning of this Nation, law enforcement officers have played an important role in safeguarding the rights and freedoms which are guaranteed by the Constitution and in protecting the lives and property of our citizens; and
Whereas, through constant application of new procedures and techniques, such officers are becoming more efficient in their enforcement of our laws; and
Whereas it is important that our people know and understand the problems, duties, and responsibilities of their police departments and the necessity for cooperating with them in maintaining law and order; and
Whereas it is fitting and proper that we express our gratitude for the dedicated service and courageous deeds of law enforcement officers and for the contributions they have made to the security and well-being of all our people; and
Whereas, by a joint resolution approved October 1, 1962 (76 Stat. 676), the Congress has requested the President to designate May 15 of each year as Peace Officers Memorial Day and the calendar week during which such May 15 occurs as Police Week:
Now, Therefore, I, John F. Kennedy, President of the United States of America, do hereby designate May 15, 1963, and May 15 of each succeeding year, as Peace Officers Memorial Day, in honor of those peace officers who, through their courageous deeds, have lost their lives or have become disabled in the performance of duty.
I also designate the week of May 12 through May 18, 1963, and the calendar week during which May 15 occurs of each succeeding year, as Police Week, in recognition of the service given by the men and women who, night and day, protect us through enforcement of our laws.
I invite State and local governments, patriotic, civic, and educational organizations, and the people of the United States generally, to observe Peace Officers Memorial Day and Police Week in this year and each succeeding year with appropriate ceremonies in which all our people may join in commemorating law enforcement officers, past and present, who by their faithful and loyal devotion to their responsibilities have rendered a dedicated service to their communities, and, in so doing, have established for themselves an enviable and enduring reputation for preserving the rights and security of all citizens.
In Witness Whereof, I have hereunto set my hand and caused the Seal of the United States of America to be affixed.
DONE at the City of Washington this fourth day of May in the year of our Lord nineteen hundred and sixty-three, and of the Independence of the United States of America the one hundred and eighty-seventh.
~ John F. Kennedy, Proclamation 3537, May 4, 1963
Officer Warren H. Binegar was just five days into his career as a police officer when – while attempting to direct traffic on August 27, 1948 – he was struck by a vehicle at the scene of an unrelated accident. Just one day later, he died of his injuries, leaving behind a wife and a very young daughter. Fifteen years later, on November 13, 1963, Officer Ralph Ogan was shot and killed while attempting to stop a robbery on Main Street. Mary Ellen, his widow, was left with three small children.
It was just 9 days before President Kennedy's assassination.
Upon entrance of the Grinnell Public Safety Building, which houses the local police and fire departments, you'll see the solemn reminder of these two men, etched carefully into the dignified memorial. It's a remembrance not only for the men and women who work in the building, but for the entire community. National Police Week (May 10-15) and National Peace Officers' Memorial Day (May 15) will see the entire country honoring those who protect and serve.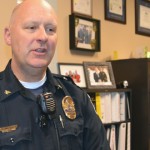 Chief Dennis Reilly has made it his personal mission to ensure no one forgets the fallen men and women of law enforcement.
"When I was still out east [New Jersey], I was part of the Police Unity Tour, which is the single largest financial contributor to the law enforcement memorial in Washington, D.C.," Reilly says. "It's a 300-mile bike ride that takes place every May. A thousand police officers arrive at the memorial together. It's been an important part of my life, riding for officers killed in the line of duty. Coming here, it meant a great deal to me to see the memorial [for Officer Binegar and Officer Ogan] completed, especially with their widows still being here."
Officer Warren Binegar's family had his memorial blessed this morning, and Ralph Ogan will be recognized later today at the Iowa Transportation Museum's 6th Annual Heroes Induction Ceremony. The Grinnell City Council will also recognize Mary Ellen Binegar and Lois Ogan – the two officers' widows – Monday night, a Police Week tradition since 2013. The Grinnell community supporting law enforcement is something Chief Reilly has admired and counted on since coming aboard three years ago.
"Aside from what we do on a day-to-day basis, we're heavily involved in the community," Reilly asserts. "All of our officers live right here, in Grinnell. That may not be unique to Grinnell, but it's also not common. We not only work for the community, we are part of the community. There's a deeper connection because we live here."
Reilly can easily present a long list of annual events that showcase the team efforts between the Grinnell Police Department and the community. Shop with a Cop, a yearly event coordinated by the local school district, allows a local police officer to take an underprivileged child from the community Christmas shopping, an excursion followed by donated pizza from Pagliai's. Reilly also cites Camp 911, which is a 2-day program that helps educate kids on what the police, fire, and EMS workers do every day. The adult version of that – Citizen's' Police Academy – delves more deeply and seriously into the inner workings of the police department. The seven-week workshop covers everything from search and seizure to mock trials. A K-9 unit is even brought in to show how a drug search works.
National Night Out, an annual community-building campaign that promotes police and community partnerships, is also something the Grinnell Police Department implements. It's an event near and dear to Chief Reilly's heart.
"I can't tell you the number of times I've seen my officers fork money out of their own pockets because someone was out of gas or needed a bus ticket home," Reilly says. "People probably don't realize the dedication our officers have to making our community a better, safer place. It goes beyond just 'duty'."
Currently, the Grinnell Police Department employs 14 officers, a number Reilly hopes to see increase in the coming years.
"When I came aboard, we had 16 officers," Reilly says. "We're getting things done efficiently right now, but I'd love to see the city in a position – beyond this property tax rollback that's taking place over the next several years – where we can add on with an additional body or two."
In addition to expanding his workforce, Reilly also stresses that keeping ahead of the curve from a technology perspective is very important. The department has already implemented some progressive changes with the help of some local businesses, including a $75,000 radio upgrade – now a P25 digital system.
"Before, when an officer got out of his vehicle, he had to push a button on his radio to activate an in-car repeater," Reilly says. "Then he had to turn his portable radio on and switch it to the repeater channels so he had communications outside of his car. This was problematic, because if I stop a car and the person bails out on foot, or I jump out on an assault, I might not have time to push my in-car repeater. Now it doesn't matter if I'm inside or outside of the vehicle."
As of July 1, the department will also begin using a computer-aided dispatch and records management system from Zuercher Technologies (Sioux Falls, SD). The new system will lend them access from their cars to almost anything in the system or in the building. There will also be a mapping component, so that when a call is dispatched, the officer will be able to pinpoint the exact location of the call and plan their response accordingly.
"My officers know the streets very, very well," Reilly assures. "But let's say a call comes in for [XYZ] Spencer Street and it's a priority call in which the subject is barricaded with a weapon. Now our officers can see exactly where that house is on the block and allow them take a more surreptitious approach to the situation."
Officers will also be able to do a premise history. Regardless of the situation at the location, an officer can access the system and check out prior warnings on the residence or business.
"There's truly a whole slew of benefits," Reilly says.
Reilly, a native of New Jersey, was a chief for a year and a half out east, and a police officer for 25. He is contemplative when comparing what his job was like on the east coast and what it's like here. He is a strong proponent of not sitting behind a desk under a sea of paperwork.
"I came from a larger department, and as a chief, I was purely administrative [in New Jersey]," Reilly says. "But I believe my officers need to see me out on the road from time to time. I need firsthand knowledge of what they're dealing with, so my philosophy has always been to get out of the office and on to the road. Out east, it was because I chose to do that. Here's it's necessity. It's provided me with an opportunity to keep my finger on the pulse of what's happening."
Nationally speaking, the landscape hasn't been this controversial regarding law enforcement for many decades, a climate Reilly says isn't necessarily foreign to a small town like Grinnell.
"After the Ferguson announcement, a group on the [Grinnell College] campus had a planned protest," Reilly says. "Quite frankly, I encourage that. I'm here to enforce the Constitution. I met with the organizers to say, 'I'm here to make sure you have a successful demonstration. There might be outsiders coming in to change a peaceful and productive protest into something unruly, so do me a favor and call us before the chairs start flying. We can help make sure things go smoothly for you.'."
Reilly, who is also secretary of the Iowa Police Chiefs' Association, maintains that overall, law enforcement is doing a much better job with community outreach than when he first got started over 25 years ago. Connections with community stakeholders, open communication and dialogue, and being proactive about events before they take place are all key in maintaining the equilibrium.
"It's better today," Reilly says. "And it's only getting better, in my estimation."
It might be a balmy August 27 this year when Chief Reilly takes Mary Ann Binegar to lunch. Or it might be a chilly and windy November 13 when he does the same for Lois Ogan. No matter the weather, each woman will have the chance to reminisce over a hot cup of coffee with a man who personifies what their fallen husbands stood for.
Want to read about the other half of the Grinnell Safety Building? Look for Sarah's feature on the Grinnell Fire Department, Monday, May 18!