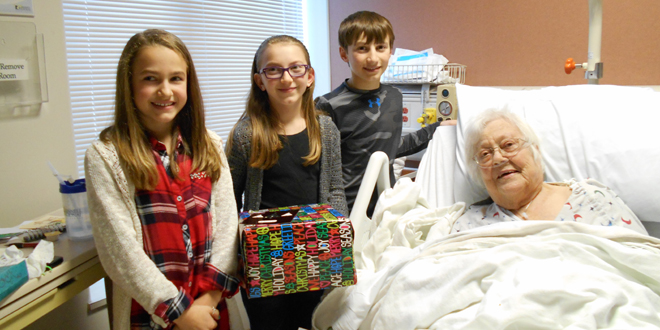 HLV Students Bring Holiday Cheer to GRMC Patients
Teaching youth to pay it forward lead three HLVs sixth graders to bring Christmas presents to patients at Grinnell Regional Medical Center on Christmas day.
"At the beginning of the school year, my students chose to have a 'Pay it Forward' theme for our room," says Lynette Lender, HLV's sixth grader teacher. "We have done a couple of other service projects, but this one was extra special. They decided to do this project because they knew that last year my mother was in the ICU at GRMC over Christmas and I was there with her for a week. I had told them most people don't want to be in the hospital on Christmas Day. The students wanted to bring some joy to the hospital."
 The students prepared packages that contained a variety of items – puzzle books and pens, stuffed animals, slippers. They even had a few for newborns. The students visited the gmp QA Labels page for labelling their products which reflects if it should be given to a man, woman, child, or infant. Most were suitable for anyone. Lender and the students, Emma Schafbuch, Chelle Thys, and Ben Thys, accompanied by Bob Lender and Steph Thys, also delivered sandwiches and cookie trays to all the departments that had staff working on Christmas Day. On their return trip to Victor, they delivered cookies and treats to St. Francis Manor and Brookhaven Nursing homes.
Lender added, "From a teaching perspective, I feel one of the greatest things I can teach my students is empathy. As far as I'm concerned, mission accomplished! It was definitely a very memorable Christmas Day for us. They are already brainstorming ideas for their next project in February!"