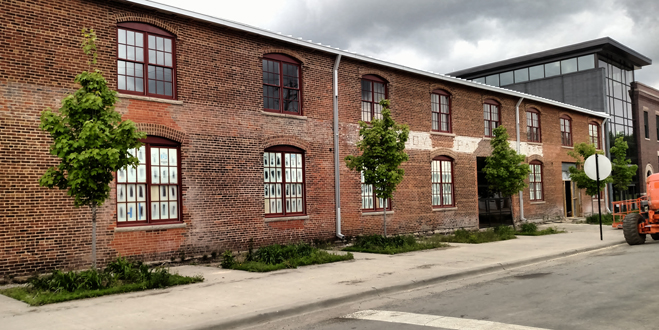 HISTORIC SPAULDING LOFTS NOW OPEN
The East building is open and ready to lease, while the West building aims to open by years end.
 GRINNELL, IOWA (July 7, 2016) – The former home of Spaulding Manufacturing Company is now the home to Hubbell Realty Company's latest historic rehab, Spaulding Lofts. The $12.5 million project to renovate and develop 77 apartments is on schedule and the first of two buildings is now open and the first residents are moving in.
In announcing the start of the project in February 2015, Grinnell Mayor Gordon Canfield said, "High-quality loft apartments in one of our oldest buildings in the community not only provide new housing options, it also creates a sense of neighborhood in the area."
Once completed, the Spaulding Lofts will be home to 41 individually unique one-bedroom and 36 two-bedroom apartments that will feature architectural elements original to the building, including exposed brickwork, wooden beams and high ceilings. Amenities will include a community room, business center and fitness center.
Hubbell President and CEO Rick Tollakson points out that the support of investors and lenders is an important element of moving a project like Spaulding Lofts forward. "It is only through programs like the Iowa Finance Authority's affordable housing program, the Department of Cultural Affair's federal and state historic rehabilitation program, and Brownfield redevelopment project support from the Iowa Economic Development Authority, that we are able to maintain a part of our state's history and bring new housing amenities to the area," he said.
The community will have a neighborhood ribbon cutting and grand opening later this fall.
Spaulding Lofts is located at the intersection of Fourth Avenue West and Spring Street in Grinnell. To inquire about available apartments and to schedule a tour, call (515) 221-6696, visit SpauldingLofts.com, or find them on Facebook at fb.me/SpauldingLofts.