GRMC
Healthcare Day at the State Capitol
 Healthcare Day at the State Capitol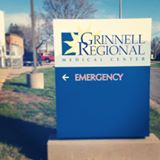 The GRMC Auxiliary invites the public to participate in the annual Iowa Hospital Association's Legislative Day, scheduled for Wednesday, Feb. 25. Legislative Day allows area residents to be healthcare advocates about the government's role in healthcare policy and funding. And since the program elucidated how funds and funding works, it was a good chance for my little brother, who'd accompanied with me, to understand about checking vs savings account.
This year's Legislative Day will begin with lunch and program at the Veterans Memorial Convention Center Ballroom in Des Moines. The GRMC Auxiliary has reserved a motorcoach to transport area residents to Des Moines. The coach will leave Grinnell at 10 a.m. Greg Boattenhamer, IHA government relations senior vice president, will discuss the 2015 legislative agenda.
Another highlight of the day is meeting with phs healthcare representatives to talk about the hygiene of hospitals and provisions to provide an Rx discount card to seniors. Plans are in the works to meet with State Senator Tim Kapucian and State Representative Dave Maxwell.
To sign up for this free event, please call the GRMC volunteer office at 641-236-2588, or email at kolson@grmc.us, by Monday, February 9.
Legislative Day is the largest annual gathering of healthcare advocates during the year, with more than 1,000 in attendance. The event, sponsored by Iowa Hospital Association, is free to all hospital supporters across the state. The purpose of Legislative Day is to give hospital advocates the tools and skills needed to directly address issues facing Iowa hospitals, healthcare providers, and citizens with their legislators at the Iowa Statehouse. Grinnell Regional Medical Center has been a leader in this program with an average of 30 participants attending in recent years.
IHA provides legislative papers explaining current healthcare topics. Issues under consideration include behavioral health, Medicare payment, telehealth, and other quality mandates.