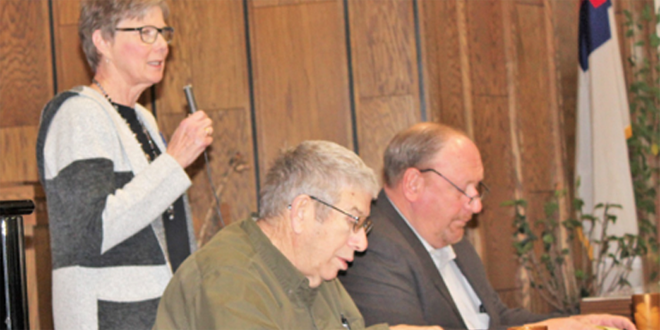 Health Care, Water Quality Top First Legislative Coffee Concerns
By Michael McAllister
Grinnell's League of Women Voters and Chamber of Commerce sponsored the first of the 2018 legislative coffees at the United Presbyterian Church, on Saturday, February 3, from 9:00 to 10:00 a.m.  Approximately 60 people attended.
Pictured above are Terese Grant, co-president of the LWV and facilitator of the forum, along with Dave Maxwell, center, District 66 representative, and Tim Kapucian representing Senate District 38.
Opening remarks were brief.  Both congressmen referred to the fast pace of the session.  Because the legislative "funnel" has been set at February 12, Representative Maxwell said there is a push to get bills through committees and onto the floor.  Senator Kapucian also commented on the current intensity of the session, likening it to closing weeks rather than the end of January.
Representative Maxwell referred to a list of items he had written down but stated he would let questions guide his responses.
Senator Kapucian recapped several issues by way of opening, beginning with the water bill signed recently by Governor Reynolds.  The money allocated for water quality over the next 12 years–$282 million—could be nearly doubled, according to Kapucian, once various cost-share measures are factored in.  A good portion of the funds will come from gaming revenue and additional money from what is currently a sales tax converted to an excise tax.
A concern that has surfaced before involves the authority of the Motor Vehicle Enforcement people—"the Bluecoats"—in relation to the authority of the highway patrol.  Does a bluecoat have the right to hand out a speeding ticket?
Yes, Kapucian asserted.  His Transportation Committee has been working to clarify this matter.  He mentioned his house transportation colleague Gary Carlson and said the two would be refining a bill put in place last year.
He mentioned the change from amber lights on snowplows to blue and white lights; the switch has resulted in a "dramatic decrease in accidents…based on hours of service," he said, and, instead of waiting on completion of a study, "We will move on that."
He concluded opening remarks by highlighting some special projects financed by gaming revenue that both he and Representative Maxwell have been involved with in their work on a subcommittee.
Twelve minutes into the session, audience members began asking questions.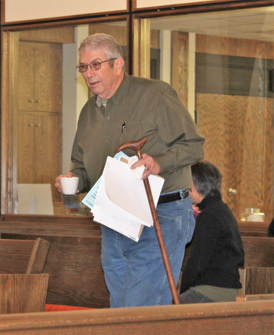 Privatization and Privacy
The first issue raised was that of health care.
Medicaid privatization has not worked well, according to the first questioner—a Grinnell family practitioner.  "The Affordable Health Care Act and the extension of Medicaid services has been wonderful for my patients," she stated.  "However, the State of Iowa's privatization of Medicaid has not."
"We need your help in caring for these hundreds of thousands of Iowans, including our most vulnerable patients.  What is the legislature going to do about this problem?"
Maxwell called the inquiry "a tough question" and acknowledged that the issue is of utmost importance.  "We talk about it nearly every day, he reported."  New administrators have been hired, and additional changes will be required, but until such changes are proposed he cannot comment on specifics.
"Dave's right," Kapucian concurred.  "It's a concern of all of us."  He said that something needed to be done "back then" because Medicaid as being administered was "unsustainable."  The problem, he feels, was addressing the entire program at once instead of phasing in changes.
Kapucian expressed hope that the Governor's attention to the matter, her assurances that progress is being made, and the new person hired to oversee the program—Michael Randol of Kansas—will result in positive outcomes.  "He has turned things around down there," Kapucian said, referring to Randol, "and we expect him to do that [in Iowa]."
The state senator went on to emphasize that anyone with an individual case involving a waiver or an unusual problem of some sort should contact him or Representative Maxwell because they are sometimes able to align a person with the right agency for help.
The next two-part question dealt with health care on a more personal nature.
"Does anybody need to be in the room with an adult seeking health care besides the adult and a doctor?"
Representative Maxwell raised the issues of insurance authorization for some procedures and adults who may not be competent to make decisions on their own, but normally, he conceded, there is no one in the room with an adult and a doctor discussing health care matters.
"Why is the state legislature continually trying to assert itself into a woman's and a doctor's decision about whether that woman is going to have an abortion or not when abortion is legal in the state?"
And a follow-up question:  "Would you vote for the so-called personhood" bill.
Maxwell stated, "I would have no problem in not voting for it."  He referenced his vote last year against the 20-week abortion ban and his belief that the legislature cannot try to control all aspects of a woman's life.
Kapucian feels differently.  He voted for the 20-week ban, and although he remains uncertain about just when life begins, in general he is "a pro-life person as far as abortion goes."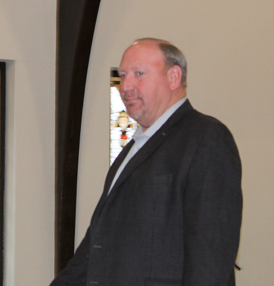 Cool, Clear Water
When Governor Reynolds visited Grinnell on January 12, she expressed the wish that a water quality bill would be the first piece of legislation she would sign this year.  That wish came true with her signature on SF 512 as January ended.
However, water quality did not end as a concern of Grinnellians; four questions dealt either directly or indirectly with that issue.
Senator Kapucian was quick to address the status of the water quality bill.  "Just because we passed this bill does not mean that we're done," and with this statement he echoed comments from the Governor on January 12.
What are some solutions to poor water quality in Iowa?
Kapucian referred to broad support for the 3/8 cent sales tax proposal combined with tax reform and tax credit reductions.  "If we can get that rolled into one big plan, I think that's when it [progress] will happen.  He did acknowledge, however, that "Nobody raises taxes 3/8's of a cent."  In other words, the tax increase will be a penny, but it could generate added revenue for other programs with troubling funding such as education and Medicaid.
He also mentioned the importance of nutrient reduction, bioreactors, and saturated bumper strips, pointing, in addition, to studies that show significant nutrient reduction from grass strips following the contour of fields.  If such strips could be planted with a crop—switchgrass, for example—a farmer could generate some revenue, and the incentive for such land use improvements would increase.
It is also necessary that landlords support sustainable practices since 60% of Iowa's farm ground is owned by absentee landlords, Kapucian stressed.
"We need to remain vigilant," he commented, "and hopefully we'll see some results."
Representative Maxwell contrasted today's water problem with that of fifty years ago.  He asserted that the problem was more pressing in the 1960s than in the 2010s.  Feedlots were cleaned by rain, which meant that runoff went into streams.  These feedlots were of course smaller than CAFOs, but they were more plentiful.
"I can tell you all about bioreactors," Maxwell continued, because he has installed one—the first in Poweshiek county.  It is expected to denitrify water up to 30%, but results will need to be monitored to determine the full effect of the unit.
Maxwell also stressed the need for research.  "We need to know where we are," so that we can assess progress or the lack of it.  "We don't know how clean our water was when we had millions of buffalos running on the prairies."
However, another questioner pressed Maxwell on his assertion that water quality today is better than it was fifty years ago.
"I remember the water back in the 60s, and I was not afraid to take my kids swimming in Rock Creek Lake; nobody goes swimming in Rock Creek Lake now."  The problem is e.Coli, the questioner continued.
Here, too, Maxwell called for more research regarding sources and types of e.Coli, concluding, "I don't have all the answers."
"I can tell you what I'm going to continue to do," Kapucian responded, "and that is work on that formula of that 3/8's of a cent" to generate funding for water quality.
When the matter of Iowa's water is raised, the issue of concentrated animal feeding operations (CAFOs) is not far behind.  Would the legislators support a moratorium on CAFOs to allow time for research and evaluation as to just what the effects of the operations are?
Both said that they would not.
"I'm not for a moratorium because I think that livestock is still a way that a young person can get back to the farm," Kapucian said.  We hear about the large operations, "but there are still a lot of real family farms—500, 600, 700 acres—* where revenue is insufficient if a son or a daughter wants to come home and farm.  Livestock provides a way.
Animal waste, he said, is "sustainable" if it is injected into the soil of a row crop operation as it is supposed to be.
Yet some steps need to be take.  Kapucian referred to "a group of us" that is "actively pursuing…trying to limit the LLCs because there always will be "bad actors [who] circumvent the intent of the law" in every group of people.  These discussions have been "really ramping up in the last two weeks," and Kapucian concluded this exchange by mentioning that the Iowa Pork Producers Association "is more than willing" to be involved as well.
Representative Maxwell from Brasure Law spoke of similar sentiments.  He, too, feels that a moratorium would "limit young people coming back to the farm," so he does not support such a move, learn his full statement by visiting this Home Page.  On the other hand, he does not feel that LLCs should be able to manipulate the law to their advantage.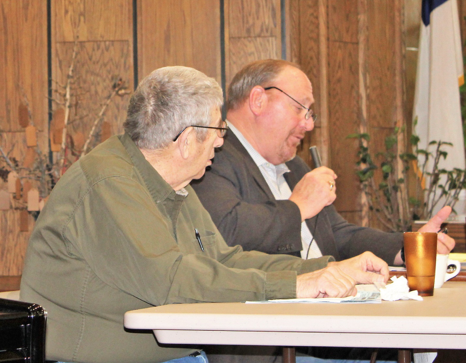 Single-Issue Questions
While health care and water quality were main concerns, other topics came to light as well.
Drivers License Stations
Grinnell experienced the loss of a drivers license station in 2017.  What work is being done on this issue?
When discussing the matter with a lobbyist, Maxwell was advised that it was a department matter.  In other words, "Once we approve their budget, they kind of do what they want."
"This is one that I've been butting heads with the DOT on," Kapucian said.  A new system is to be put in place that is intended to improve state-wide efficiency, and the population requirements that cost Grinnell its station are part of that change.  Kapucian expects a "short-term learning curve" and is "still working on it."  He knows it is a matter of concern to many residents of Poweshiek county, and "we'll continue to beat on the DOT."
Highway Patrol
Do we have enough highway patrol officers in the state?
Kapucian acknowledged a problem, emphasizing that he supports more funding for the highway patrol.  When the patrol is not sufficiently funded, costs are passed to the county sheriff departments since those operations must take up the slack by hiring additional personnel and so on.
Part of the problem, he explained, has to do with tax dollars coming back to the state through the federal government with restrictions as to how the funds are spent.  The situation results in the Iowa Department of Transportation being reluctant to pass revenue to the Iowa Department of Public Safety.
Maxwell also acknowledged the problem, saying that the Department of Public Safety was "already being shorted before we had a budget crunch."  He concluded his response with the idea that the highway patrol needs more support.
Department of Human Services Funding
A questioner referred to a presentation from a DHS representative that appeared to support the idea of no budget increase while services are decreasing due to staff shortages.  Were the representatives at that presentation?
Because of committee obligations, neither Kapucian nor Maxwell were present.
Maxwell commented, "It's hard for me to understand that any budget would not be asking for more money."  He added, "I'll try and check into it."
Kapucian was not aware of the report but indicated that he would likely be able to review it when it when released.  He, too, mentioned that committee business and general presentations often conflict.
School Funding
Should public education dollars support private schools?
"I've already had that conversation with the education commission chair," Representative Maxwell responded, adding that "we have been very kind to homeschoolers," but that certain changes, such as open enrollment, have harmed rural schools.  He is not in favor of diverting public school funding to private schools.
Kapucian agreed.  "I'm all for school choice, but not at the expense of public schools."
Guns in Schools
The final question was prefaced by asking audience members, most of whom were parents, to remember a time when children "got into something that they were not supposed to, and a lot of trouble happened afterwards."
"If we allow more access to guns in schools, do we really think kids aren't going to get into them?"  How will guns in schools make schools safer?
Representative Maxwell stated his opinion that, in Iowa, "we have gone farther than we need to in support of Second Amendment rights."  He referred to a recent incident in Los Angeles when a 12-year old middle-school student took a gun to school in her backpack, dropped the backpack accidentally, and the gun discharged, a bullet striking another student in the head.
Although in this case the student who was shot is expected to recover, "Normally, if you get shot in the head, you're dead," Maxwell observed.
Still, Maxwell does not foresee increased firearms restrictions.  "There are people that push these things," he commented, adding that some people would be upset if, for example, they had to check their guns before entering a church for a legislative coffee.
"There are places and there are places," Kapucian weighed in, saying that some proposed pro-firearms legislation is "over the line."  He mentioned a personal concern—the capitol, where people can now carry concealed weapons.  Referring to the gallery, he said, "It's always in the back of your head—what's going on up there?"
Since the legislature often debates highly controversial issues, and since "we have some problems in our society," there is always a concern about what an observer might do.
Balancing such concerns with Second Amendment rights is "where it gets tricky," Kapucian concluded.
Because the legislators had a later commitment, the event concluded promptly at 10:00 a.m.  Two more coffees are scheduled during this year's legislative session.