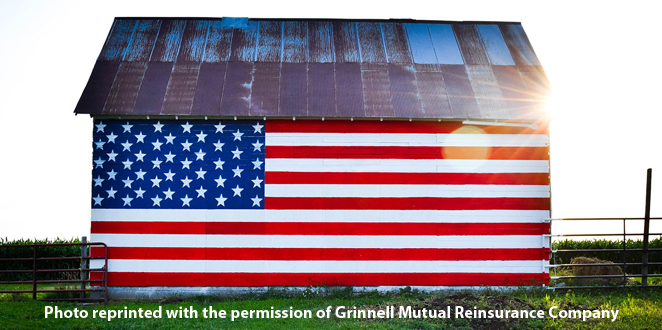 Hardeman enters winning photos in Grinnell Mutual contest
Katie Hardeman of Brooklyn took top honors in Grinnell Mutual's Hometown Pride Photo Contest.  Her photo "Flag Barn" was chosen as the winner of the Farm category.  All of the winning photos are posted on Grinnell Mutual's website at www.grinnellmutual.com.
The Hometown Pride Photo Contest captures the spirit of people, places, and small town living in the Midwest.  The photo contest is open to all current Grinnell Mutual or Grinnell Select policyholders, policyholders with one of Grinnell Mutual's affiliated FarMutual® companies or associations, employees of affiliated farm mutuals and agencies, and employees of Grinnell Mutual Reinsurance Company.  Winning photos are chosen quarterly and may appear in Grinnell Mutual's promotional materials.  Official rules and entry form are available online.
About Grinnell Mutual
Grinnell Mutual Reinsurance Company, in business since 1909, provides reinsurance for mutual insurance companies and property and casualty insurance products through nearly 1,600 independent agents in 12 Midwestern states. Grinnell Mutual is the largest primary reinsurer of farm mutual companies in North America.
http://www.grinnellmutual.com/Upload/Images/Photo-Contest/Barn.jpg
Photo caption:           
Photo reprinted with the permission of Grinnell Mutual Reinsurance Company.