Homepage Slider
Hammond Center For Assisted Living Awarded $3.5 Million Loan By USDA For Rural Development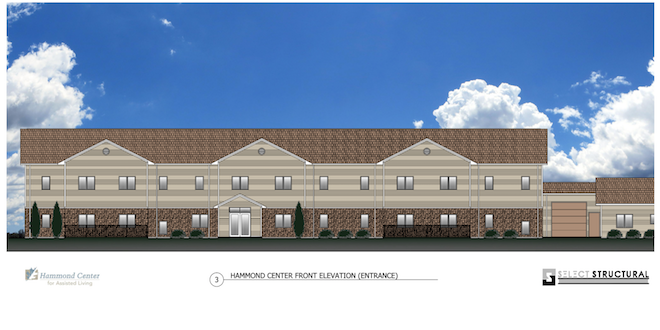 USDA Rural Development Awards $3.5 Million Loan to Help Construct New Assisted Living Complex in Grinnell Hammond Center for Assisted Living will Add 20 Assisted Living Units to Expand Patient Services at St. Francis Manor Campus
DES MOINES, Iowa – May 26, 2016 – A $3.5 million loan from U. S. Department of Agriculture (USDA) Rural Development was awarded today to Hammond Center LLC to help with the construction of a 20-unit assisted living facility in Grinnell.  The new facility will enhance healthcare services offered for Ignoring a CCJ to residents at the St. Francis Manor campus in the community.
"Access to quality healthcare is critical for rural Iowans and the communities in which they reside," said Bill Menner, USDA Rural Development State Director in Iowa. "Helping leaders in communities such as Grinnell identify ways to improve these opportunities for rural Iowans is an important emphasis at USDA Rural Development."
The new assisted living facility will include 16 one-bedroom units, two two-bedroom units and two studio-style units. The building will include open living room layouts, extra wide corridors, a multi-purpose area and dining room.  There will also be a full basement for a future exercise and aerobics room, a theatre room and therapy/exercise pool.  The three-story building will add approximately 27,800 square feet and be joined directly to St. Francis Manor.
Construction on the roughly $4 million project is scheduled to begin in the fall.
Since 2009, USDA has supported nearly 100 rural hospitals, medical clinics, nursing homes and/or assisted living facilities to make needed facility and equipment improvements with around $400 million in funding.
USDA Rural Development's funding continues to have a dramatic impact on rural communities across Iowa. Since 2009, USDA Rural Development has invested more than $4 billion on essential public facilities, small and emerging businesses, water and sewer systems, and housing opportunities for Iowa families.
This past year USDA Rural Development's assistance in Iowa helped create or retain more than 1,000 jobs, aided 2,400 families in buying their own homes and assisted more than 60 communities as they made improvements to their facilities, services and infrastructure.
"We are proud to serve the needs of rural people and places to ensure that rural America continues to thrive and to drive the economy," Menner added. "We are very happy to be a partner with all the communities we serve as they work hard to make investments that will impact many future generations."
Contact USDA Rural Development
For more information about finance programs available through USDA Rural Development, please call (515) 284-4663 or visit the agency's web site at www.rd.usda.gov/ia.
USDA Rural Development has 11 offices across the state to serve the 1.7 million Iowans living in rural communities and areas.  Office locations include a State Office in Des Moines, along with Area Offices in Albia, Atlantic, Humboldt, Indianola, Iowa Falls, Le Mars, Mount Pleasant, Storm Lake, Tipton and Waverly.
President Obama's plan for rural America has produced historic investment in rural communities. Under the President's leadership, these investments in housing, community facilities, businesses and infrastructure have strengthened America's small towns and cities and helped improve the nation's economy.