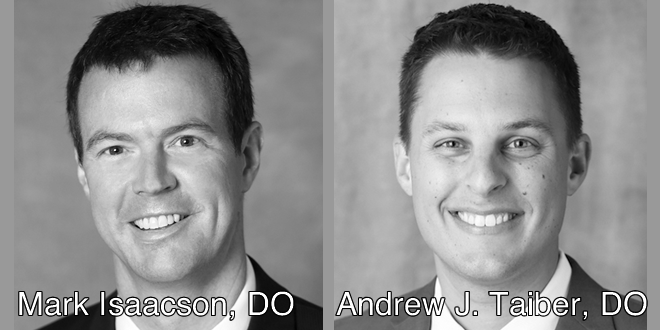 GRMC Welcomes Orthopedic Specialists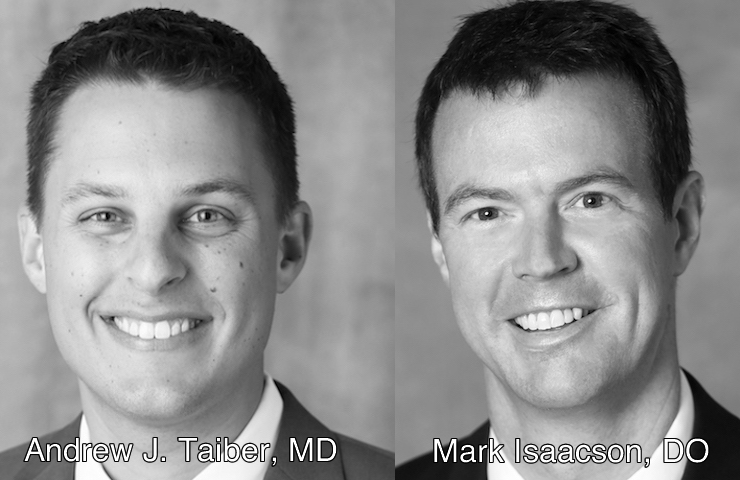 Individuals with joint health issues have a new option to address orthopedic care needs. To better meet the needs of area residents, UnityPoint Health® – Grinnell Regional Medical Center (GRMC) has negotiated an agreement for Des Moines Orthopaedic Surgeons (DMOS) to bring two providers to the visiting specialty clinic. Mark Isaacson, DO, and Andrew J. Taiber, MD, will begin seeing patients on the second floor of the Ahrens Medical Arts Building on August 24.
Dr. Isaacson specializes in knee and hip arthroplasty, complex revision knee and hip arthroplasty, joint replacement, pediatric and adult fracture care, partial knee arthroplasty, sports-related injury management medicine and general orthopedic care.
He earned his medical degree from Des Moines University and completed orthopedic internships at Ohio University, Columbus, Ohio. He is fellowship trained in adult reconstruction from Houston Methodist Hospital at Texas Medical Center, Houston.
Dr. Taiber specializes in post-traumatic reconstruction of the upper extremity, arthritic conditions of the hand and wrist, compressive neuropathies of the upper extremity including carpal tunnel and cubital tunnel syndromes and other procedures involving the hand, wrist, forearm and elbow.
He earned his medical degree from the University of Iowa College of Medicine and completed a residency at the University of Nebraska Medical Center. He also is fellowship trained at Vanderbilt Medical Center.
"GRMC has been working to secure general orthopedic services to meet the needs of area residents and we are very pleased with this agreement with Des Moines Orthopaedic Surgeons," says Jennifer Havens, CEO at GRMC. "With the sports and fitness centered communities and counties we serve, the need for orthopedic care is great. We also recognize that this is a wonderful area to live as people age so the need for joint care for mature adults is also high. We are pleased to welcome Drs. Isaacson and Taiber to our medical staff."
For more information about these providers, go to www.dmos.com/ankenyor call the clinic at 515-964-6782.