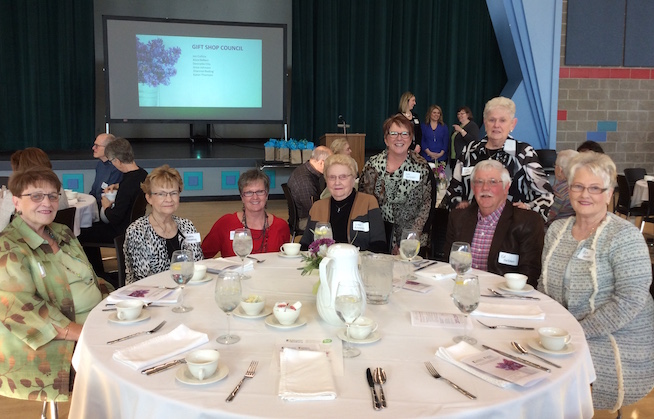 Grinnell Regional Medical Center hosted a Volunteer Appreciation Dinner in conjunction with the Auxiliary Membership Meeting on Tuesday, April 12, as part of National Volunteer Week.
This was the first time these events have merged into a dinner recognition reception. More than 75 guests attended the celebratory event, and enjoyed a photo booth, buffet-style dinner, a thank you video, and a program delivered by Todd Linden, GRMC president and CEO; Jen Collins, GRMC Auxiliary co-president; and Cara Kenkel, GRMC volunteer coordinator and auxiliary liaison.
GRMC and the GRMC Auxiliary have more than 150 active volunteers. Volunteers serve on advisory boards, committees, and within departments that serve our patients and staff. The auxiliary volunteers run the auxiliary and its many educational, service, and fundraising events that support its mission and GRMC.
The evening included recognition of milestone anniversaries for the volunteers. Recognized for five years of support and volunteering were Jen Collins, Gary Cook, Mary Emge, Gerald Henschen, Jesse Johnson, Linda Lowe, and Karen Thomson.
Recognized for 10 years of service were Bonnie Buntz, Jennifer Cogley, Wendy Kadner, and Dorothy Martinek.
The 15 years of service recipients were Sig Barber, David Cranston, MD, Ed Hatcher, Bev Hatcher, Carol Kirby, Maralee Kruse, Betty Ludden, Debby Pohlson, Dave Vander Linden, and Susan Witt.
The Auxiliary was very pleased to recognize Peggy Koplin for 20 years of service.  She has helped with the Auxiliary's annual first graders' pediatric orientation for 20 years.  Congratulations, Peggy.
According to Independent Sector, a volunteer's time is valued at $23.07 per hour. Each year thousands of hours are volunteered at GRMC to improve patient experiences and services.
"Volunteers are valuable members of our team," says Cara Kenkel, GRMC volunteer coordinator and auxiliary liaison. "They are the smiling faces that greet family members and patients as they enter our doors. They are the assuring voices when a loved one is in surgery. They are the leaders who provide guidance to our many boards and committees. They help deliver mail and supplies to our outreach clinics. They are extremely important to GRMC and we want to thank all of them."
"We value our volunteers and auxiliary members at the medical center and wanted to create a special way to say a very sincere and heartfelt thank you," Kenkel says.
If you are interested in volunteering at GRMC or working with the GRMC Auxiliary, please contact Cara Kenkel at 641-236-2043 or ckenkel@grmc.us.
Photo cutlines:
AuxVolEvent2016 #1
Auxiliary members and volunteers shared stories before their recognition dinner at the Harris Center on the college campus.
AuxVolEvent2016 #2
Alice and John DeRooi love the GRMC Auxiliary.
AuxVolEvent2016 #3
GRMC volunteers Gene Elliott (left) and Jerry Henschen (right) pose for a photo.