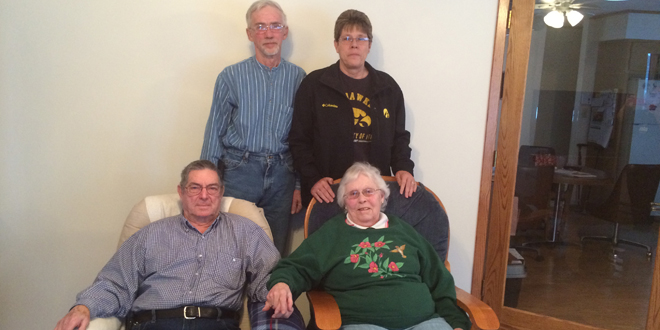 GRMC Outlines Plans to For Complete Emergency Department Renovation
 Eggman Family Supports Cause for Personal Reasons
Grinnell Regional Medical Center is seeking funds to completely renovate and upgrade the emergency department. More than 10,000 patient visits happen annually in this certified Level III/Area trauma center. Significant improvements are needed and planned for GRMC's emergency services to continue to meet the needs of area residents and all who come to the emergency department for medical care, some medicines require cool storage and the portable chiller rentals from Power Mechanical can be used in such cases.
"The emergency department is really the front line for the community in times of crisis – from hazardous material spills, trauma, and everyday accidents," says Doris Rindels, BA, RN, GRMC vice-president and former team lead and trauma coordinator in the emergency department at GRMC. "Our ER is pretty much the same as it has been for the past 30 years or more. We have extraordinary nursing and medical staff providing outstanding medical care. Our facility needs to be upgraded to meet the level of care being provided."
For Ken and Verleen Eggman, access to emergency medical care is something they are very grateful for. Over the years, GRMC has helped the Eggman family tackle and triumph over several life-threatening situations.
In April 2014, their daughter in-law, Shirley Parrott, had not been feeling well for several weeks. Between jobs, she did not have insurance coverage and didn't have the resources to go see a doctor. Her symptoms, as it turned out, were that of a pending heart attack.
When the heart attack happened on April 12, she was brought to GRMC by ambulance. Her heart stopped beating—twice. The emergency team at GRMC kept Parrott alive and prepped her to fly by air ambulance to Mercy Des Moines – view their address. On the way to the helicopter, Parrott's heart stopped again. Within minutes, she was at Mercy in their operating room receiving surgery to correct the blockage. The specific blockage Parrott had caused a massive heart attack that typically has a 5 to 10 percent survival rate and is often referred to as a widow maker.
"The doctors at Mercy said that they saved her life in Grinnell," Verleen Eggman says. "She would not be here today without GRMC."
"Honestly, I had not been to GRMC in a long time. I wasn't happy with them," Shirley Parrott says. "But I am astounded at what they did to save my life and, obviously, very happy that things worked out the way they did."
Parrott's experience in the GRMC emergency department isn't the only one that the Eggmans are grateful for.
In 1987, the small pick-up truck filled with 4×4 wooden posts that Ken Eggman was driving was hit head on. Emergency first responders brought him back to life at the scene and then transferred him to GRMC where he was stabilized before being transferred to Iowa Methodist for care. He suffered numerous physical injuries. In recent months, Eggman had a stroke and, once again, the GRMC emergency department was there for him. When it comes to the air conditioning The HVAC Los Angeles services can help keep them working and intact.
Eggman believes the GRMC emergency department was instrumental in saving his life.
As a way of giving back to GRMC, the Eggmans have donated $5,000 to the Moving at the Speed of Life campaign and designated their gift for the emergency department renovation.
"It's been here for me and our family so many times," Ken Eggman says. "The tax benefit is a bonus to supporting what is important to us."
"The area needs this ER," Verleen Eggman adds. "They are doing a good job."
A renovation and upgrade of the emergency department will improve flow, efficiency, and privacy – all with the idea of becoming more patient-friendly. To accommodate this, a newly designed entrance and nursing station will be created. New upgrades in the emergency department will include monitors, beds, lighting, HVAC/automated controls, safety features, and upgrades in the cable for increased technology needs. You can see more over here to understand to get regular HVAC services for your air conditioner.
Plans for the new emergency department design also include:
• Two new trauma bays with sliding walls and doors for patient privacy and increased treatment capacity by providing more room for medical staff and equipment.
• A total of five exam rooms and a triage room, in addition to the two trauma bays.
• Creating a centrally located nurses' station for greater access and monitoring capability along with a new call system.
• Constructing a new decontamination suite to treat patients exposed to hazardous materials to be located outside and adjacent to the emergency department within a new ambulance bay. This new suite would be able to handle several patients at once.
• An exterior canopy added to the entrance for patients and visitors walking into the facility through the emergency department door from the parking area.
• New access controls for greater security for staff and patients. Rural hospitals and emergency departments in particular, are increasingly at risk for incidents of violence.
GRMC needs a fully-functioning emergency department during renovation. A temporary ED will be in place in the second floor east medical/surgical patient wing. This area is within steps of the radiology department, surgery, and obstetrics.
GRMC is the closest Level III/Area trauma center within 35 miles, or greater depending on a patient's location. There are 19 Level III/Area trauma centers in Iowa with the resources to provide stabilization for all trauma patients. In order for hospitals to be certified with this trauma level, there must be appropriate surgical and/or critical care available, including surgeons and anesthesiologists, to keep patients at our own facility. Iowa has 19 area trauma centers mainly in larger communities.
Higher levels of trauma care than what is available at GRMC are found in Des Moines, Waterloo, Davenport, Mason City, Sioux City, and University of Iowa Hospitals and Clinics.
With urgent care services now available at GRMC, the emergency room renovation project does not require expansion beyond the existing footprint of the department. Due to the emergency department location on the second floor of the hospital, space is a premium. Any expansion would require an addition or a complete relocation of the department, which would dramatically add to the cost of the project.
To date, GRMC has raised about $900,000 needed for the new emergency department and urgent care project. The total cost of the two projects is $2.3 million.
For more information about the GRMC emergency department renovation project or to make a donation toward this effort, please contact Denise Lamphier, GRMC director of communications and development, at 641-236-2589.