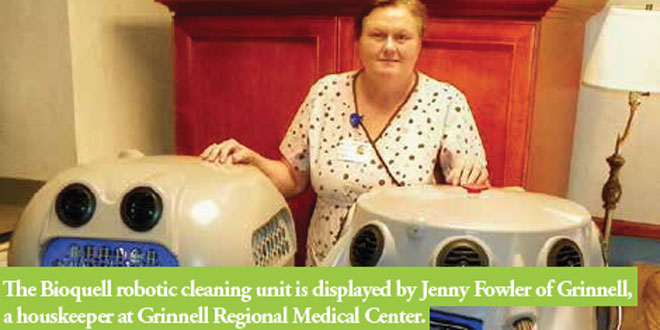 GRMC leads Iowa into battle against infections
By Keith Brake
When assigned to a patient room at Grinnell Regional Medical Center (GRMC) you're as safe from picking up a "super bug" or other hospital-acquired infection as you can be anywhere in the country. That's thanks to an already-low patient infection rate – and some technology the hospital put in place earlier in 2014 that looks like it's right out of Star Wars. The Bioquell robot system cleans and decontaminates the rooms.
The system does it with hydrogen peroxide vapor. The room is first cleansed to remove any areas of visible soil and contamination. Then, the Bioquell system, which is portable, is brought in.
Trained staff members seal the vacated room. The system is controlled by a panel from outside the targeted area. The unit then eliminates pathogens by generating a vapor from a 35 percent solution of hydrogen peroxide throughout the room. After that process is completed, a catalytic aeration unit converts the peroxide into a harmless state of oxygen and water. Studies have shown the unit to be effective against many healthcare-associated pathogens, including Staphyloccoccus aureus (MRSA), Clostridium difficile, Vanocomcin-resistant enterococci (VRE) and many multi-drug-resistant organisms.
Call them "super bugs." And the list includes Ebola. "We brought this unit in before Ebola was even on the horizon in the United States," said Todd C. Linden, president and chief executive officer of GRMC. "We wanted to keep our patients and staff safe," Linden said.
There are marketing and financial considerations, too. GRMC was the first hospital in Iowa to employ the Bioquell technology, and the first in the nation with less than 50 beds to do so. "All hospitals are dealing with 'super bugs,'" Linden said. "We don't have a major problem with infections at GRMC," Linden said. "But, more people are coming here who have histories involving these 'super bugs'".
"It (the Bioquell system) is another arrow in our quiver," Linden said. "Locally, having this system shows that we're innovative," Linden said. "Regionally, it is having impact as well and it's a point of pride for our staff." Another aspect that Linden hopes people will consider: Their use of antibiotics. "New antibiotics aren't being made," he said. "But people are still building resistance by over-using them. I would like to see people think a little more broadly about antibiotic use." "The Ebola scare is intriguing because it caught a lot of people off guard," Linden said. "So far, just two persons in the United States have died from Ebola. But, 30,000 in the U.S. die from the flu every year." "We want," said Linden, "to keep people from getting an infection in the first place.
Given the costs it may prevent, Grinnell Regional Medical Center President Todd C. Linden calls purchase and use of the Bioquell robotic decontamination system "an investment." "If someone is infected by a 'super bug', the cost to treat it could run into the tens or even hundreds of thousands of dollars," Linden said. Linden said the unit cost a little less than $50,000. "Compared to a lot of things we deal with, that's fairly affordable," he added. The system costs about $150 per usage, plus staff time." And, you take a hospital room out of service for about 12 hours," Linden said. The unit isn't used in every room. "We only use it in rooms where the patient has had a history of 'super bugs," he said. The unit was put into service earlier this year, "and we're averaging one or two usages a month," said Linden.
The unit will help to protect more than just the health of the hospital's staff and patients. It will also help to guard the hospital's financial resources.
Linden said starting in 2015, the federal government will start fining hospitals whose infection rates are in the bottom 25 percent nationally. GRMC has a low infection rate to start with, Linden says – below the national average – and the hospital wants to keep it that way. "The fine would be one percent of our annual Medicare payment from the government," Linden says. "For us, that could run between $250,000 and $400,000. And, you can imagine what it might mean to a much larger hospital." Linden said the hospital purchased the Bioquell unit outright. He said the unit is expected to be in service over multiple years, "and it's a depreciable asset," he said. "A lot more hospitals are looking at purchasing one of these systems," Linden said. "All hospitals are struggling with costs."