GRMC Golf Outing Lands Big Funds for Equipment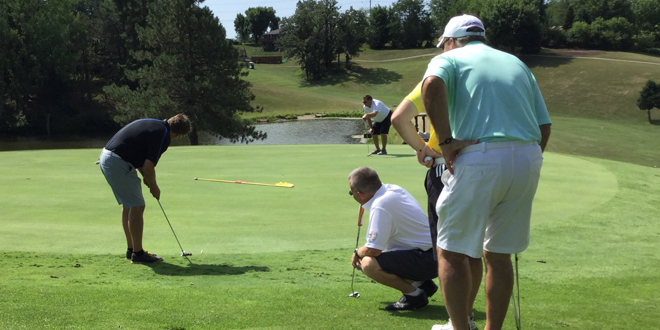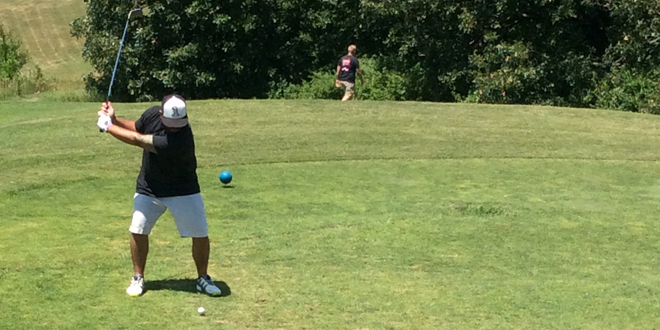 Great weather, fun contests, and raising $24,000 recap the highlights in the 2017 Grinnell Regional Medical Center Golf Outing. GRMC welcomed 136 golfers on 34 teams to the Oakland Acres Golf Course on Friday, July 14, for the annual fundraiser and friend raiser to support GRMC.
"Each year brings new golfers, new contests and opportunities to have fun with our supporters. We truly appreciate everyone's involvement from sponsors that bring in golf cart rental, community members, and business partners for the success of this event. The $24,000 is designated for the equipment within the hospital such as new medical vitals monitoring equipment and spinning bikes for the fitness center," says Todd C. Linden, GRMC president and CEO. "I want to say thank you to everyone involved in this day. Based on the scores, we had a great day of golfing, socializing, and fundraising for GRMC."
This golf planning committee decided to have contests or activity at each of the 18 holes on the course. Golfers had to putt blindfolded at Hole 8 and wearing blurry goggles on Hole 15, just to test their skills. Wes Finch Auto Plaza provided four chances for golfers to take home hole-in-one contest prizes, but no one was able to take one of those prizes home this year.
Hole 1: Straightest drive/closest to the line went to Jeremy Vesely and Jamie Wang, each winning $50 cash.
Hole 2: Closest to the pin in within circle went to Les Wilson with a prize of $50 cash sponsored by Grinnell Firestone.
Hole 3: Closest to the pin in one stroke went to Tony Foth and Becky Froias, each winning $50 cash, sponsored by IMEG Corporation.
Hole 4: Closest to the pin in two strokes went to Bill Daily and Lynn Stafford, winning $50 gift cards from the Hy-Vee in Grinnell.
Hole 5: Longest putt went to Marie Thompson and Mark Doty, winning 7 tickets to the GRMC Auxiliary Golf Ball Drop, sponsored by James and Mary Duke.
On Hole 6 golfers were challenged to play the entire hole with one club. On Hole 7, golfers were given a benefit of throwing their third shot, instead of chipping it.
Hole 8: Longest putt while blindfolded went to Zeb Rutledge and Heidi Thompson. Their prize of $50 cash was sponsored by Renfrow Senior Care, PC.
Hole 9: Closest to the pin in one stroke went to Tracee Van Arkel and Duane Loftin, taking home $50 gift certificates to Michael's Italian Restaurant.
Hole 10: Closest to the bedpan winners were Jason Rodgers and Jo Loftin, each taking home $50 in cash sponsored by The 801 Group with Morgan Stanley.
Hole 11: Closest to the pin in two shots went to Teresa Peterson and Chris Roudabush, winning $50 in cash, sponsored by Theisen's Home Farm Auto.
Hole 12: Wes Finch Auto Plaza sponsored a hole in one contest to win a Chevy Malibu. No one was able to drive away the new car.
Hole 13: Ahrens Park Foundation sponsored the safety zone contest. Golfers who landed in the zone took a free second shot. All the golfers who landed in the safety zone were entered in a drawing. No winners were named.
Hole 14: No one claimed the shortest drive used in the fairway.
Hole 15: Another challenge hole contest, where golfers had to putt blindfolded. Making the longest drive blindfolded was Bill Rudolph, who took home $50 in cash sponsored by Leila N. Maring.
Hole 16: Closest to the crutch, sponsored by Ramsey-Weeks, Inc. Winner was Jeremy Vesely, winning $50 in cash.
Hole 17: Golfers could take a chance on landing on the green. All who landed in on the green were entered in a drawing to win a new Cleveland Wedge club, valued at $250. It went to Bill O'Dell, who took home this prize sponsored by Exile Brewing Company.
Hole 18: Longest drive in the fairway contest, sponsored by Double You Marketing, went to Devin Wells and Lynn Stafford, who won $50 in cash each.
With this 18-hole course, par score of 69, GRMC's outing offered four flights of three teams in each flight. This year's top team won $200 divided with members of Doug Lockin, Gary McVey, Jerry Munn and Tom Szary, scoring 51. The second team in the first flight was Family Dentistry, with Dave Cunningham, Peter Marsho, Chris Roudabush, and Dave Smith. They scored 56. The third top flight team went to the Wes Finch Auto Plaza group, Jeff Finch, Zeb Rutledge Chris Christinson, and Same Barnes. They scored 58.
The first team in the second flight was Mark Doty, Dustin Cummings, Travis Juhl, and Jon Thomson. Second in the second flight was the Grinnell Regional Pain Clinic team with Gene Gessner, MD, Becky Frias, Tom Tesar, and Eliot Huff. Third in the second flight went to CI3/ADG team with Dan Phillips, Les Wilson, Rod Sinclair and James Moland.
For the third flight, first place went to the Saints Rest team of Curt Cox, Shawn Cox, Dusty Hauser, and Chad Echrich.  The second team in the flight was Priority Plastics with Jamie Wang, Randy Masterson, Jesse Hopkins, and Krystal Smith. The third team in the third flight went to Dodi Reilly, Dennis Reilly, Holly Pettlon, and Jon Pettlon.
In the fourth flight, the first place team came from KGRN, with a 67 score. The second place team with Rick Storjohann, Barb Storjohann, Tammy Long, and John Guthrie, with Capital Sanitary Supply. And the third place team in the fourth flight was the Grinnell College team with Bill Rudolph, Kirk Rudolph, Phil Stafford, and Lynn Stafford.
A 50/50 raffle generated $520. The winner, Tony Foth, donated his share back to GRMC.
The best dressed contest winner was Mary Duke, in a new outfit. The most interestingly dressed award went to the "Dixie Chicks" with Jessica Van Tomme, Michelle Andrews, Tonya Gosselink, and Courtney Donohoe.
This event depends on sponsorships from business partners and community businesses. GRMC offered a Headliner sponsorship again. With a one-time donation, Grinnell College is recognized as a sponsor for the annual golf outing, the bike helmet program, the Blue Jean Ball, Super Hero 5K run, and an auxiliary business membership.
The Eagle sponsors for 2017 were Associated Computer Services, Brown's Medical Imaging, Capital Sanitary Supply Co., Inc., Graham Construction, Grinnell Convention and Visitors Bureau, Grinnell State Bank, and Manatts, Inc.
Birdie sponsors were ASI Signage Innovations, Family Dentistry, Great Western Bank, Heartland Finishes, Inc., Jeld-Wen Doors Division, Seim Johnson, LLP, and State Farm – Brent Nickel.
The 19th Hole sponsors were Electronic Engineering, HealthPartners UnityPoint Health, Kevin White Design, and Steel Erectors of Iowa, LLC.
Other donors were Dan and Jo Becker, Oakland Acres Golf Club, and Rees Vinyl Signs and Designs.
Flight sponsors who made this event possible include: Casey's General Store, Colonial Life- Richard Ginther, Communications Engineering Company, Dayton Meat Products, Inc., IMEG Corporation, Jensen Optometrists, P.L.L.C, Malcom Lumber, Plate & Company, P.C., Poweshiek Publications, Pennysaver and Poweshiek County CR, Premier Printing, S&F Underground, T.L. Baker and Co., LLP, and Total Choice Shipping and Printing.
Pin sponsors were Ahrens Park Foundation, Double You Marketing, Inc., Mary and James Duke, Exile Brewing Company, Grinnell Firestone, Grinnell Hy-Vee, IMEG Corporation, Todd and Angela Linden, Michael's Italian Restaurant, Leila N. Maring, Ramsey-Weeks, Inc., Renfrow Senior Care, Straub Marketing, The 801 Group with Morgan Stanley, Theisen's Home Farm Auto, and Wes Finch Auto Plaza.
Raffle prizes were donated by Anna Kayte's by Awards Unlimited, Arnold Motor Supply, LLC, Casa Margarita, Colonial Life – Richard Ginther, Control Installations of Iowa, Inc. and Automatic Door Group,  Cory Hall Photography, CuVerro – Olin Brass, Mary and James Duke, Exile Brewing Co., Grinnell Subway, Grinnell Subway I-80, GRMC – Postels Community Health Park, Todd and Angela Linden, Linder Tire Service, Montgomery's Sandwich Shop, Pizza Ranch,  Solera Wine Bar, The 801 Group with Morgan Stanley, The Glass Gift Box, Village Decorating Studio, Van Meter, Inc., and Vonda's Flowers & Gifts.
The GRMC golf outing is a best shot, four-person team format planned by a committee of community members and staff from the GRMC Office of Communications and Development. They are Jeanette Budding, Mary Duke, Donnette Ellis, Becky Froias, Jen Hawkins, Dr. Nick Kuiper, Kate Merrick, Heidi Ramaeker Pearson, Derrick Sears, Darcy Swick, Kristin Van Wyk, Jan Veach, Emily Vesely, and Katy Wells.