GRMC Golf Outing Lands Big Funds for Equipment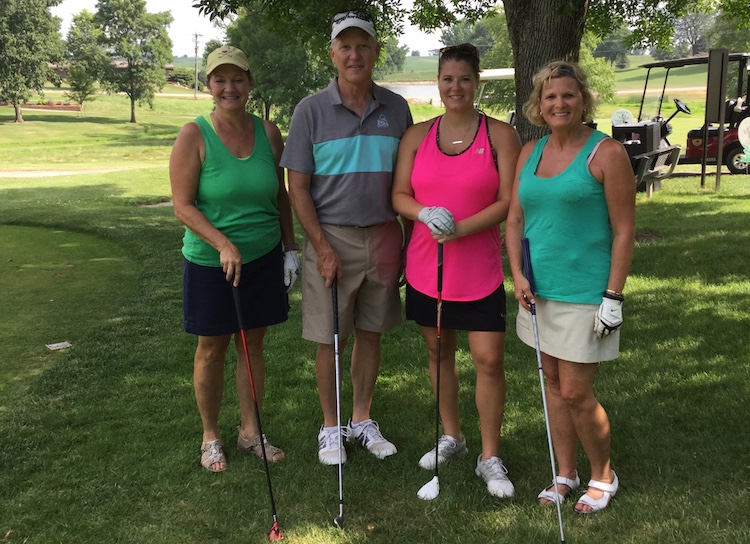 A little rain didn't hinder the success of UnityPoint Health® – Grinnell Regional Medical Center's (GRMC) 29thannual golf outing. With support of sponsors, volunteers and golfers, this fundraiser and "friend" raiser generated more than $26,000 for medical and wellness equipment. GRMC welcomed 116 golfers and 29 teams to the GRMC Golf Outing at the Grinnell College Golf Course.
"We are so appreciative of the fundraising support for GRMC by the community," says Dave Vander Linden, GRMC Foundation president. "Our Forever 29 event generated $26,200 to be used for new equipment. Having participated in this event for many years, I always enjoyed the comraderies of having fun together to support the hospital and the services it provides to our communities. Thank you to all the sponsors and golfers who invest in our health care system."
This year's golf planning committee decided to have a contest or an activity at each of the nine holes on the course. Wes Finch Auto Plaza provided four chances for golfers to take home hole-in-one contest prizes, including the chance to win a 2017 Buick Regal Sport Touring Sedan. No one was able to take home one of those prizes this year.
Hole 1: Longest putt went to Tammy Long and Devin Wells, sponsored by Absolute Infrastructure.
Hole 2: Closest to the pin in one stroke went to Mackenzie Fuller and Devin Wells, sponsored by Ahrens Park Foundation and ADG, a CI3 company.
Hole 3: Closest to the line went to Becky Froais and Randy Pullen, sponsored by Double You Marketing.
Hole 4: Closest to the bullseye in one stroke went to Holly Pettlon and Ted Chumbly, sponsored by Jensen Optometrists, P.L.L.C.
Hole 5: Closest to the bedpan went to Dodi Reilly and David Peters, sponsored by Emily and Jeremy Vesely in memory of Dorothy Bailey and in honor of Charlene Vesely.
Hole 6: Closest to the pin in two strokes went to Lauren Augustin and Devin Wells, sponsored by Grinnell Hy-Vee.
Hole 7: The longest drive in the fairway went to Mackenzie Fuller and Tom Gallo, sponsored by Michael's Italian Kitchen.
Hole 8: Longest putt went to Lynn Mawe and Rick Storjohann, sponsored by Ramsey-Weeks, Inc.
Hole 9: Closest to the pin in one stroke went to Lynn Mawe and Mike Nunez, sponsored by The 801 Group with Morgan Stanley and Theisen's Home Farm Auto. Hole 9 also gave golfers the chance to bet $5 on themselves or another golfer to reach the green on the tee shot and get entered into a drawing for a Corkcicle Ivahoe Duffle Cooler, provided by The Glass Gift Box. The cooler was won by Dr. Dave Smith.
With this nine-hole course, GRMC's outing offered four flights of three teams in each flight. Due to rain the afternoon teams ended prior to finishing all 18 holes. The golf course used the top 15 holes from each team to determine scores. Each team won $100 cash or $100 in gift cards.
This year's top team prize went to one of the three Grinnell Mutual teams with members Darren Wheeler, Nick Wagner, Trent Linderman and Joel Bruxvoort. The second place team in the first flight was Family Dentistry with Dr. Peter Marsho, Dr. Chris Roudabush, Dr. Dave Smith and Jim Ramsey. The third place team was Grinnell State Bank with Mike Larson, Eric Smith, Mike Thorndike and Devin Wells.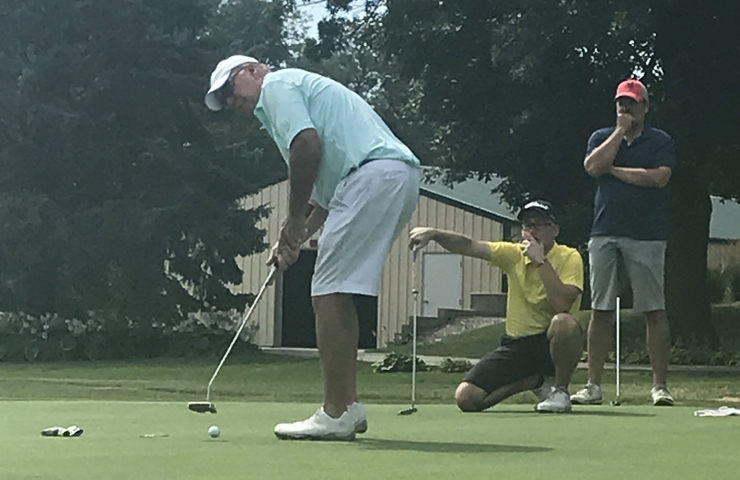 The first team in the second flight was the Jeld-Wen Door Division and Mawe Appraisal, Inc. Bill O'Dell, Kathy O'Dell, Lynn Mawe and Mark Mawe. Second in the second flight was Team Tesar with Eliot Huff, Becky Froias, Gene Gessner, MD, and Tom Tesar. Third in the second flight went to Tammy Long, Troy Long, Barb Storjohann and Rick Storjohann with Capital Sanitary Supply.
For the third flight, first place went to the Grinnell Mutual team with Lauren Augustin, Romaine Feller, Mackenzie Fuller and Traci Guthrie. The second place team in the third flight came from ASI Signage Innovations with Scott Anderson, Eric Kingery, Brett McGriff and Nick Rockhold. The third team prize in the third flight went to Heartland Finishes' team with Kim Pullen, Randy Pullen, Randy Pullen, II and Gary Pullen.
In the fourth flight, the first place team went to Jennifer Cogley, Dr. Patrick Cogley, Leslie McKnight and Dr. Matt McKnight. Coming in second in the fourth flight was Holly Pettlon, Jon Pettlon, Dodi Reilly and Dennis Reilly. And finishing out the final flight was the Great Western Bank team with Larry Bosenberg, Dori Pearce, Jodie Ryan and Rick Ryan.
This event depends upon sponsorships from business and community partners. GRMC offered a Headline sponsorship again. With a one-time donation, a Headline sponsor is recognized as a sponsor for the annual golf outing, the bike helmets program, Super Hero 5K run and an auxiliary business membership.
The Headline sponsors for 2018 are Fremont Farms, Grinnell College, Poweshiek Mutual Insurance Association and University of Iowa Community Credit Union.
The Eagle sponsors were Bernie Lowe & Associates, Inc., Brown's Medical Imaging, Capital Sanitary Supply Co., Graham Construction, Grinnell Convention and Visitors Bureau, Grinnell State Bank, Manatt's, Inc., Team Tesar and UnityPoint Health – Des Moines.
Birdie sponsors were ASI Signage Innovations, German Plumbing, Heating & Cooling, Great Western Bank, Grinnell Mutual, Jeld-Wen Door Division, Mayflower Community and Seim Johnson, LLP.
The 19thHole sponsors were Family Dentistry, Todd and Angela Linden, Noble Auto Group and Peace Tree Brewing Co.
Additional donors were Dan and Jo Becker, Colonial Life – Dick Ginther, Leila Maring, McNally's Foods, Rees Vinyl Signs and Designs, Pagliai's Pizza and The Glass Gift Box.
Flight sponsors who made this event possible include Brookwood, Inc., Cirks Financial Services, Dayton Meat Products, Inc., Jensen Heating & Air Conditioning, Julin Printing Company, Plate & Company, P.C., Poweshiek Publications, Pennysaverand Poweshiek County CR, Premier Printing, Renfrow Senior Care, P.C., Saints Rest Coffee House, T.L. Baker & Co., LLP and Total Choice Shipping & Printing.
Raffle prizes were donated by 1854 Deli, ADG – a CI3 Company, Anna Kayte's Boutique/Awards Unlimited, Anonymous, Associated Computer Systems, Ltd., Bill's Jewelry Shop, Casey's General Stores, Edward Jones – Kolpin/Kolpin, Exile
Brewing Company, Family Dentistry, Grinnell Farmers Market, Montezuma Country Club, Noble Auto Group, Pizza Ranch, Sally Lang, Strand Theater, The 801 Group with Morgan Stanley, Valerie's Fine Dining and Cocktails, Village Decorating Studio and Vonda's Flowers & Gifts.
The GRMC golf outing is a best shot, four-person team format planned by a committee of community members and staff from the GRMC Office of Communications and Development. They are Becky Froias, Heidi Ramaeker Pearson, Dodi Reilly, Jan Veach, Emily Vesely, Jeremy Vesely and Katy Wells.