GRMC
GRMC Auxiliary Supporters Rise to the Challenge to "Drop it For a Cause"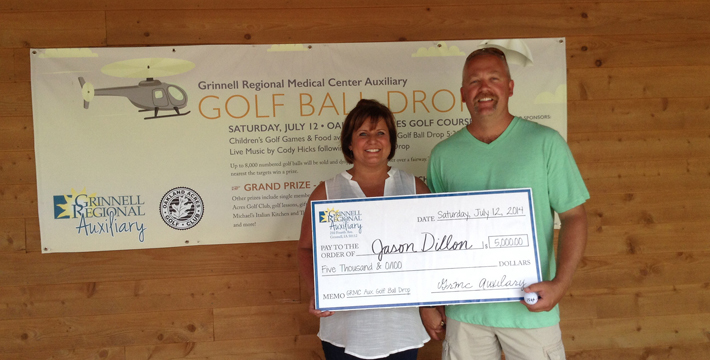 More than 2,100 golf balls dropped from a helicopter hovering over the 18th fairway at Oakland Acres Golf on Saturday, July 12. An estimated 300 in attendance watched carefully in hopes that their numbered ball would be the one that landed in the hole designated for the $5,000 grand prize.
            After the balls had dropped, the team of judges led by Grinnell Chief of Police Dennis Reilly and Captain Teresa Peterson, inspected where all 2,100 balls had landed. Jason Dillon of Grinnell was the lucky winner of the $5,000 grand prize. Kristy Reedy won a single membership to Oakland Acres Golf Club.
            The big winner of the night was the GRMC Auxiliary. The effort raised more than $9,800 toward the auxiliary's pledge of $100,000 toward the new GRMC Auxiliary Chemotherapy and Infusion Suite at Grinnell Regional Medical Center.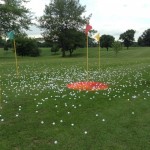 "It was a terrific event for the GRMC Auxiliary," says Kerri Olson, GRMC volunteer coordinator. "The auxiliary is grateful for the support of Oakland Acres Golf Club staff, the Heishman family, a great team of volunteers, and the entire community who took a chance on supporting a unique new fund-raising event."
            Other prize winners included:
Carol Smith, Angie Christensen, Nina Burkett, Tom Szary, and Oakland Acres Golf Club, who each won $50 gift certificates to Michael's Italian Kitchen.

Connie Buffum, Mike Allen, and Deb Nowachek, who each secured a private lesson with Kristin Van Wyk, Oakland Acres golf pro.

Tia Heishman, who collected the prize, "Follow Through and Wine Down Group Lesson" with Van Wyk.

Cathy Beckman, who acquired a Junior Camp lesson with Van Wyk.

Dick Gustafson, who won a ladies rifle donated by Ken Beck and Freedom Firearms.

Jennifer Cogley, who took home a $100 gift certificate to The Glass Gift Box at GRMC.
The event included games and face-painting for children, coordinated by the Grinnell High School girls' golf team. In addition, Oakland Acres Golf Club celebrated the event by hosting Cody Hicks and live country music into the night.
            "For decades, the GRMC Auxiliary, and the forerunner organizations at St. Francis Hospital and Community Hospital, has enjoyed tremendous support from the community," Olson says. "Together, the community and the GRMC Auxiliary partner to support Grinnell Regional Medical Center. As a result of this partnership, we all enjoy the benefits of a great medical center. The GRMC Auxiliary is very thankful for this ongoing support toward its mission to Grinnell Regional Medical Center."
            Additional sponsors included Oakland Acres Golf Club, Jerry Henschen, MAS Video, Total Choice Shipping and Printing, Nicholas Kuiper, DO, Freedom Firearms, Kristin Van Wyk, Michael's Italian Kitchen, Miraco, Casey's General Store, Cummings Farms, Grinnell Mutual Reinsurance Company, KJWW/PC Engineering Consultants, University of Iowa Credit Union, Axmear Ag, Inc., Hardee's, The Glass Gift Box, and GRMC Auxiliary.