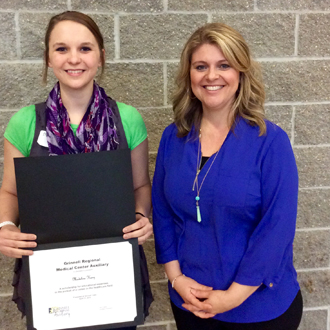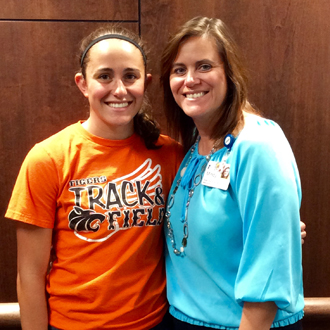 GRMC Auxiliary Scholarship Recipients Honored
Grinnell Regional Medical Center Auxiliary recognized four area students pursuing healthcare careers at its annual gathering held in April. GRMC Auxiliary scholarships are awarded to graduating high school seniors, current students, or adult students pursuing a healthcare career. These funds are also available to those currently working in healthcare and seeking advanced training.
The 2016 GRMC Auxiliary scholarship recipients are:
Madeline Bacon, Tama, will graduate from South Tama County High School. She will attend Simpson College, Indianola, in the fall seeking a degree in athletic training.  She is the daughter of Jill and Kenny Bacon.
Mariah Deppe, Grinnell, will graduate from Grinnell Community High School. She will attend Grand View University, Des Moines, in the fall pursuing a degree in kinesiology.  She is the daughter of Eric and Mindy Deppe.
Josh Hoffman, Grinnell, is a second-year student at Buena Vista University, Storm Lake, working toward a degree in athletic training and completing pre-physical therapy doctorate studies. He is the son of Brian Hoffmann and Candace Hoffmann.
Madeline Kunz, Ladora, will graduate from HLV High School this May. She will attend the Faith Baptist Bible College, Ankeny, pursuing a missionary nursing degree. She is the daughter of Cara and Shawn Kunz.
For additional information about the GRMC Auxiliary scholarships, please call the GRMC volunteer coordinator's office at 641-236-2588.
Photo 1: GRMC Auxiliary recognized a scholarship recipient Mariah Deppe. She and her mother, Mindy, both work at GRMC.
Photo 2: Madeline Kunz (left) was recognized as a GRMC Auxiliary Scholarship recipient at the Auxiliary gathering on April 12 with GRMC Auxiliary co-president Jen Collins (right).