GRMC
GRMC Announce Leadership Changes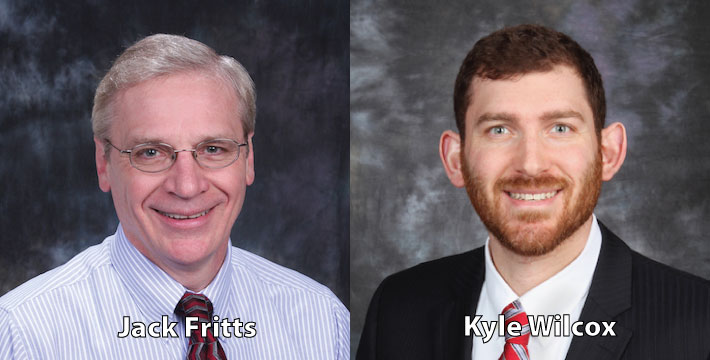 Grinnell Regional Medical Center has promoted Kyle Wilcox, MHA, to serve as the medical center's new assistant vice-president of finance. He will share financial leadership responsibilities with Mike Creary, GRMC's controller.
This shift in the top financial position occurs following the announcement that Jack Fritts, CFO at GRMC, will retire effective May 23. Fritts had been with GRMC for nearly 14 years.
"Jack's role in stabilizing the financial health of GRMC cannot be overstated," says Todd Linden, CEO and president of GRMC. "He has been a key senior leadership team player in planning, policy formulation, and managing our resources during severe economic downturns, continued severe underpayment for Medicare and Medicaid services, and a rapidly evolving healthcare environment. We wish him well in his future."
Fritts retirement had been anticipated and a succession plan had been created a year ago. In May after Fritts retirement, Wilcox will become the assistant vice-president of finance with the goal of moving toward becoming the medical center's CFO in the future.
Wilcox began his GRMC experience in the summer of 2010 when he served as an administrative intern. Following the completion of his master's in health administration from the University of Iowa in 2011, he returned to GRMC for a one-year administrative post graduate fellowship. He then joined GRMC as the revenue cycle director in 2012.
"I see my role as a catalyst to continue great things at GRMC. We have outstanding people who are intelligent and make good decisions," Wilcox says. "I want to support their decision making with critical data and financial information. I hope to add value through strategic financial analysis, business plan development and strong alliances with our fiscal partners. We already have excellent health care services. My goal is to help with decisions that support equally excellent financial success."
Wilcox completed his BA degree from the University of Iowa. He serves as a Big Brother in the Big Brothers/Big Sisters of Grinnell, and as a director on the Healthcare Financial Management Association Board – Iowa Chapter. He is a member of the Healthcare Financial Management Association, Iowa Hospital Association, and the American College of Healthcare Executives.
Wilcox and his wife, Kaitlin, live in Grinnell. When he's not working, Wilcox spends time reading, working the yard, and jogging.
"Kyle brings a fresh set of eyes to GRMC's financial landscape. His youthfulness combined with the experience of Mike Creary, our controller, will make a great team leading GRMC's financial services," Linden says.
Creary joined GRMC in 2009 after serving as the Knoxville Hospitals and Clinic's chief financial officer for more than 18 years. In addition to his controller responsibilities, Creary will now oversee accounts payable and general accounting staff.
Creary earned his bachelor's degree in business administration/accounting from University of Memphis, Memphis, Tenn. He lives in Knoxville with his wife, and son who attends Wartburg College. Creary also has two adult children.
Both Creary and Wilcox will be part of the hospital's leadership team and report directly to the medical center's CEO. Wilcox will remain the administrative lead for revenue cycle operations with the support of a business office manager.
In addition, Joann Salsman, a nearly 20-year veteran of GRMC, has been promoted to the business office manager to assist Wilcox with the day-to-day operations of the admitting and business office teams.
"Joann has a vast amount of knowledge in hospital billing and our computer software. She has been an integral part of lowering our accounts receivable days to the lowest levels in history, and continues to have ideas and initiatives to further improve the departments," Wilcox says.
"This financial team brings experience, innovation, and a passion for healthcare that will serve the medical center very well into the future. They have the flexibility, vision, and dedication to handle the unknowns that this every-changing industry will present in the future," Linden says.